The Israeli Forces close the entrance of Kfar Al-Dik village via road blocks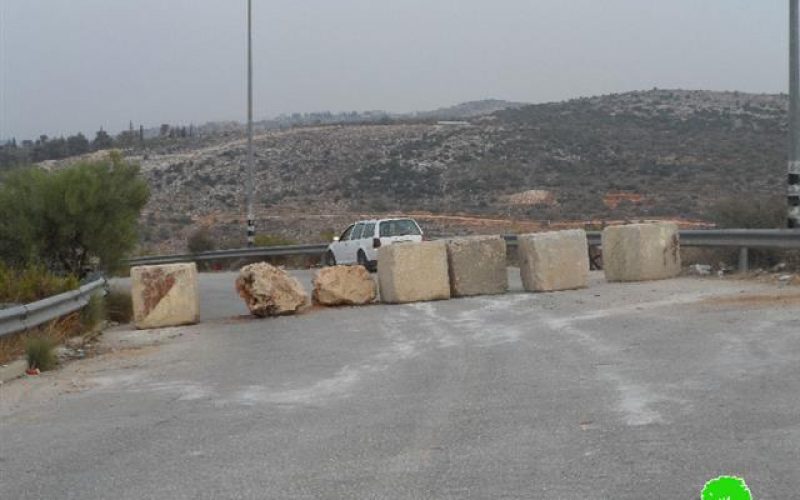 Violation: closing a main entrance
Location: Kfar Al-Dik village- Salfit
Date: October 08, 2015
Perpetrators: the Israeli Forces
Victims: residents of the area
Details:
The Israeli occupation authorities on October 08, 2015 shut the western entrance of Kfar Al-Dik village, west Salfit governorate via road blocks. It should be marked that this step was taken as a collective punishment on Palestinians to restrain their movements and impose hardships on their daily lives.
Noteworthy, the closed road is considered a linking point between the village and the bypass road no. 446, which leads to the colonies of Bedoel and Ali Zahav. It also links the village with the neighboring Palestinian communities and cities; especially the town of Deir Ballut.
It should be also marked that closing the road will oblige people to take a new route that is of extra 7km in distance to reach their destinations.
Photo 1: the closed road
An aerial photo of the closed entrance
It is reported that the western entrance of the village was closed to many times by the Israeli Forces as a collective punishment on around 6000 residents from the area. Closures came on the claim of "security purposes".
The road was closed in the aftermath of the second intifada to be reopened in the year of 2012. Since then, the road got closed many times on the aforementioned claim.
Kafr ad Dik [i]
Kafr ad Dik is located 15 km to the west of Salfit. It is surrounded by Bidya (north), Rafat and Deir Ballut (west), Bruqin and Sarta (east), and Bani Zaid villages (south). Kafr ad Dik has a population of 4553 people, according to a 2007 census.
Its total area is 15529 dunums; however, it has been suffocated by bypasses and 3 Israeli colonies that lay over its lands. This has further limited its expansion knowing that it had already had a 791-dunum organizational plan (built-up area); it also isolated the village from its surroundings. The Israeli occupation confiscated 2477 dunums of Kafr ad Dik lands for the benefit of:
Colonies devoured 1225 dunums, and they are:
Name of colony

Year of construction

Area of confiscated land/ dunum

Number of colonists

Har Eli Zahav

Eli Zahav- Yoezer

Bedoel
*Source: Field Research- Monitoring Israeli Violations Team- Land Research Centre (LRC).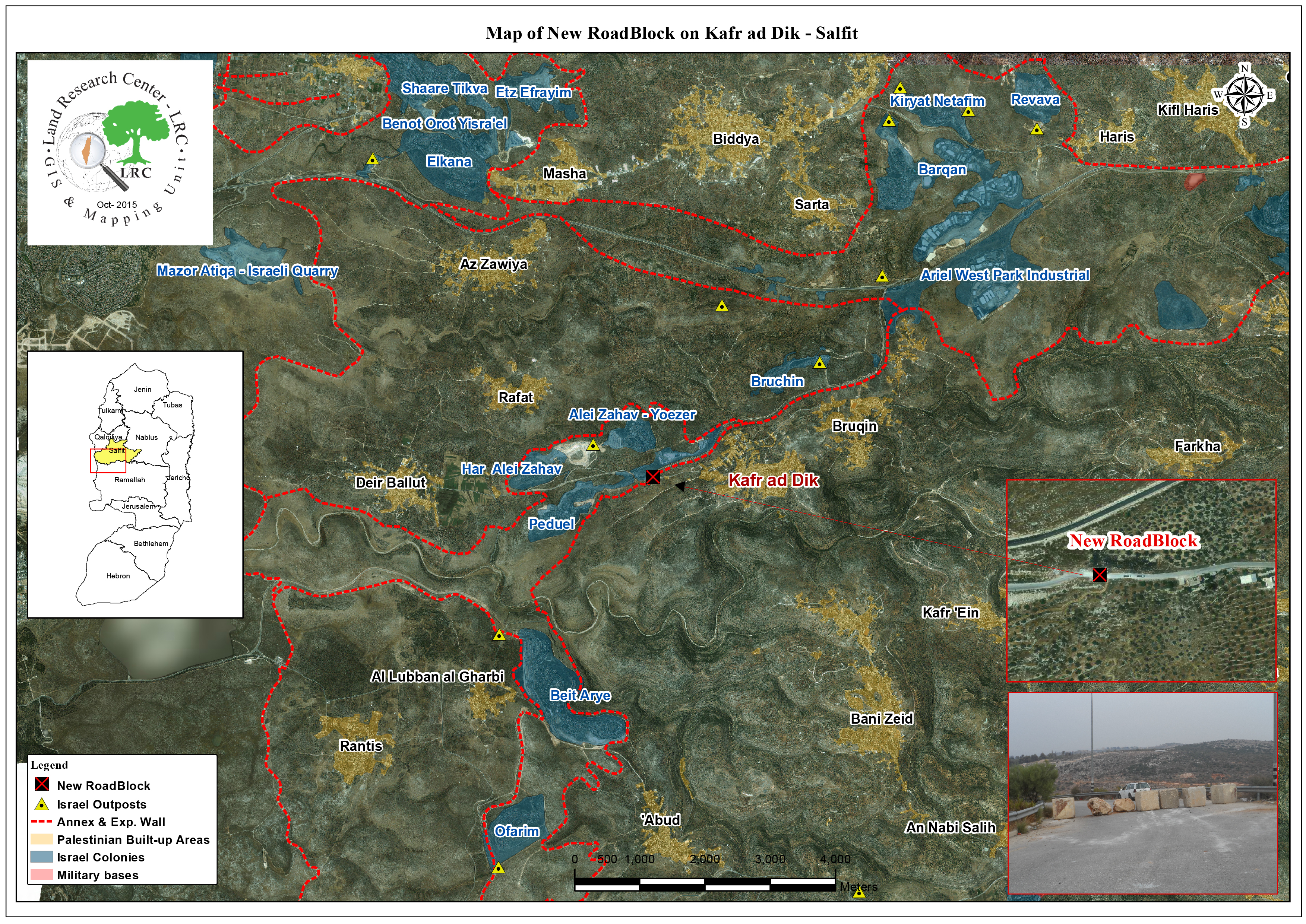 Bypasses stole 362 dunums
The Apartheid Wall seized 890 dunums and isolated 8824 dunums and is expected to be 8905 long in Kafr ad Dik lands.
Lands of Kafr ad-Dik are categorized according to Oslo Accords into lands under Area B (15% of the lands) and lands under Area C (85% of the lands).
i] Source: Geographic Information System- Monitoring Israeli Violations Team- Land Research Center
Prepared by
The Land Research Center
LRC