Yizhar colonist torch nine olive trees in the Nablus village of Burin
Violation: burning down olive trees
Location: Burin- Nablus
Date: September 04, 2015
Perpetrators: Yizhar colonists
Victims: two families from the village
Details:
A group of fanatic colonists from Yizhar on September 04, 2015 set fire to the olive groves relative to the Nablus village of Burin; more specifically in the southeastern part that is adjacent to the bypass road leading to Yizhar colony.
Colonists intended to spread the fire to reach more area but people of the village noticed the arson attack and managed to extinguish the fire with help from the fire department. It should be marked that the fire reached out 9 olive trees aging 25 years each; trees were partially damaged and became unproductive.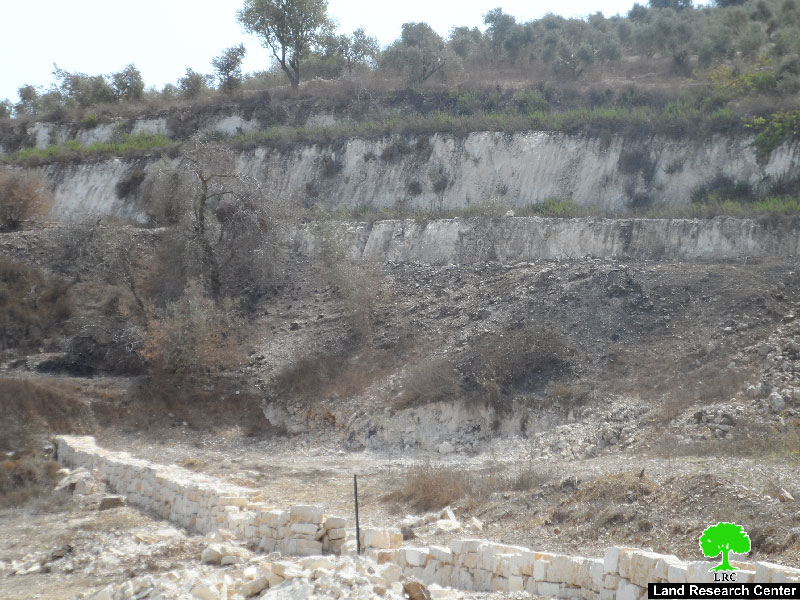 Photo 1: the burned down olive trees
The following table shows information about the trees owners:
| | | | |
| --- | --- | --- | --- |
| Affected citizen | Family | Minors | Nature of damage |
| Hisham As'ous | 7 | 6 | Partial |
| Waddha As'ous | 4 | 3 | Partial |
| Total | 11 | 9 | |
Source : Field observation- Department of Monitoring Israeli Violations- Land Research Center-2015
It should be marked that such attacks increase by the time of the seasons of olive picking season and wheat harvesting. Burning down and trees cutoff attacks and sheep stealing attacks were reported to be carried out by colonists in the area of Burin; more specifically the following villages (Irak Burin, Surrah, Jit, Tal, Kfar Qaddum, Far'ata, Immatin, Asira Al-Qibliya, and Madama). Noteworthy, all colonists' attacks are carried out under the watchful eye and protection of the Israeli occupation army and police troops.
Yizhar colonists are considered the armed militias of the Israeli occupation army; they have been placed in the area to be the starting point for destruction and Palestinian displacement. This is for the sake of taking over the area for the favor of colonial expansion plans.
About Burin:
It is located 8km to the south of Nablus city and is of 10,416 dunums in area, of which 335 dunums are the village's built-up area. Burin has a total population of 3500 people. Two Israeli colonies are founded on the lands of Burin which are:
Bracha: it confiscated 205 dunums from Burin's lands
Yizhar: it confiscated 150 dunums from Burin's lands
Prepared by
The Land Research Center
LRC