Stop-work orders on structures in Al-Farisiya area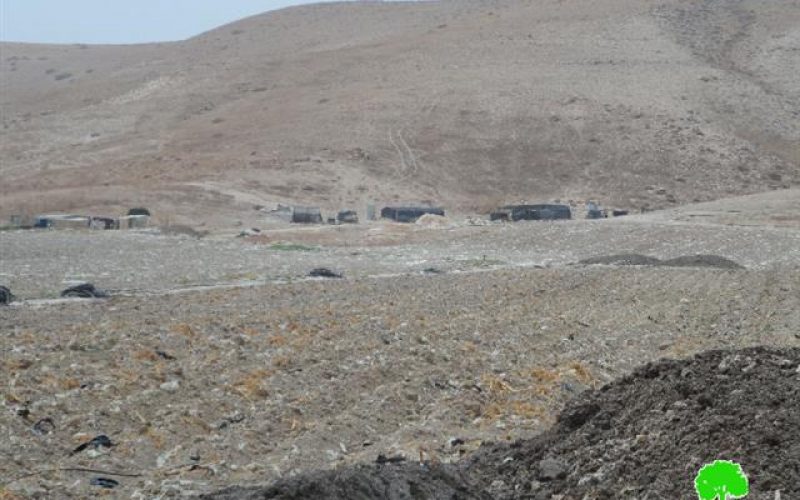 Violation: serving stop-work orders
Location: Al-Farisiya- Palestinian Jordan Valley (Al-Ghoor)
Date: 30/07/2015
Perpetrators: Planning and Construction Committee- Israel Civil Administration
Victims: 7 Palestinian families
Details:
The area of Al-Farisiya has lately witnessed an Israeli colonial plan aiming at taking over the whole area of the Palestinian Jordan Valley (Al-Ghoor) and displacing the indigenous via various means such like home demolition.
A massive force from the Israeli occupation army accompanied by a staff from the Civil Administration on July 30, 2015 raided the area of Al-Farisiya and handed out stop-work orders for 7 families on their barns under the claim of them being unlicensed and founded within area classified C according to Oslo Accords.
The military order gave the notified people a deadline until August 16 to complete all the licensing procedures. This comes in time with the hearing session of the Planning and Construction Committee in the Israeli court of Beit El to consider the status of the notified structures.
It should be marked that the notified families are nomads who reside in the area of Al-Farisiya during winter and spring and head toward Tubas and Atuf areas during the summer time. Noteworthy, the families always leave their barns behind so that they find them when they come back.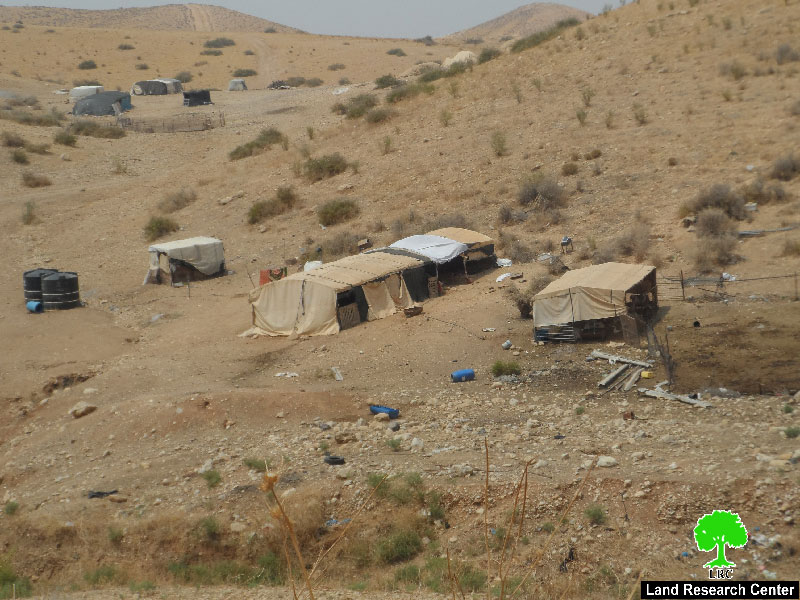 Photos 1-3: the notified community of Al-Farisiya
The following table shows details about the damage resulted due to the orders:
Affected citizen

Family

Minors

No. of sheep

Notified structures

No. of order

Residence

Sheep barrack/m2

Storehouse/m2

Allan Daraghmih

6

2

120

–

1 (80)

1(12)

Rabee Daraghmih

3

1

30

—

1(16)

—

Mohammad Soubeih

7

2

88

—

1(32)

—

Talal Aeidih

5

3

95

—

1(20)

1(9)

Adnan Daraghmih

9

3

60

1(16)

1(45)

—

N/A

Ziyad Daraghmih

4

2

23

—

1(25)

Hamid Daraghmih

6

4

130

—

1(45)

—

Total

40

17

546

1

7

2
Source : Field observation- Department of Monitoring Israeli Violations- Land Research Center-2015
Khirbet Al Farisiyya:
Khirbet Al Farisiyya is located in Wadi Al Maleh in Tubas Governorate at a distance of 20 kilometers east of the city of Tubas. The lands of the Khirbet stretch between Al Tayaseer checkpoint and the Jordan River. Its current population is 400 Palestinians while the number exceeded 1,000 before the Israeli occupation of 1967.
The residents of the Khirbet depend largely on farming and herding as the main source of income. The main clans in the area are Bisharat, Dababiyyat and Dharaghma from the city of Tubas and the town of Tammoun. A number of the residents have their roots in the area of Yatta in Hebron Governorate.
The area has witnessed many collective demolitions of all barns and residences over the past five years. All of the barracks and structures in the Al-Farisiya are notified with either stop-work or demolition; orders totaled 70 so far
Prepared by
The Land Research Center
LRC