The Israeli occupation demolishes structures in Tubas governorate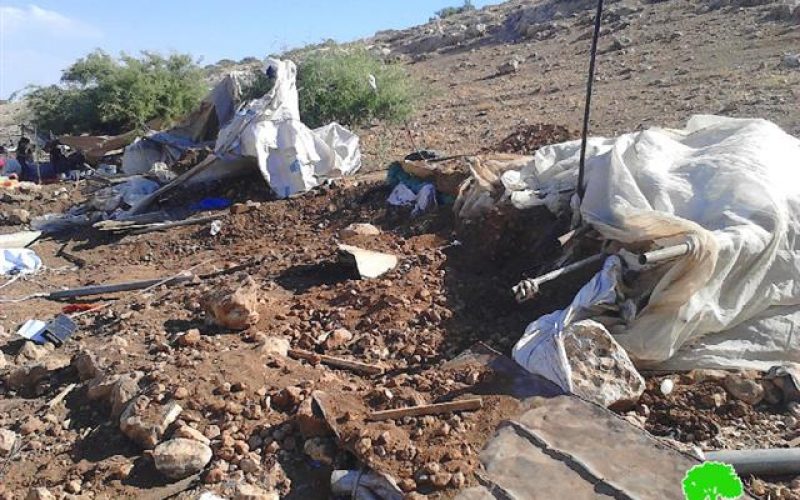 Violation: demolition of structures
Location: Tubas governorate
Date: 04/06/2015
Perpetrators: the Israeli occupation army
Victims: 4 Bedouin families
Details:
A massive force from the Israeli occupation army accompanied by two military dozers on June 06, 2015 raided the area of Dhra' Awwad , south Tubas governorate and imposed a full closure on the area that is adjacent to al-Hamra military checkpoint. The troops then forced Bedouins to evacuate their residences without taking any of the interiors out, where the dozers embarked on demolishing five residences, 4 metal slaps barracks, and two tents for sheep all belonging to four Bedouin families that are comprised of 29 members including 16 children namely (Abu Awwad and as-Salamin).
It should be indicated that this attack is one of a kind since 1954. Noteworthy, the members of the four families starting with fathers and ending up with youngest children were born in the area. The following table shows the damage resulted due to the demolition:
Affected citizen

Family

Minors

No. of sheep

Demolished structure

Residences

Barns

Barracks

Storehouses

Bathrooms

Kitchen

Kayed Salamin

10

3

140

2 tents (60m2 each)

Unroofed 350m2 barn

A 40m2 barrack for sheep

—

1

1

Adel Salamin

5

100

One tent (60m2)

Unroofed 300m2 barn

A 60m2 barrack for sheep + 2 tents for sheep (45m2 each)

12m2 storehouse (cloth shaded)

1

1

Nidal Abu Awwad

8

6

300

One tent (45m2)

Unroofed 300m2 barn

A 12 0m2 barrack for sheep

A 40m2 metal slaps barrack for sheep

1

1

Nitham Abu Awwad

4

2

200

One tent (80m2)

Unroofed 200m2 barn

A 16 0m2 barrack for sheep

—

1

1

Total

29

16

740

5

4

6 barracks and tents

2

4

4
Source: Field observation- Department of Monitoring Israeli Violations- Land Research Center

It should be marked that the Planning and Construction Committee- Israel Civil Administration on June 2014 served the affected families stop-work and construction orders under the pretext of unlicensed construction in an area classified "C" according to Oslo Accords. Noteworthy, the stop-work orders were served despite a decision made by an Israeli court to halt any demolition in the area from May 30 to June 30 2014.
The residents of Dhra' Awwad come originally from the southern part of the occupied historic Palestine in 1948. Residents first fled to the area of al-Samu', south Hebron and then moved to the area of Dhra' Awwad, looking for water and pastures.
Prepared by
The Land Research Center
LRC