Stop-work orders in Nablus Khirbet of Al-Taweel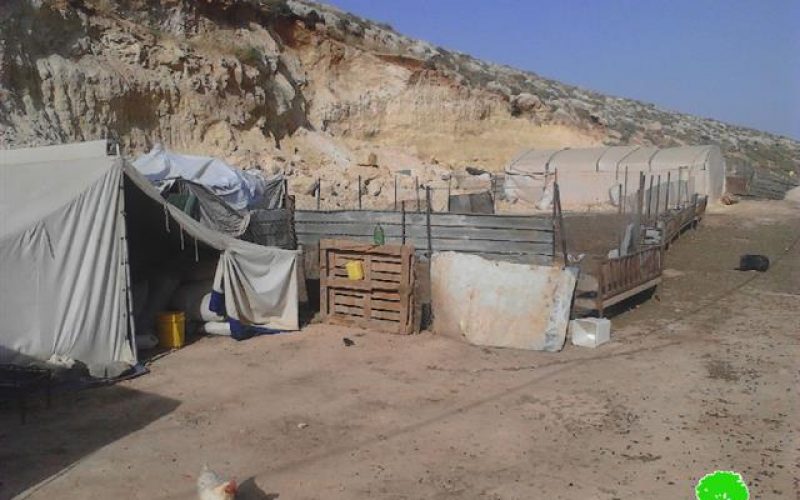 Violation: serving stop-work orders
Location: Khirbet Al-Taweel-Nablus
Date: 01/06/2015
Perpetrators: Planning and Construction Committee- Israel Civil Administration
Victims: farmers Mohammad and Anwar Bani Fadil
Details:
"There is neither safety nor stability wherever we go but we are staying here despite of the occupation" said citizen Anwar Bani Fadil (45) from Khirbet Al-Taweel after his brother and he were delivered a displacement order on June 01, 2015.
A massive force from the Israeli occupation army accompanied by Planning and Construction Committee- Israel Civil Administration on June 01, 2015 raided the area of Khirbet Al-Taweel and delivered stop-work orders to two families on their residences and barns under the pretext of unlicensed construction in areas classified C according to Oslo Accords.
The notified residents were given a deadline until June 29, 2015 to complete all licensing procedures. This comes in time with the hearing session of the Planning Committee in the Israeli court of Beit El to consider the status of the notified structures.
It should be marked that the two farmers got their residences, barns, barracks and water catchment cisterns demolished 6 times during 2014(Land Research Center-LRC ); families became homeless and were forced to move to a new area that is 300m away from Khirbet Al-Taweel. The following table shows details about the notified structures:
Affected citizen

Family

Minors

No. of sheep

Structures notified of stop-work

No. of order

Photo

Residence

Barn

Storehouse

Mohammad Bani Fadil

7

5

190

A 90 m2 residential tent

A 16m2 sheep tent+ a 54m2 barn+ 7 sheep feeders

—-

180458

Anwar Bani Fadil

10

7

186

Two residential tents (90m2+ 16m2)

A 60m2 barn+ 2 sheep feeder

A 9m2 fodder tent

180457

17

12

376

Three residential tents

2 barns+ 1 sheep tent+ 9 sheep feeders

A fodder tent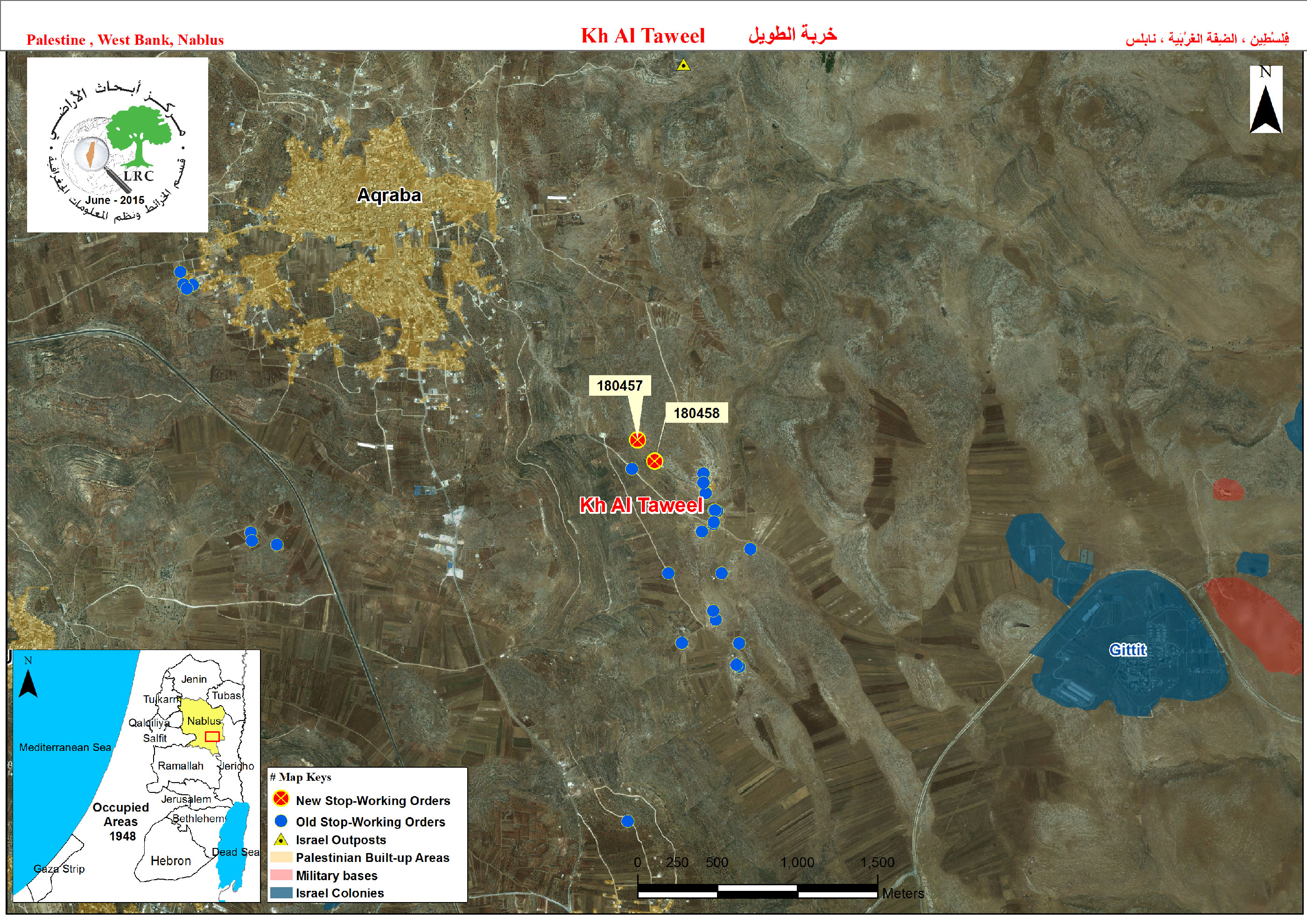 It should be marked that the area of Khirbet Al-Taweel is a hot spot for the Israeli occupation attacks; the major part of the area has been transformed into a military training camp. A vast area of winter and summer plantation has been destroyed as a result, not forgetting the area that was planted with landmines.
Prepared by
The Land Research Center
LRC