Demolition of a agricultural room in the Jenin village of Rummana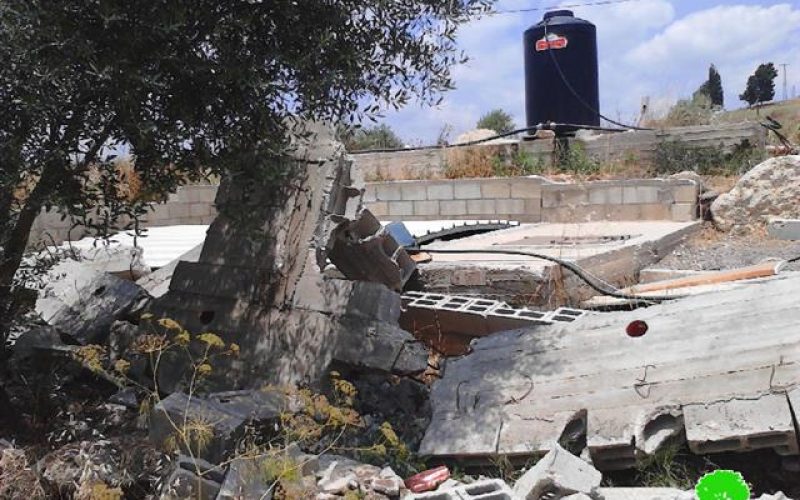 Violation: destruction of a agricultural room
Location: Rummana- Jenin
Date: 01/06/2015
Perpetrators: Inspection Sub-Committee-Israel Civil Administration
Victims: Citizen Nabil Sabahat
Details:
Palestinian agriculture sector has been a primary target of the Israeli occupation, which worked day and night to destroy it and impose its control on so that Palestinians become dependants on Israel's agriculture sector. Not only that, the infrastructure of agriculture is also targeted in that the Israeli occupation still confiscates lands, demolishes agricultural rooms and roads, and imposes restrictions on farmers in terms of accessing their lands.
A massive force from the Israeli occupation army accompanied by a military dozer on June 01, 2015 raided the western part of Rummana village and embarked on demolishing 30m2 agricultural room that is built by metal slaps. The room belongs to Citizen Nabil Sabahat from the village.
Sabahat who provides sustenance for a five member family has ran reclamation on his 5 dunum plot five years ago. The citizen built a room to store seeds inside of it by 2014 but the structure was unlicensed; a stop-work order was served on the room on January 09, 2014. Sabahat embarked on licensing his structure through a very expensive process but the Israeli court of Beit El rejected his license on February 09, 2014 and the house was demolished later.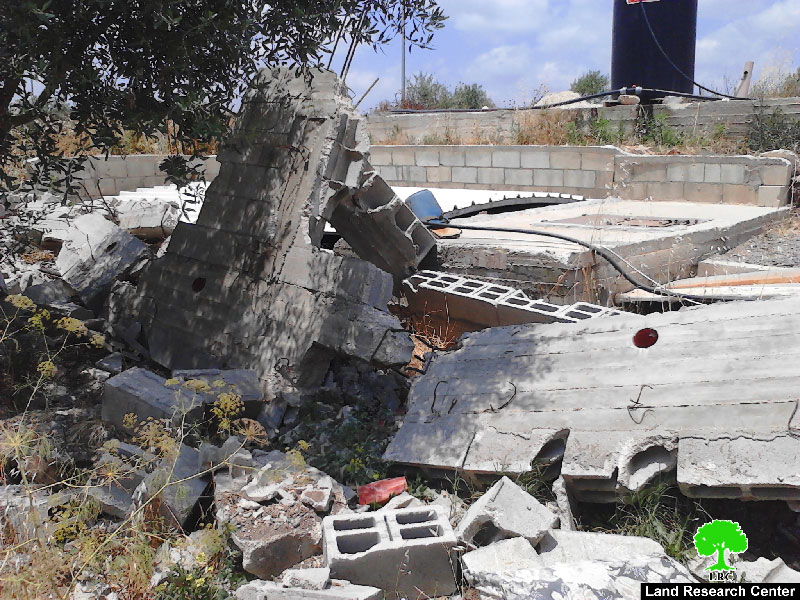 Photo 1: the demolished room
What happened in the area of Rummana is a clear example on the occupation's practices in destroying the Palestinian countryside and any developmental project in the areas classified C according to Oslo Accords. Ironically, the Israeli occupation facilitates such projects for colonists to benefit from.
About Rummana:
Located 13km to the northwest of Jenin governorate, Rummana has a total land area of 9650 dunums, of which 280 dunums are the built-up area. The apartheid wall confiscated 84 dunums of the village's total area and destroyed 100 other dunums as per constructing its route. The village has some 1000 dunums of agricultural and pastoral lands and other olive and almond groves.
Prepared by
The Land Research Center
LRC