A demolition order on a agricultural road in the Salfit village of Haris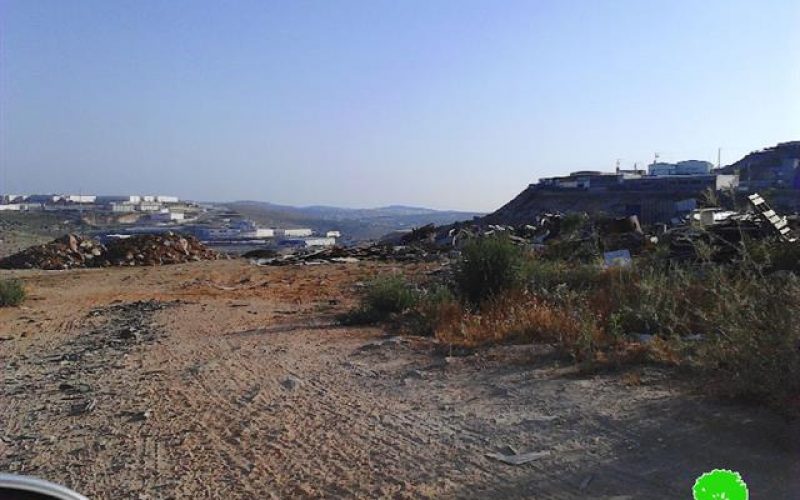 Violation: serving a demolition order
Location: Haris village-Salfit
Date: 08/06/2015
Perpetrators: Planning and Construction Committee- Israel Civil Administration
Victims: farmer Ma'mon Dawoud
Details:
The Planning and Construction Committee- Israel Civil Administration on June 08, 2015 served famer Ma'mon Dawoud (72) a military order including a three day deadline to object a final demolition order that has been served on a agricultural land serving his land, which is located in the southwestern part of the village also known as al-Dars area.
According to the military order no. 391323, the Israel occupation on August 19, 2012 served a military order to demolish the agricultural road penetrating the citizen's land. The (150m*4m) road was previously served an "additional opportunity to object a demolition" order.
It should be marked that the agricultural road serves an area of 18 dunums planted with olives, taking into consideration that the Committee of State Property- Israel Civil Administration claimed the ownership of the aforementioned area and that the Committee delivered a military order to the farmer in that regard.
The targeted land is reported to be located 1km away from the Industrial zone of Burkan, which usually witness colonial expansion at the expense of Palestinian lands.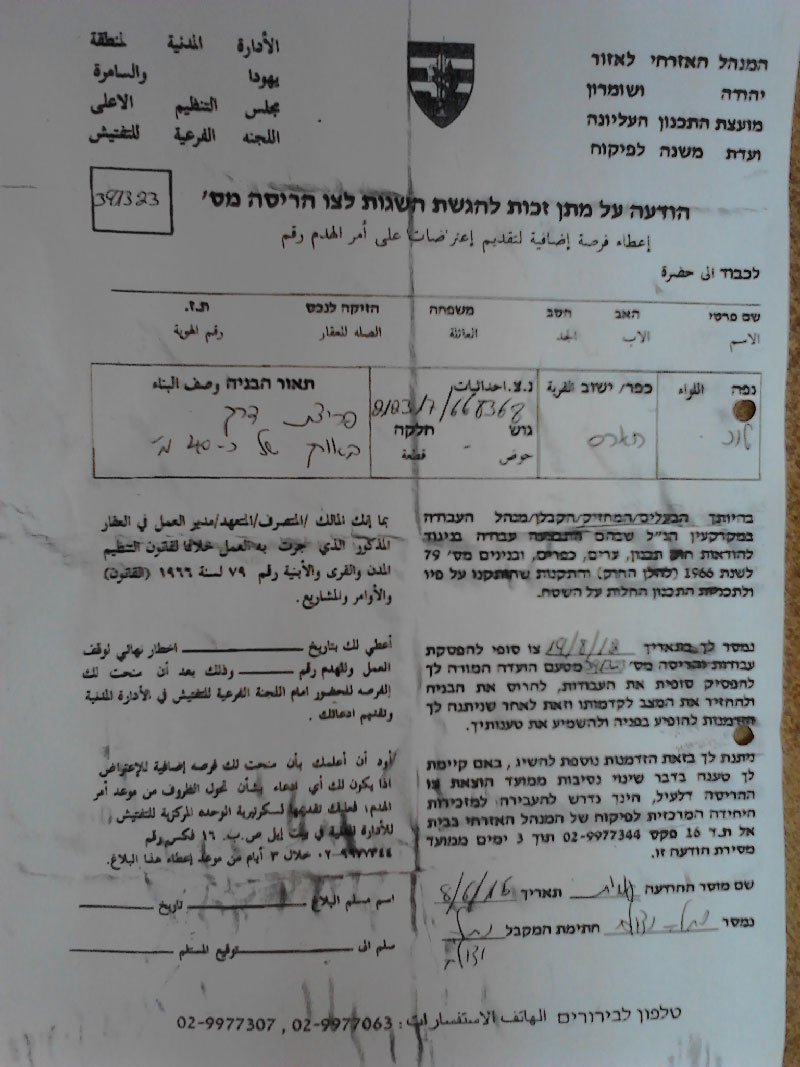 Photo1: the military order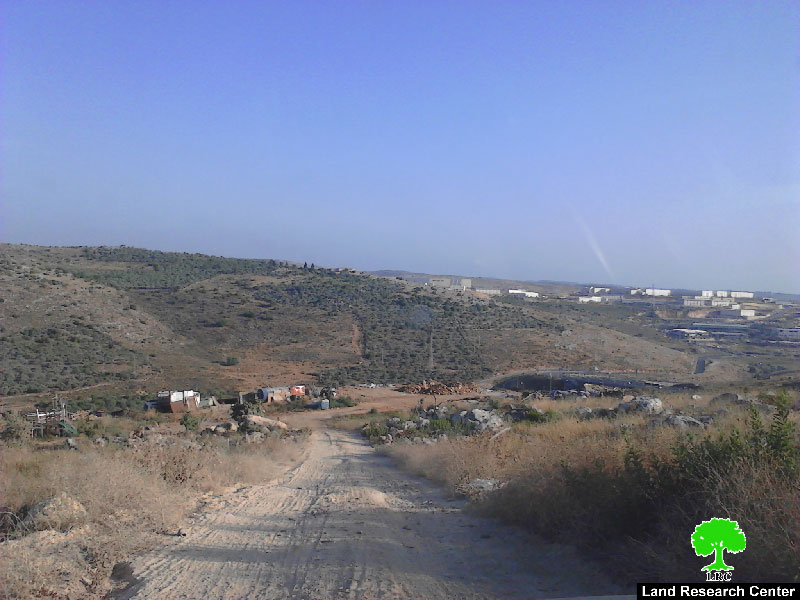 Photo 2: the targeted agricultural road with a view of Burkan colony in the back ground
About Haris:
7km to the northwest of Salfit governorate, Haris is there with a total land area of 8769 dunum, of which 190 is the built-up area. Haris is surrounded by the villages of Deir Istiya from the north, Kifl Haris from the east, Kfar ad-Deek and Bruqin from the southwest and Qarawat Bani Hassan from the west.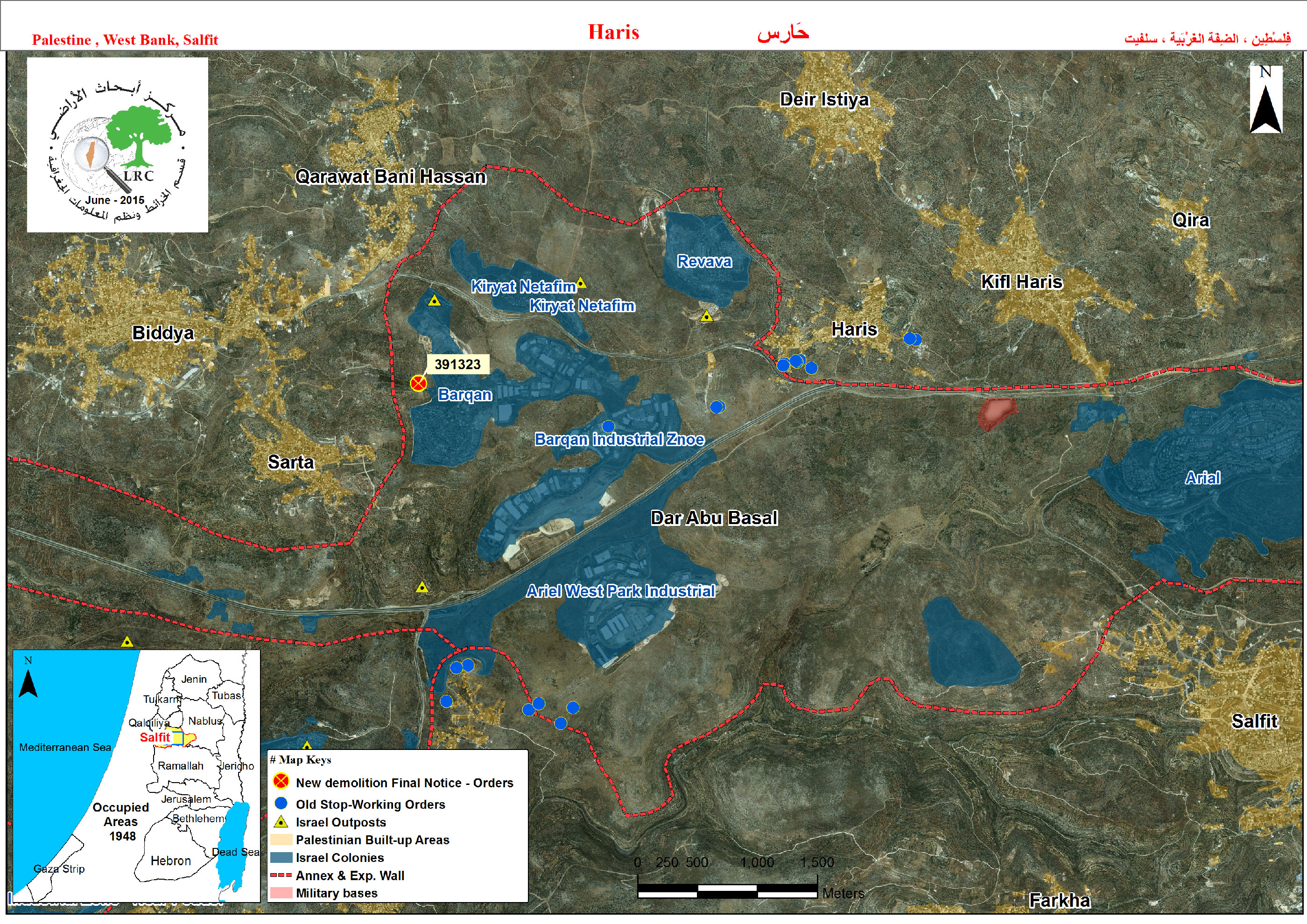 Haris has a total population of 3740 people according to the census of Palestinian Central Bureau of Statistics for 2009. Those people relate to the following families: Abu Atta, Dawoud, Salamih, Sultan, Shihada, Souf, Faz', Awwad, Qasim, and Klaib
Prepared by
The Land Research Center
LRC