Stop-work order on a residence in al-Dairat village-Yatta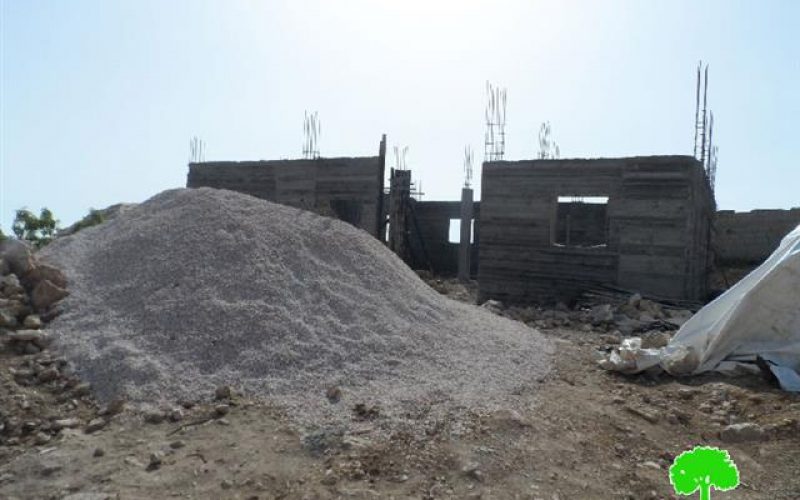 Violation: serving a stop-work order on a house
Date: 13/04/2015
Location: al-Dairat village/Hebron governorate
Perpetrators: Israel Civil Administration and army
Victims: citizen Salah Mohammad
Details:
The Israeli occupation authorities on April 13, 2015 served a stop-work order on a residence owned by citizen Salah Mohammad from al-Diarat village in Hebron governorate.
Citizen Salah asserted that a patrol from the Civil Administration accompanied by a force from the military arrived at the location and delivered the order to his mom, whom was asked to sign to proof its receipt.
The order mentioned that the structure was built without a proper permit and compelled a halt on any construction. April 29, 2015 was assigned as the hearing session for the Inspection Sub-Committee in the Israeli court of Beit El to consider whether to demolish the structure or restore its previous status.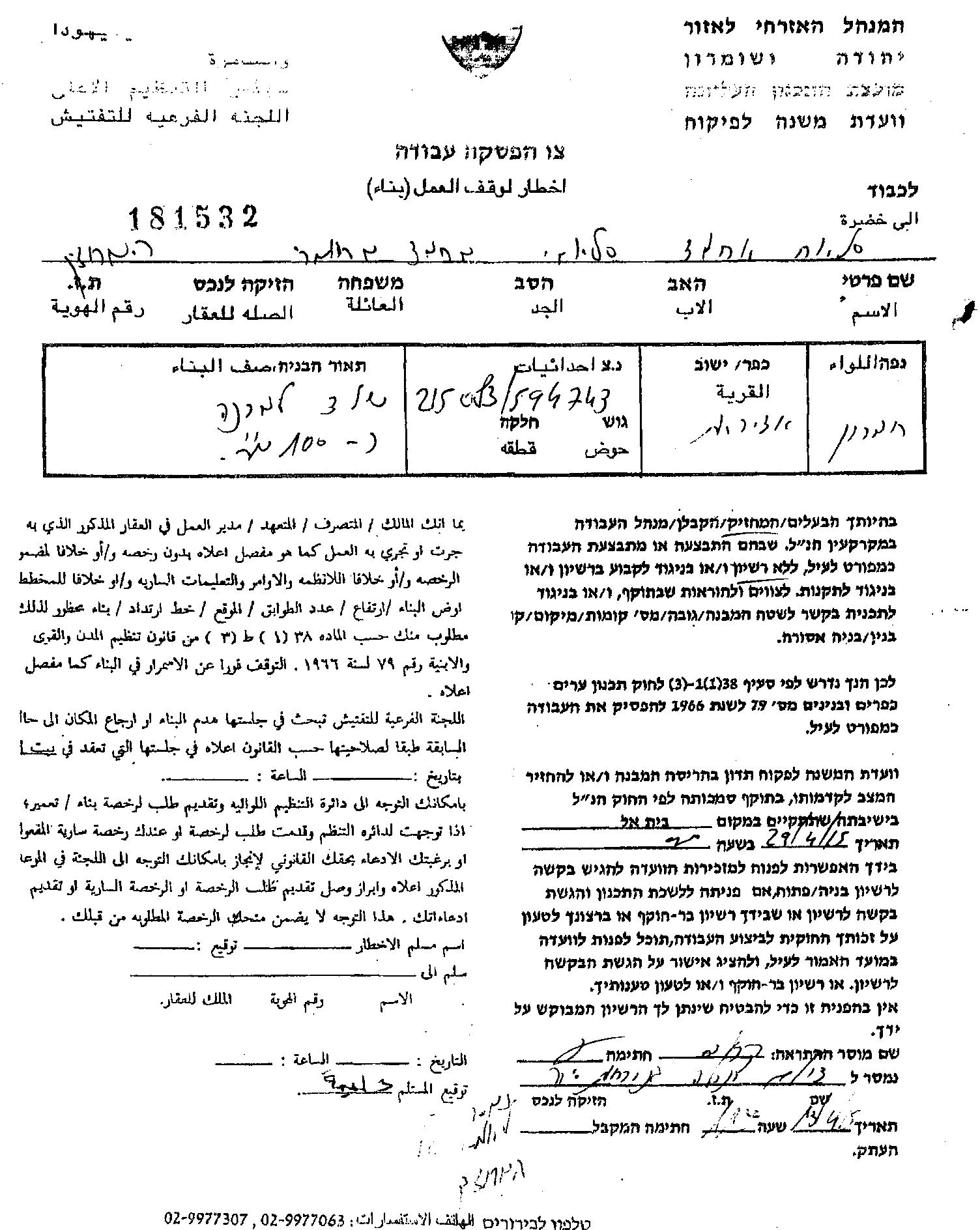 Photo 1: the stop-work order
Salah pointed out the an officer from the Civil Administration came back after two days to check whether the construction is still ongoing or not; the citizen was threatened with materials confiscation in case he proceed on building.
It should be marked that the notified structure is still under construction; the citizen started working on the house in March 2015. The 100m2 residence was supposed to be a home for 5 members including 3 children.
About Al-Dairat :
Al-Dairat is located to the east of Yatta town and is about 6km away from it. The village is considered a agricultural one and is inhabited by 400 people; a village council runs the affairs of al-Dairat despite there is no headquarter for the council itself.
A number of families reside in the village namely : (al-Hamamdah, Musa'fieh , al-Adra); al-Dairat is split by the bypass road no. 60, which links all Israeli colonies in the north with those in the south.
The village is edged by Arab al-Ka'abna and al-Karmel colony from the east, Yatta town from the west, Khirbet al-Bwaib from the north and Ma'on colony and Um Lisfa village from the south .Residents of the area aspire to issue a master-plan for the village that includes their houses in order to protect them from Israeli orders of stop-work and demolition.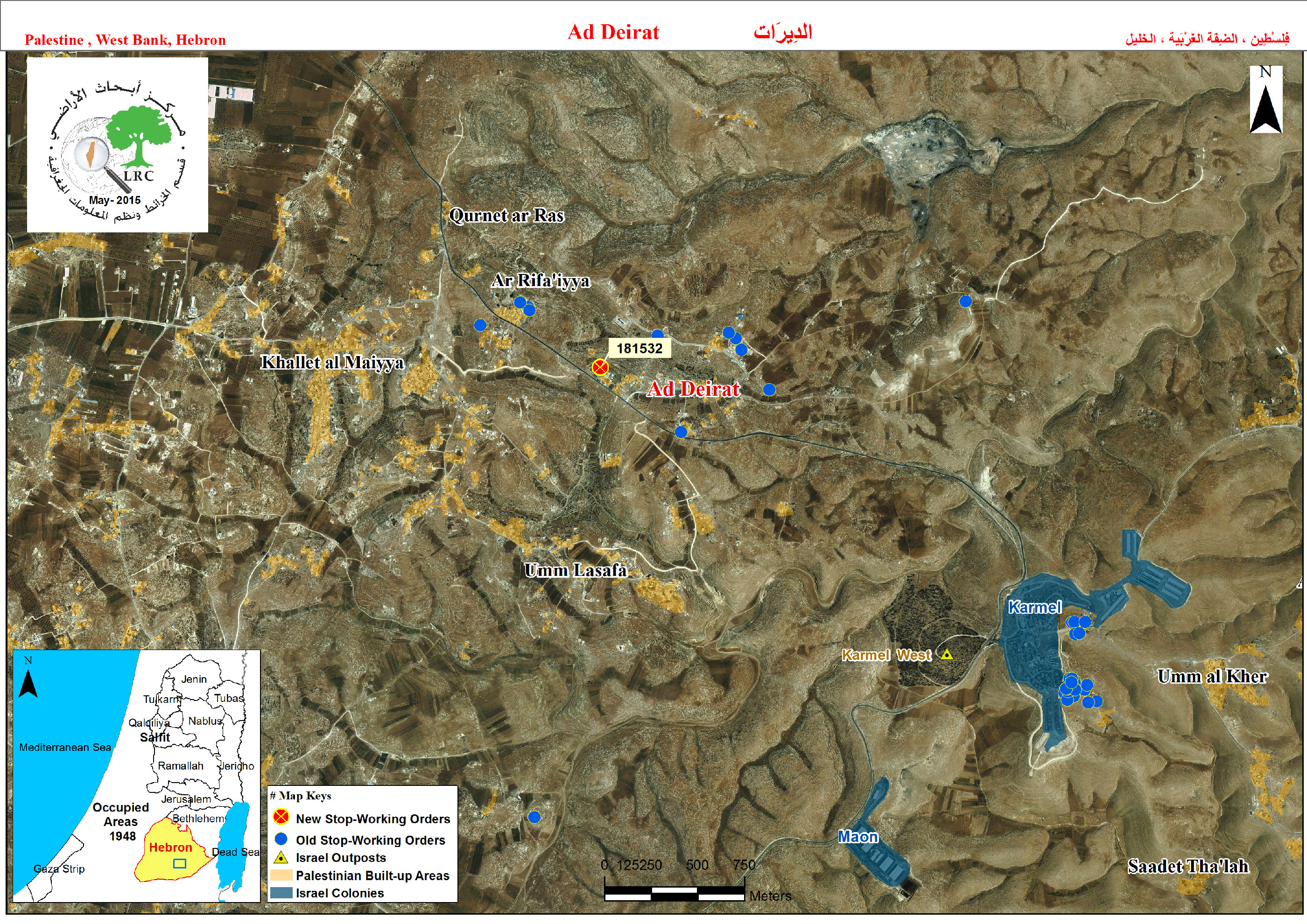 Prepared by
The Land Research Center
LRC