Stop-work and construction orders on agricultural and residential structures in Hebron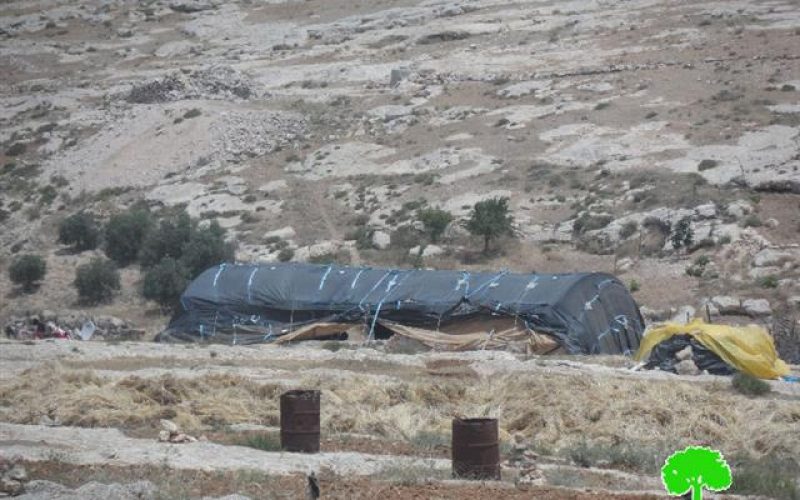 Violation: serving stop-work orders
Location: Khirbet Qawawis- Yatta
Date: 21/04/2015
Perpetrators: Israel Civil Administration and army
Victims: Citizen Jibil Abu Iram
Details:
The Israeli occupation authorities on April 21, 2015 served stop-work orders on agricultural and residential structures owned by citizen Jibril Abu Iram from Khirbet Qawawis, southeast Yatta town in Hebron governorate.
Abu Iram (55) said that a vehicle from the Civil Administration accompanied by an army patrol arrived at the scene and requested some information. The officer then embarked on issuing a stop-work order that he hanged on the structures later on before the force had left the place.
The military orders mentioned that the structures were built without a permit and compelled a halt of construction. May 14, 2015 was set as the hearing session for the Inspection Sub-Committee in the Israeli court of Beit El to consider the status of the notified structures.
The targeted structures are:
A residential tent: this structure was built in 2012 by metal corners and roofed with shade cloth; the tent is home for 11 members and is of 66m2 in area.
A barrack for sheep: it was built in 2012 by cement blocks and roofed with metal slaps; the structure totals 100m2 in area.
Abu Iram pointed out that he has approached Saint Yves association to object the military orders through. Noteworthy, the association provides legal aid for the affected people by military orders.
Khirbet Qawawis- Yatta:
Khirbet Qawawis is part of al- Tawani and is located 8 km to the southeast of Yatta. It is surrounded by al-Karmel village (north), Ma'in (west), Khirbet Sarura (east) and Khallet ad Dabi'(south).
It has a population of 140 people (according to 2014 population projections). Al Tawani's total area is 12026 dunums, 48 of which are built-up area. The Israeli occupation confiscated 1155 of the village lands for the benefit of:
Israeli colonies that devoured 648 dunums of land, namely:
a. Karmel which was built in 1981 and confiscated 197 dunums. It is inhabited by 821 colonists.
b. Maon, built in 1980 and confiscated 669 dunums. 327 colonists live in it.
Bypass roads number (356 and 317) that took over 507 dunums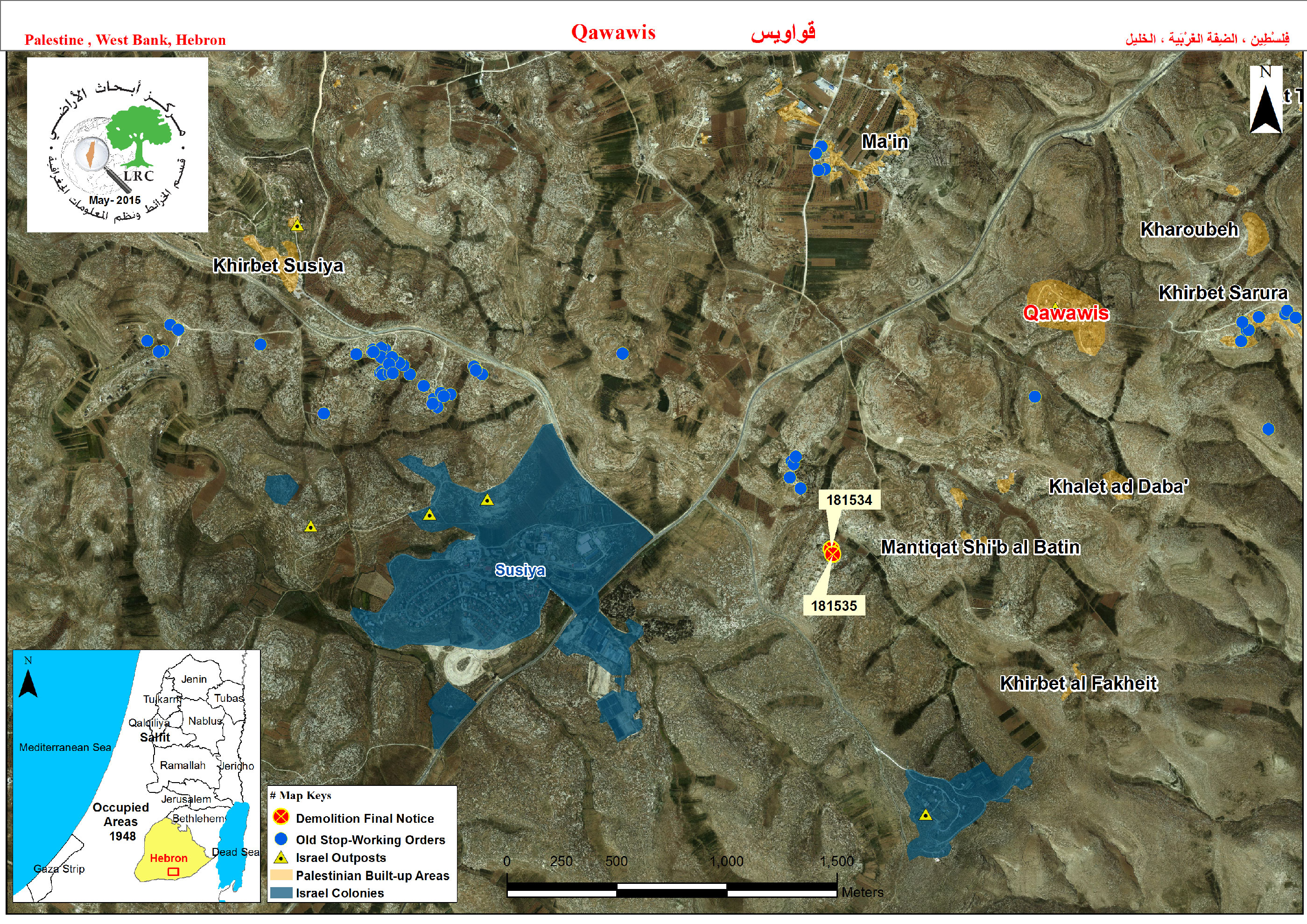 Prepared by