The Israeli occupation issues an evection order on lands in Qusra village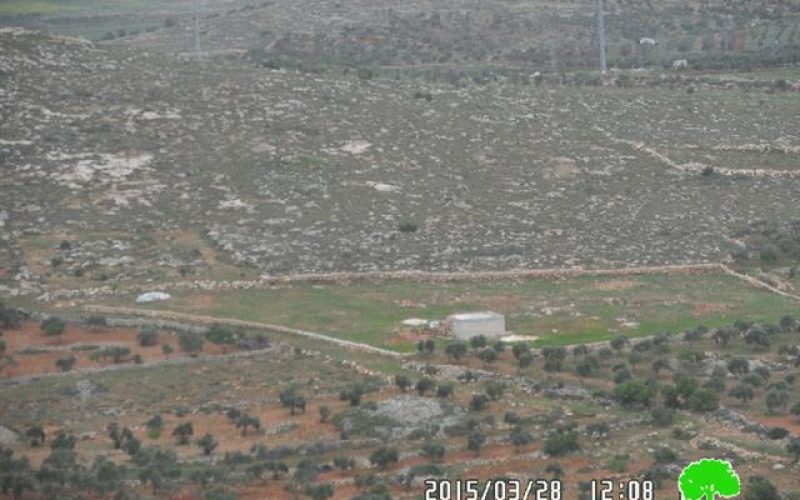 Violation: serving eviction order
Date: 23/03/2015
Location: Qusra village/ Nablus
Perpetrators: Israel Civil Administration and army
Victims: 7 agricultural families
Details:
Israel Civil Administration- State Land Committee on March 23, 2015 served seven families in Qusra village eviction orders on their lands; the orders compelled eviction within 45 days, claiming the property state lands.
Noteworthy, the lands are located to the eastern and northeastern side of Qusra village; this area is considered an occupational interest of takeover for the sake of expanding the Israeli outpost founded in the nearby.
The chairman of Qusra village council Abdel'athim al-Wadi told a researcher from Land Research Center the following:
"over a year, farmers rehabilitated their lands for the sake of protecting them from the occupation and benefiting from them; farmers planted the lands and built some retaining walls in addition to rainwater catchment cisterns and some agricultural rooms"
He also added: " what the occupation did in Qusra is not out of the blue; there is a plan to take over the whole area. The area witnessed a number of break-ins, demolitions, and confiscations; other structures in the village are threatened of demolitions". The following table shows the damages resulted due to the last orders :
Affected citizen

Family

Location

No. of order

Damages

Photo

Mustafa Oudeh

7

Al-Wa'ar

A 8 dunum plot including :

250m of retaining walls

100 olive seedlings (3years)

Tariq Ali

4

Al-Wa'ar

A 6.5 dunum plot including :

180m of retaining walls

120 olive seedlings (3years)

Mahmoud Oudeh

13

Ras Nakhel

A 14 dunum plot including :

1500m of retaining walls

500 olive seedlings (5-6years)

Cistern (70m3)

Agricultural room (16m2)

Tha'ir Hasan

5

Qila' el-Badawi

392109

A 8 dunum plot including :

300m of retaining walls

200 olive seedlings (4-5years)

Cistern (70m3), implemented by FAO

Saed Wadi

9

Byar el-Kharhih

A 1 dunum plot including :

80m of retaining walls

25 olive seedlings (2years)

Ibrahim Wadi

7

Byar el-Kharhih

392100

A 6 dunum plot that went under reclamation

Ahmad Hasan

8

Byar el-Kharhih

180084 Stop-work

A 5 dunum plot including :

240m of retaining walls

110 olive seedlings (2years)

Cistern (80m3), implemented by Swedish Cooperation

Total

54

48.5 dunums of agricultural lands

2550m of retaining walls

1055 olive seedlings

3 water cisterns and one agricultural room
According to the Geographic Information System – Land Research Center , the targeted lands total 27 dunums in area.
About Qusra:[i]
It is located 23 km to the south of Nablus city and is administered by Qusra village Council. Qusra is surrounded by Jurish (south), Talfit (west), Majdal Bani Fadil (east), and Mizpe Rachel colony (south).
Qusra is inhabited by 5644 people according to 2014 PBS population projections. Its total area is 8886 dunums that include 775 dunums of built up area.
The Israeli occupation confiscated 223 dunums of the village lands for the sake of:
Migdalim colony that devoured 155 dunums. It was built in 1984 and is inhabited by 152 colonists.
Bypass road no. 508 that took over 68 dunums.
According to Oslo Accords, Qusra is divided into area B (4323 dunums) and area A (4563 dunums).
Land Research Center LRC sees that land grab contradicts with all of the International conventions and Humanitarian laws including:
Article 17 of the (1948) Universal Declaration of Human Rights stating: "Everyone has the right to own property alone as well as in association with others. No one shall be arbitrarily deprived of his property."
Section 1, Article 1 of the International Covenant on Economic, Social and Cultural Rights (1966) states that :
" All peoples may, for their own ends, freely dispose of their natural wealth and resources without prejudice to any obligations arising out of international economic co-operation, based upon the principle of mutual benefit, and international law. In no case may a people be deprived of its own means of subsistence".
Prepared by
The Land Research Center
LRC