Retaining walls demolition and trees uproot in the Nablus village of Majdal Bani Fadel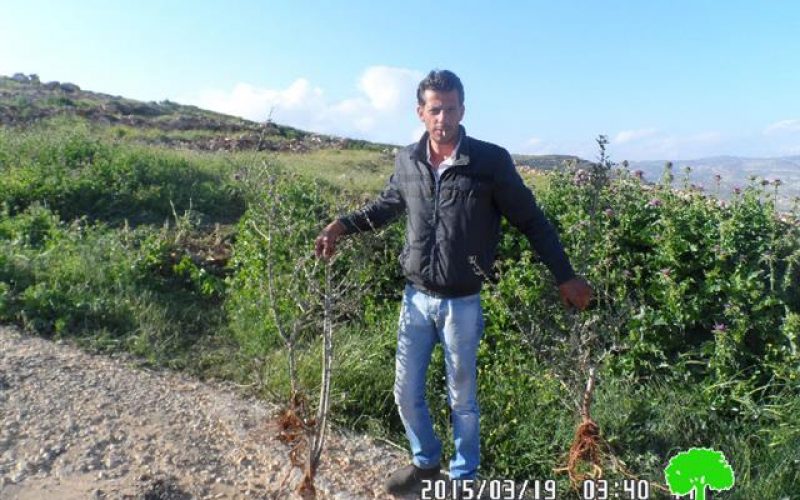 Violation: demolitions and trees uprooting
Date: 18/03/2015
Location: Majdal Bani Fadel
Perpetrators: the Israeli occupation army
Victims: three families from the area
Details:
A massive force from the Israeli occupation accompanied by a military dozer raided the area of Khallet al-Khashab , 500 meters away from the village of Majdel Bani Fadel and 2km west of Jetit colony.
It should be marked that the dozer embarked on demolishing 800m of retaining walls and uprooted 300 olive trees aging 6 years from a 10 dunums plot that underwent a reclamation within the framework of "Improving the Livelihood of Deprived Families in the occupied territories" project in 2011 through The Union of Agricultural Work Committees (UAWC) with funds from the Dutch representative office.
Noteworthy, the occupation carried out the operation under the pretext of the area being a "state property".
It should be marked that Israel Inspection Committee served an eviction order on the aforementioned lands on September 2012; the order mentioned that the lands are state property and that owners are denied the right to dispose on them.
The targeted lands are reported to be owned by citizens Rida, Mohammad and Maher Khatib.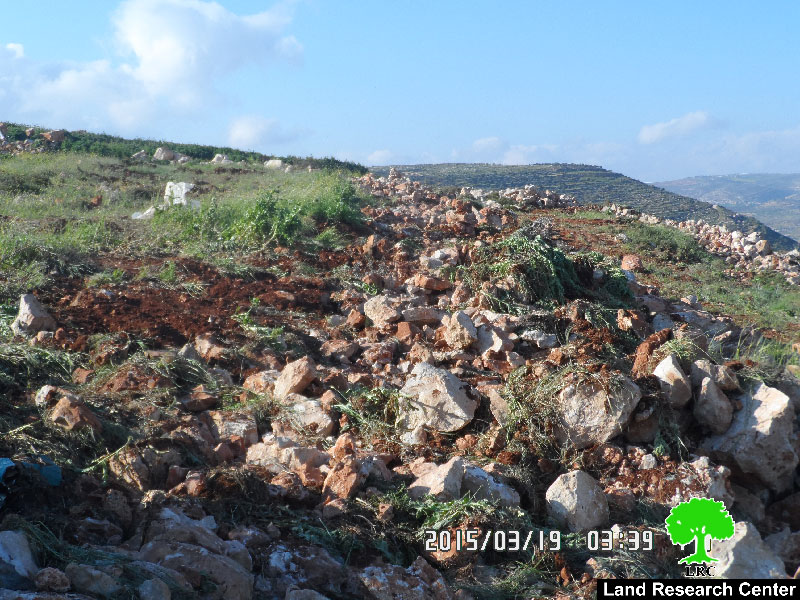 Photos 1-3: the damage resulted due to the attack on the targeted lands
A contradicting reality:
Farmer Rida told and observer from Land Research Center the following: "after we received the eviction order in 2012, we objected it in the Israeli court of Ofra colony. My brothers and I issued a registration document from the Lands Department- Israel Civil Administration in Huwwara; after three sessions in the court, the last of which was on September 2014, the occupation did not make any decision in regard to the land ownership and came today and demolished the walls and uprooted our trees"
He also added: " we have been planting this land for more than 30 years with different crops and grains; we lived in peace until the occupation attempted at stealing the land from us without any justification; our neighbors also were notified of eviction in the years between 2004-2008".
Majdal Bani Fadel:
The village is 23 km to the southeast of Nablus city and is located on junction of the nearby villages. Majdal Bani Fadel is 650m above seas level and has a total land area of 28,000 dunums, 160 dunums of which are the built-up area.
It is surrounded by the villages of Jurish, Duma and Qusra and mostly planted with fruitful trees, almond, grape, figs, and olive trees.
Majdal Bani Fadel is has a total polupation of 3000 people (census of 2007) who are part of two main families namely ( Khatib and Bani Fadel)
Prepared by
The Land Research Center
LRC