Killing 56 olive trees in the area of Dhahr Soboh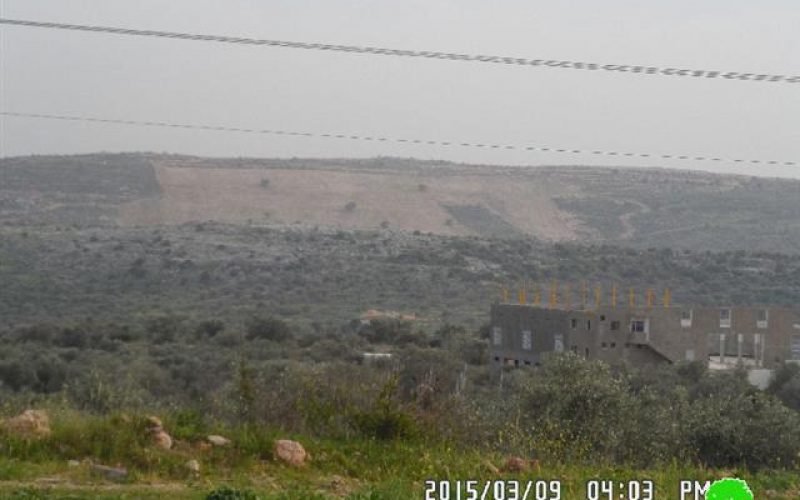 Violation: sabotaging olive seedlings
Date: 05/03/2015
Location: Dhahr Soboh/ Salfit governorate
Perpetrators: Israeli occupation army
Victims: famer Salah Dar Ahmad
Details:
Farmer Sabah Dar Ahmad was traumatized when he found out that the olive seedlings he planted by the beginning of 2015 were entirely killed by the Israeli occupation army. Noteworthy, Ahmad's plot is located in the area of Dhaher Soboh within the natural block no. 2 from the lands of Biddya town.
The reason why farmer Ahmad planted his land was to protect it from any colonial expansion plans that would wipe out the Palestinian existence from the area.
It is indicated that the Israeli occupation army on March 05, 2015 raided the area of Dhaher Soboh and carried out an attack on Ahmad's plot.

Photos 1-4: some of the targeted seedlings
It should be marked that the uprooted seedlings from Ahmad's land were donated from Palestine Ministry of Agriculture within "Green Palestine" project . The Israeli occupation has been trying to take over the area through destroying the agricultural sector and confiscating Palestinian lands as well.
Farmer Ahmad told a researcher from Land Research Center the following:
" what happened is just a part of an Israeli plan to take over the whole area because it is considered a linking point between Ali Zahav colony and the Israeli Industrial zone of Burkan. Thirty years ago, my father was killed by the occupation while sending farmers out from this area; ever since that incident, I pledged to myself that I will protect my land from colonial plans through planting it"
He also added :
" in 1995, I received an eviction order on my land under the pretext of it being "state lands" as Israel claimed but that did not mean a thing to me; I kept on planting and protecting my land with all power I have"
Dhaher Soboh is being sapped :
Dhahr Soboh is at the heart of the governorate of Salfit. It is on a mountain peak overlooking Kafr ad Dik, Badia, Deir Ballot, Rafat, Qarawat, and Sarta among others. It is also rife with olive trees which many families consider their source of income.
The area has always been targeted by the Israeli occupation, mainly because of its strategic geographic location. The area is strangled by Ali Zahav and Bedoel (from the west), Ariel, Barkan Industrial Zone and Bruchin (from the east).
The Israeli occupation is currently trying to devour as much agricultural land of Dhahr Soboh as possible for the construction of a new outpost in the area under the pretext that Dhahr Soboh is "state property" though Palestinians have all the deeds that prove their ownership.