Israeli forces cut down and confiscate 160 trees in Hebron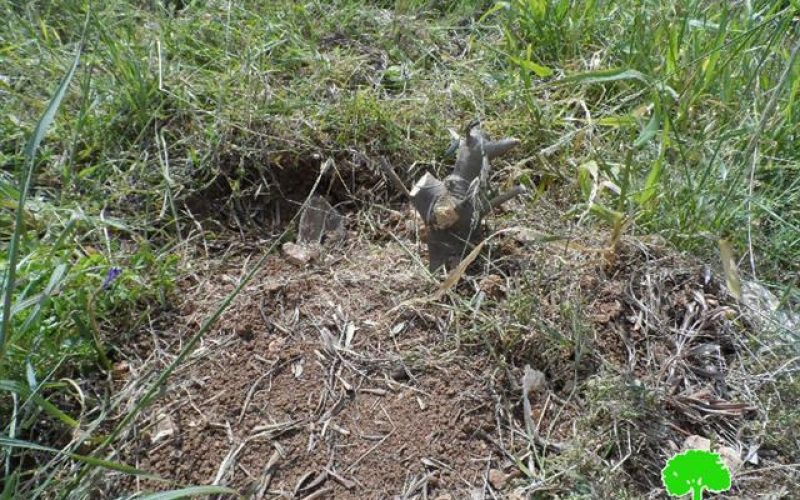 Violation: cutting down and confiscating trees
Date: 18/03/2015
Location: Ma'allah- Adh Dhahiriya town/Hebron
Perpetrators: Israel Civil Administration and army
Victims: Citizen Adam al-Tal
Details:
Israeli occupation authorities on March 18, 2015 cut down and confiscated olive and almond trees from the land of citizen Adam al-Tal from the area of Ma'allah, east al-Adh Dhahiriya town.
Al-Tal asserted to a researcher from Land Research Center that a patrol of the occupation army accompanied by 4 vehicle from the Civil Administration raided his land at 8:00 a.m. where soldiers embarked on cutting down his trees and loading them on trucks. Not only that, the accompanying staff also sprayed the stocks of the rest of trees with chemicals to prevent them from growing.
Photos 1-8: signs of the trees cutoff
The attacked trees are documented as follows :
| | | |
| --- | --- | --- |
| No. | Type of tree | No. |
| 1 | Olive | 80 |
| 2 | Almond | 50 |
| 3 | Pomegranate | 10 |
| 4 | Cactus | 10 |
| 5 | Cherry | 4 |
| 6 | Figs | 6 |
| 7 | Grapes | 4 |
Al-Tal pointed out that he conducted a reclamation on his plot to become a fruits orchard; the plot was to serve his 9 member family. Noteworthy, most of the almond trees had ripe fruits on before getting cut down.
Photos 9+10: a view of al-Tal trees in 2012
The Israeli occupation authorities on January 24, 2012 served an evection order on al-Tal plot under the claim of "state lands". al-Tal surveyed his land and prepared all needed documents to object the order through the attorney Ghayath Nasir; the Israeli court of Ofer on October 02, 2012 postponed al-Tal case. Today the occupation cam and carried out its attack despite the legal procedures the citizen followed.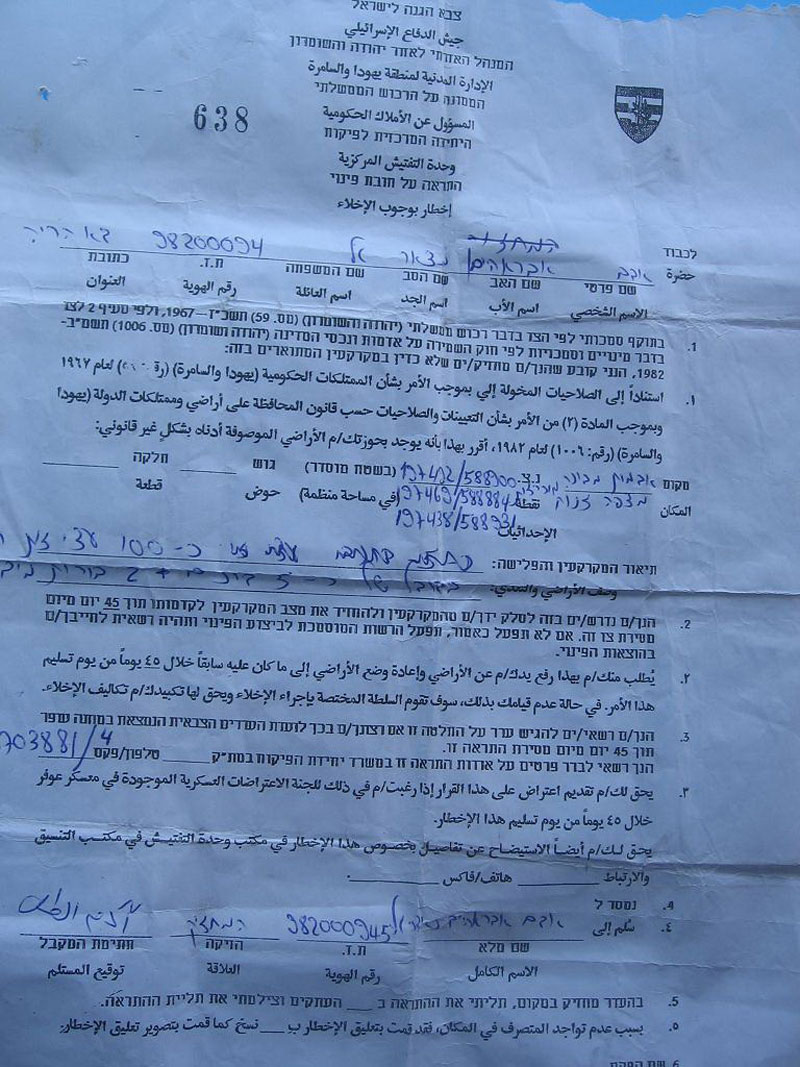 Photo 11 : the eviction order on al-Tal plot
The Israeli occupation authorities implemented the so-called eviction through cutting down trees and demolishing retaining walls, cisterns and other structures founded on the plot. It should be marked that the plot is edged by Tene colony from the southwestern side; the colony was established on confiscated lands from the village and is of 1.5 km away from al-Tal plot. Recently , the colony is undergoing an expansion from the eastern side.
Photo 12: a view of Tene colony
Summary about Adh Dhahiriya:
25 km away from Hebron, Adh Dhahiriya has a total area of 63, 390 dunums, 4437 of which are built-up area. According to a 2007 consensus, it has a population of 28, 776 people.
The Israeli occupation confiscated (1412) dunums for the benefit of:
Israeli colonies which devoured 427 dunums of Adh Dhahiriya lands. The colonies are : First, / Maale Omarim which was built in 1982 and stole 55.5 dunums and has a population of 563 colonists. The second is Shima which devoured 372 dunums and was built in 1985. 357 colonists live in Shima colony.
Bypasses that stole 859 dunums, and they are: bypass '60 and bypass '317.
The Apartheid Wall which devoured 126 dunums and isolated 213 dunums of Adh Dhahiriya lands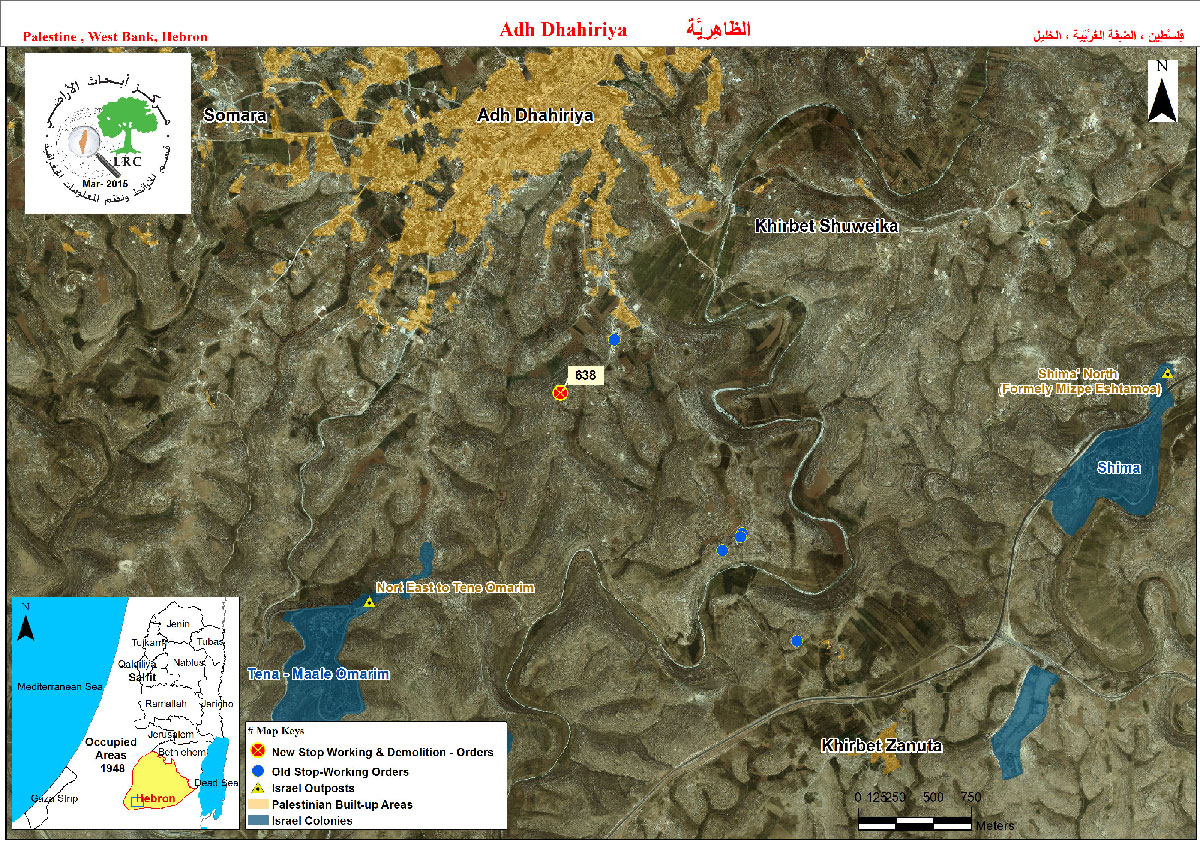 Prepared by
The Land Research Center
LRC