Eviction orders on lands in the Hebron village of Sa'ir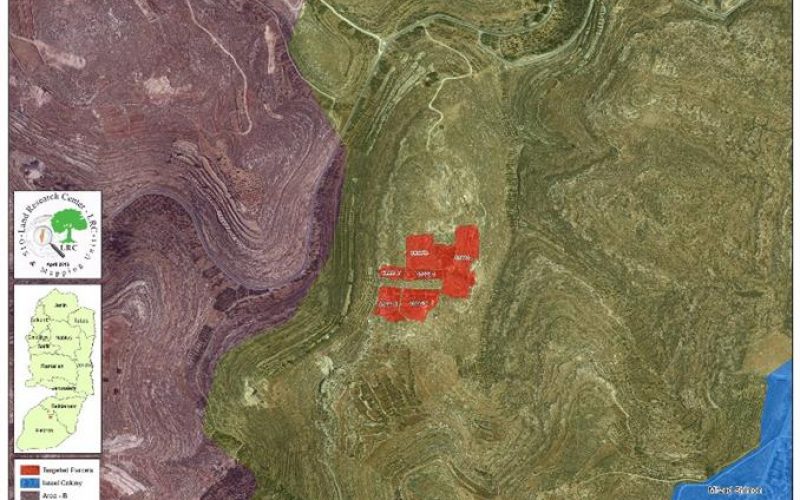 Violation: ordering agricultural land of eviction
Location: Sa'ir village- Hebron
Date: 12/03/2015
Perpetrators: Israel Civil Administration and army
Victims: citizens from Shalalda family
Details:
The Israeli occupation authorities on March 12, 2015 served eviction orders on 37 dunums owned by citizens from Shalalda family in the area of Jurat Al-Khail, east Sa'ir town.
Owners of the lands pointed out that they found 6 orders with aerial photos shoved under rocks in the targeted areas. The orders entitled "Eviction" were issued by Regional Inspection Committee – the Israeli Occupation Civil Administration. Noteworthy, the targeted lands were claimed "State property" by the Israeli occupation authorities.
According to the order, the targeted owners were given a 45 day deadline to evict the property; if not compelled to the order, the occupation authorities will carry out the operation and all expenses will be billed to the targeted people.
It should be also marked that the orders gave the targeted people the right to object the order within 45 days in the Israeli camp of 'Ofer.
Orders reached out the following lands:
Order no. 392212: it was served on a 6 dunum plot owned by Citizen Zeyad Shalalda; the plot is part of a 13 dunum land and is planted with 200 olive trees (3 years in age). The plot accommodates two 60m2 agricultural rooms, a 110m3 cistern, and retaining walls and fences.
Order no. 392214: it was served on a 12 dunum plot owned by citizens Mustafa and Nabil Shalalda; the plot is planted with 300 olive trees aging 15 years
Order no. 392215: it was served on a 6.5 dunum plot owned by citizen Ahmad Shalalda; the parcel accommodates a 100m3 cistern and is planted with 70 olive trees aging 10 years.
Order no. 392216: it was served on a 5 dunum plot owned by citizen Ibrahim Shalalda; the plot accommodates a110m3 cistern and agricultural room that were established in 2012.
Order 392217: it was served on a 2 dunum plot owned by Mustafa Shalalda; the plot is planted with 15 olive trees and has a agricultural room established on it since 2012.
The following table shows the exact area of targeted lands according to the Unit of Geographical Information System-Land Research Center:
| | |
| --- | --- |
| No. of order | Area-dunum |
| | 6.6 |
| | 11.9 |
| | 6.3 |
| | 6.8 |
| | 5.2 |
| | 2.0 |
| Total | 38.8 |
The affected citizens said that they embarked on preparing the legal file needed to object the orders in Israeli courts and also said that they sought help from attorney Ghayyath Nasir from the Ministry of Colonization Affairs.
For further information about the area and the attacks it underwent, please read the following report issued by Land Research Center (Ar, Eng)
Prepared by
The Land Research Center
LRC