Demolition of six agricultural barracks in the Jericho village of Jiftlik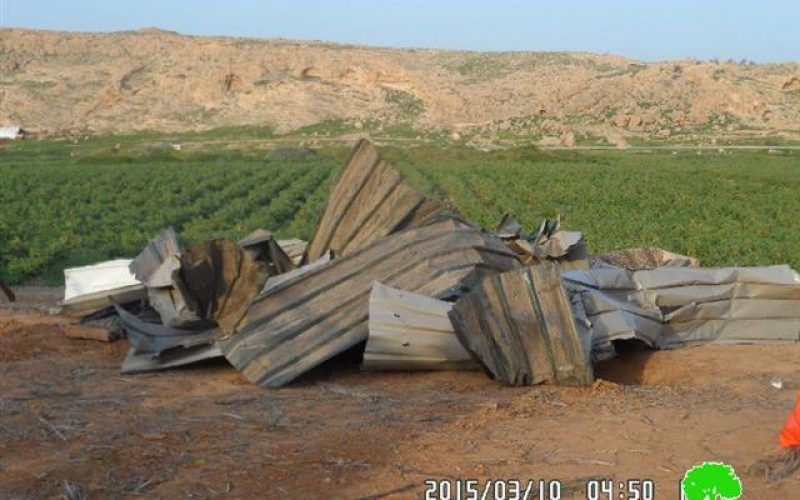 Violation: demolishing 6 residences
Location: al- Makhrouq area
Date: 10/03/2015
Perpetrators: the Israeli occupation army
Victims: 6 Bedouin families
Details:
The Israeli occupation forces on Tuesday March 10, 2015 demolished six agricultural barracks in the area of al-Makhrouq, east Jiftlik village that is adjacent to the bypass road no.90.
According to the data collected by Land Research Center field observation, demolition and ravaging works reached out six barracks ( metal slaps and shade-cloth) that are used to shelter six families of 34 members including 22 minors. The interior of the structures were leveled as well for the owners were not given but minutes to vacate.
The targeted families depend on agriculture as their only source of income, taking into consideration that they work as farmers in their vegetables and wheat fields .
First time targeting :
A resident from the area Mr. Sulaiman Daraghmeh asserted that this is the first time a demolition takes place in the area of al-Makhrouq; this indicates an expansion in the targeted periphery by the occupation against Palestinians in the Palestinian Jordan Valley (al-ghoor).
It should be marked that the notified families were served stop-work orders on December 2014 and on January 2015 as well.
Daraghmeh said that the targeted families have been residing the area since 15 years and that those people work as farmers.
Photos 1-6 : the targeted barracks
The following table lists information about the damages resulted by the attack:
| | | | | |
| --- | --- | --- | --- | --- |
| Affected citizen | Family | Minors | No. of targeted barracks | Aream2 |
| Ghalib Daraghmeh | 9 | 7 | 1 | 120 |
| Hassan Abu Amer | 4 | 2 | 1 | 70 |
| 'Okil Abu Amer | 1 | 0 | 1 | 70 |
| Ibrahim Daraghmeh | 7 | 5 | 1 | 140 |
| Jamal Amer | 6 | 4 | 1 | 90 |
| Yousef Fuqha | 7 | 4 | 1 | 150 |
| | 34 | 22 | 6 | |
Prepared by
The Land Research Center
LRC