Adi Ad colonists destroy150 olive saplings in the Ramallah village of Turmusayya
Violation: cutting down and looting 150 olive seedlings
Date: 18/03/2015
Location: al-Dhahrat area- Turmus'ayya
Perpetrators: Adi Ad colonists
Victims: three families from the village
Details:
A group of fanatics from Adi Ad colony on March 18, 2015 sneaked into the area of Al- Dhahrat, damaged and uprooted 150 olive saplings and looted them; the attack was carried out under the protection of the Israeli army. Noteworthy, the trees were moved to the nearby colony through trucks.
It should be marked that the attacked trees were planted by the beginning of 2015 after the last incident carried out by colonists, resulting in the cutting down 65 olive trees in the same location.
Frequent attacks:
It should be marked that the areas of al-Dhahrat and al-Sidir (350dunums) witnessed an unprecedented wave of attacks on olive trees. In 2014, colonists cut down and sabotaged 2100 olive in the aforementioned areas; farmers re-planted the targeted area with around 8000 olive seedlings for the sake of protecting it from futuristic colonial plans
In 2015, three attacks were carried out by Adi Ad colonists; the resulted damage reached out 5000 olive saplings aging two year, most of which were moved to the colony via special trucks. Farmers re-planted the seedlings one more time to face the same fate of cutting down and uprooting by the same group of colonists.
Today, the re-planted area was targeted by uprooting; more than 150 olive trees were sabotaged and cut down. Despite all of that, Palestinian determination to protect the land is undoubtedly strong.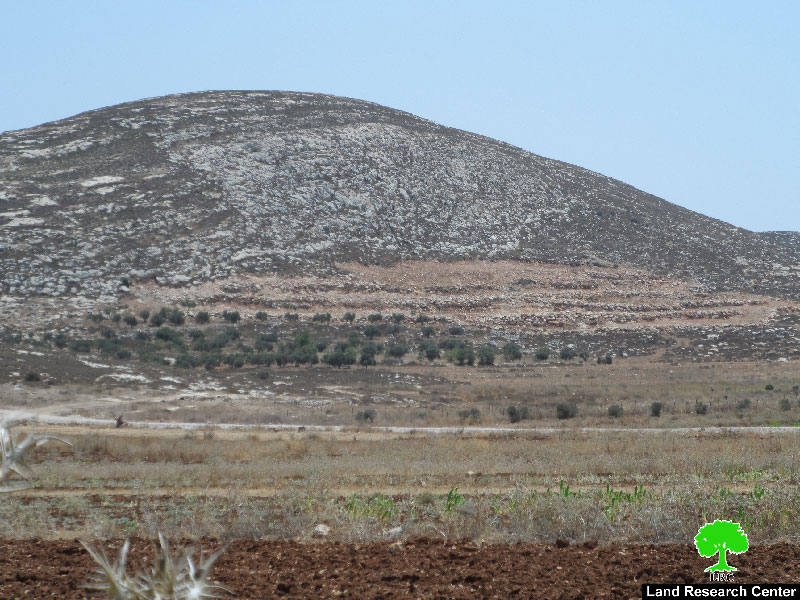 Photo 1-3: the recently targeted areas
It should be marked that the attacked trees belong to citizen Rabah Hizmih (800 seddlings), AbdelQader Hijaz (45 seedlings) and Meryam Abu Awwad (25 seedlings).
About Turmus'ayya:
It is located 25 km to the north east of Ramallah city. It has a population of 3736 people (according to a 2007 census). Turmus'ayya's total area is 18139 dunums, 1350 of which are built-up area. About 11218 dunums of land are under Area B (PA is in charge of civil matters with Israel responsible of security) and 6921 dunums are under Area C (Israel maintains full security and administrative control).
The Israeli occupation confiscated vast areas of the village for the benefit of the following colonies:
1. Shilo and Mizpe Rahel devoured 1023 dunums
2. Mizpe Rahel devoured 706 dunums
3. The bypass road number 60 stole 12.5 dunums
Prepared by
The Land Research Center
LRC