The Israeli occupation demolishes a residence in Hebron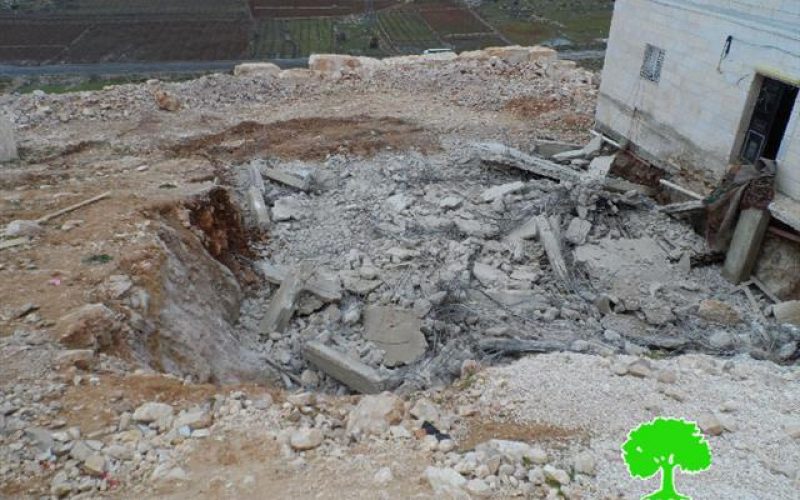 Violation: home demolition
Date: 24/02/2015
Location: Al 'Uddeisa /Sa'ir
Perpetrators: Israel Civil Administration
Victims: citizen Nsir Jaradat in Al 'Uddeisa
Details:
The Israeli occupation authorities on February 24, 2015 demolished a under construction house belonging to citizen Nsir Jaradat in the area of Al 'Uddeisa , south of Sa'ir village in Hebron governorate. Jaradat asserted that a force from the occupation army, borders police and the Civil Administration accompanied by a dozer arrived to the area at morning and embarked on demolishing the house after tightly surrounding its periphery.
Photo 1-2: sings of the demolition
It should be marked that the 170m2 is still under construction and that construction works on it started a year ago. The roofless house was brought down on some of the construction material left inside. Citizen Jaradat established this residence to be home for his son (Mousa) and his three members family including one kid.
Jaradat said that the Israeli occupation authorities have served him a stop-work and construction order on his house on 08/06/2014 and another stop-work and demolition order on 17/11/2014. Jaradat did not object these orders knowing that the occupation authorities will never grant him a building permit to his house.
Photos 3+4: the orders served on Jaradat's house
It should be marked that the area of Al 'Uddeisa is located to the eastern side of the bypass road no.60 and is in face of Kiryat Arbaa and Kharsine colonies from the west. Demographic expansion alongside to construction are banned in this area under the claim of unlicensed building but the mean reason is to protect the safety of the nearby colonies and the bypass adjacent to them.
For further information about what the village of Al 'Uddeisa went through, please read the following reports issued by the department of Monitoring Israeli Violations at Land Research Center :
Prepared by
The Land Research Center
LRC