Killing 8 aging trees in Kfar Qadum through injecting them with toxic chemicals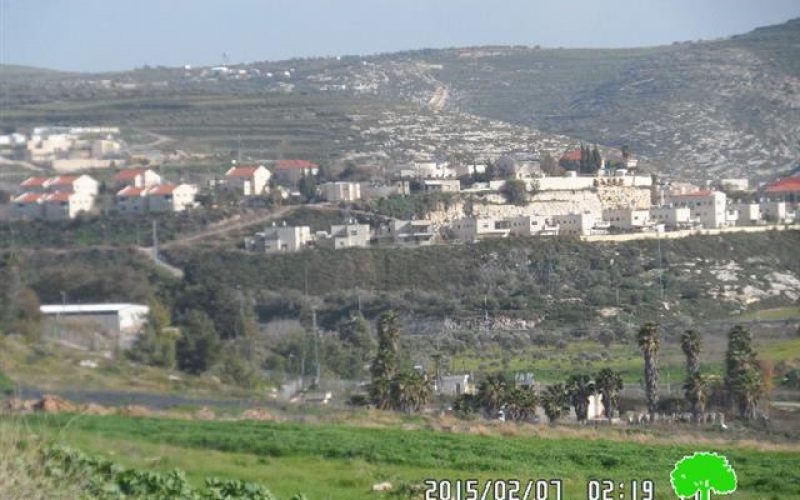 Violation: killing trees via toxins
Date: 02/02/2015
Location: Kfar Qadum/ Qalqiliya
Perpetrators: Kedumim colonists
Victims: farmer Abdallah Jum'a
Details:
There is no doubt that the olive tree is considered a primary target for the occupation for what it carries of importance for the Palestinian farmers and the Palestinian heritage. The occupation in addition to colonists used all means to attack olive trees such like torching, cutting down, uprooting, sinking trees in wastewater and injecting them with chemicals.
Kedumim colonists on February 02, 2015 injected eight olive trees aging more than 70 with chemicals causing them dry and perish; the trees belong to citizen Abdallah Jum'a and are located to southeastern side of Kfar Qadum village. Noteworthy, Jum'a family depended on agriculture(olive trees )to generate income.
Photos 1-4: the attacked trees
Citizen Jum'a , about the attack, told Land Research Center the following: " I own 18 agricultural dunums planted with olive trees that are located in the area known as al-Mayabir, which is adjacent to Kedumim colony from the northern side. Three years ago, the occupation imposed complicated restrictions on us in regard to accessing our lands in that area; the occupation allowed certain times throughout the year for farmers to access their lands. I myself was not committed to restrictions; my family and I were attacked several times at my land where soldiers threatened me of murder or arrest. It seems that colonists noticed me taking care of my trees and that is why they came and killed them"
Jum'a also added :
"when Kedumim expanded 25 years ago, more than 200 olive and almonds trees of ours were sabotaged in a plot adjacent to the location of the latest attack. By then, I managed to obtain a decision from Israel Supreme Court to have absolute right and control on my land but ten years later, the occupation took over the land under the pretext of Security Purpose. Today, the occupation came to continue its plan but this time through expanding the colony".
It should be marked that Jum'a submitted a complaint to so-called Israeli District Coordination Office but no results were rendered.
Kfar Qadum; a target for the occupation:
It should be marked that the village of Kfar Qadum has been targeted on daily bases since more than 15 years; attacks, violations and harassments were carried out not only by the occupation army but by colonists as wee. Attacks were represented in home demolition, land confiscation, and entrances shut down.
About Kfar Qadum village:
It is located 25km east of Qalqiliya city and is of 20,000 dunums in area of which 1,382 dunums are built-up area. More detailed, 2500 dunums of the village are considered pastoral and around 5000 dunums are subjected to colonial interest especially the colony of Kedumim. The percentage of the agricultural lands in the area is 85% of arable land planted with olives.
About Kedumim:
The colony of Kedumim is located on the once-was Jordanian military camp in the southwestern part of the village. It was established in 1975 with a total land area of 1090 dunums and a population of 3290 colonists.
It should be mentioned that the authorities of the occupation put hands on the nearby hills to establish in 1982 the outpost of Kedumim 'Ailet on 533 confiscated dunums. The outpost is inhabited by around 300 colonists.
It should be also marked that by the beginning of 1990, Kedumim colonists looted a vast area of lands from Kfar Qadum to establish the colony of Gilad Zohar. This colony totals around 753 dunums in area and populates 1053 colonists.
Prepared by
The Land Research Center
LRC