The Israeli occupation totally razes Umm Jamal dwelling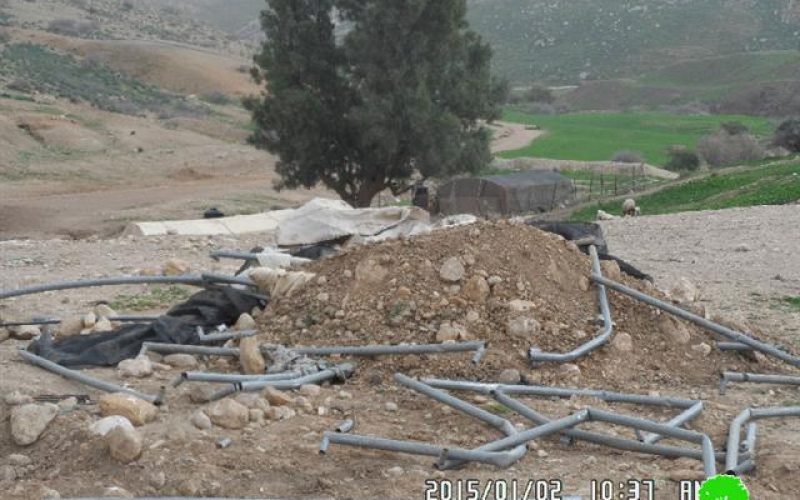 Violation: razing a whole Bedouin dwelling
Date: 01/01/2015
Location: Umm al-Jamal/ Tubas governorate
Perpetrators: Israel Planning Committee
Victims: 5 Bedouin families
Details:
One year after a demolition inflected on the whole community, a massive force from the occupation army accompanied by a staff from the Civil Administration on January 01, 2015 raided the area of Umm al-Jamal and initiated a wide demolition operation that reached out 8 residential tents and 7 barracks in addition to pens and some agricultural equipments.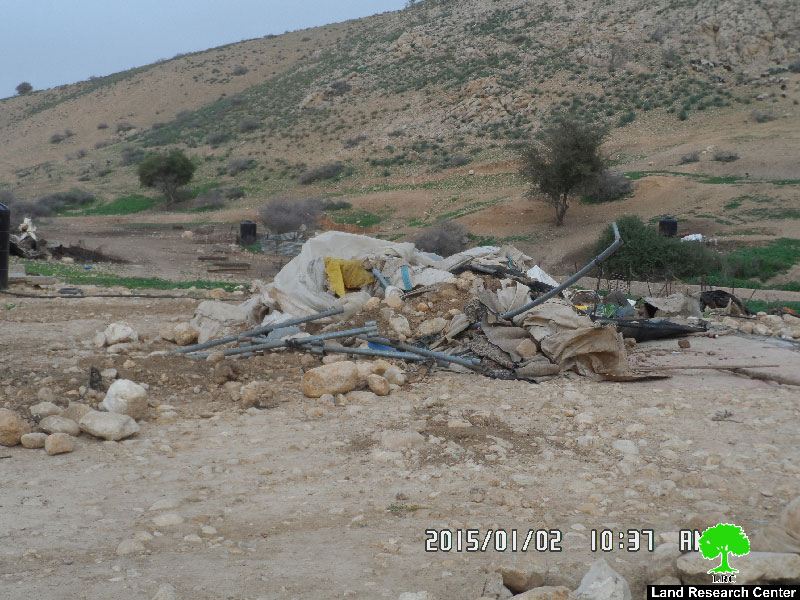 Photos 1-9: Umm al-Jamal after demolition
The razed properties belong to five Bedouin families that are comprised of 29 members including 15 minors. It should be marked that Israel Planning Committee on January 30, 2014 targeted the same families with demolition under the claim of "unlicensed construction" ; on October 2014, the community was served a verbal order of demolition under the same claim of unlicensed construction. For further information about the aforementioned violations, please read the following reports issued by Land Research Center (link1) (link2). The following table lists damages resulted from the latest demolition:
Affected citizen

No. of sheep

Familly

No. of tents

Area of tentm2

No. of sheep barrack

Area of barrackm2

No. of pens

Area of pensm2

No. of bathroom

Traditional oven

Other damages

Mahmoud Ka'abna

60

12

2

120

1

40

1

100

1

1

35 poles+50 m of a fence+3 sheep feeder

Suliman Ka'abna

40

6

2

120

2

120

0

1

1

30 metal poles+ 50 m of a fence+ 100 of a cloth shade+ 10 metal slaps+ 5 sheep feeders

Fatima Ka'abna

23

2

1

60

1

60

0

0

0

0

Khadir Darahmeh

27

8

2

120

1

60

1

200

1

1

Storehouse(40m2)

+ 100m of a fence+ 6 hay bales

Ghanimeh Daraghmeh

3

1

1

60

0

1

0

0

total

153

29

8

480

5

280

2

4

3
Source: Field Observations – Monitoring Israeli Human Rights Violations –Land Research Center-2015
It is worth mentioning that Umm Jamal community is located in Wadi Al Maleh, 12 km east of Tubas. It is inhabited by Al Ka'abna people who were kicked out from Beersheba, south of historic Palestine, in the 1948 war.
The residents depend on sheep grazing as their only source of income. They build their shelters with wood and cloth and lead a life that could be described as primitive.
In 2010, the community was forcefully displaced from the area of al-Auja, north Jericho city to the area of Khirbet al-Hadadeyah, east Sahel al-Baki'a; in the same year, the community underwent a massive demolition that caused all its residents to move to the area of Umm al-Jamal.
It should be marked that the occupation took advantage of seasons to carry out its violation. For example, the latest demolition was inflected on residents at time of sheep reproduction, which is Bedouins' only source of income. This is how the occupation put pressure on Bedouins to leave their lands.
Prepared by
The Land Research Center
LRC