Stop-work orders on Palestinian residences in East Hebron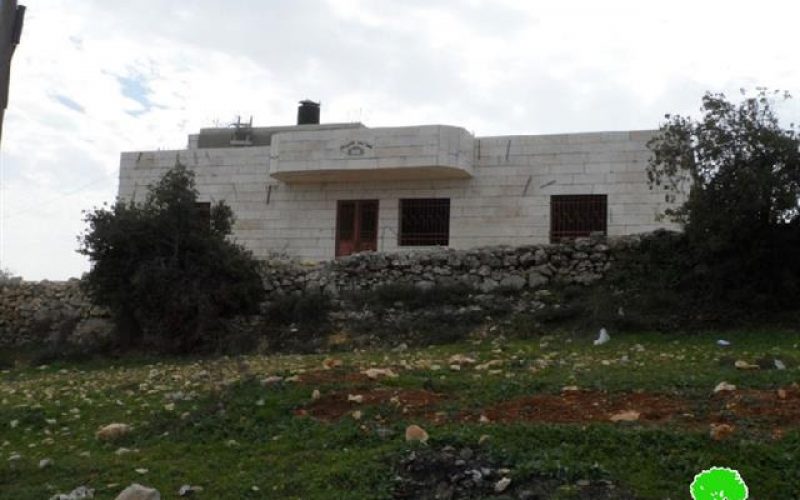 Violation: serving stop-work orders
Date: 15/01/2015
Location: Qayzun / Hebron governorate
Perpetrators: Israel Civil Administration and army
Victims: residents form the area
Details:
The Israeli occupation authorities on January 15, 2015 served stop-work and construction orders on residences in the area of Qayzun, east Hebron under the pretext of unlicensed construction.
Citizen Zeyad al-Bakri(65) asserted that an Israeli army patrol accompanied by a vehicle from the Civil Administration raided the area , left the orders at doors of the targeted houses and took photos of the place before they had left the scene.
The occupation orders mentioned that houses were built without permits and compelled immediate termination of work. February 05, 2015 was set as the hearing session for the Planning Committee in the court of Beit El to consider whether to demolish the structures or to restore their previous status.
No.
Name
Family
Minors
Aream2
Year of construction
Status of construction
No. of floors
Order no.
Photo
1
Bassam al-Bakri
7
5
400
2005
Under construction
2
181108
1
A 100m3Water cistern
2015
Under construction
0
181107
2
2
Zeyad al-Bakri
5
3
350
2011
First floor: inhabited.
2
181109
3
Second floor: still under construction
3
Sadiq Maswadih
4
0
300
2011
Under construction
2
4
4
Najeh al-Bakri
8
5
180
2013
Under construction
1
181106
5
Source: Field Observations – Monitoring Israeli Human Rights Violations- Land Research Center -2015
It should be marked that the notified people started immediately preparing the needed document to object the orders in Israeli courts.
Prepared by
The Land Research Center
LRC