Military orders of "trees uprooting" in the area Ainon- Tubas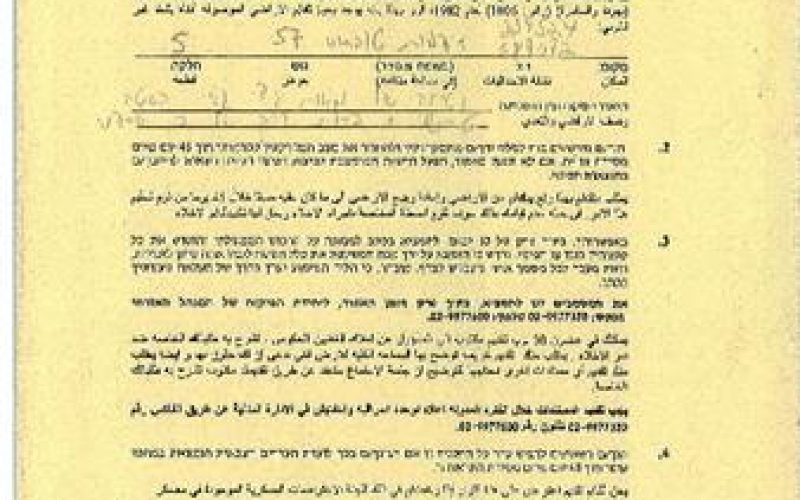 Violation: serving "trees uprooting" orders
Date: 28/01/2015
Location: Ainon/ Tubas governorate
Perpetrators: responsible of State Properties/ Civil Administration
Victims: Tubas residents
Details:
After one month from the time the responsible of Israeli State Properties raided the area of Ainon, east Tubas governorate and confiscated some agricultural equipments, the Israeli occupation on January 28, 2015 escalated violations against the Palestinian and his land in the same area.
The occupation authorities served Tubas Ministry of Agriculture a military order mentioning evacuating 450 dunums( 1500 seedlings) from Ainon area, which was cultivated within "Green Palestine" project. The project started two years ago through greening the areas of Ras al-Mazlaqa and Ainon; nowadays, the project is working on greening the area of Khirbet Abu Salah that is 5 km away from Tubas.
According to the military order, the occupation gave the ministry a 45 days deadline from the order's date of issuance to uproot the seedlings and restore the previous status of the land. If not committed to the order, the occupation will destroy the lands.
The military order
Photos 1-2: the threatened area of Ainon
Not only that, the Israeli occupation confiscated a Massey Ferguson tractor belonging to the Tubas Ministry of Agriculture in addition to a water tank (3m3). The driver of the tractor Mr. Kamal Daraghmih was arrested at time of confiscation.
A previous attack :
The area of Ainon, east Tubas governorate on December 18, 2014 witnessed a new wave of Israeli plans targeting Palestinian land and nature.
East of Ainon, more specifically in the area of Khallet Abu Salah, a massive fore from the Israeli army raided the area without any previous warning and confiscated two tanks "for moving water" relative o the Ministry of Agriculture. Noteworthy, each tank has a volume of 4m3.
Also, the Israeli army confiscated three plastic tanks (1.5m3) in addition to the tent used as a resting place for the workers of Palestine Ministry of Agriculture, who are implementing a project in the area. Noteworthy, the confiscated items were moved to a military camp in the nearby.
In the same context, the Israeli army confiscated 120 forest seedlings (Acacia , Pine, carob) not mentioning sabotaging 20 other saplings.
The aforementioned confiscations came under the pretext of "State Property".
For further information, please read through the following report issued by Land Research Center : (Ar, Eng)
Prepared by
The Land Research Center
LRC