Demolishing a rainwater-catchment pool in Jericho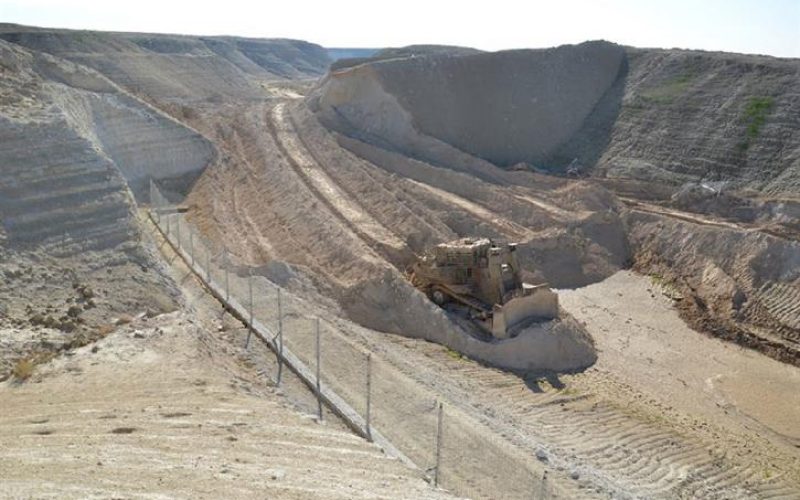 Violation: demolishing a under construction pool for rainwater catchment
Date: 24/12/2014
Location: al-Auja / Jericho
Perpetrators: Israeli occupation army
Victims: five Palestinian families
Details:
A massive force from the Israeli army accompanied with a military bulldozer on December 26, 2014 raided the area of al-Sa'aida, 2km east al-Auja village in Jericho and embarked on demolishing and dumping a under construction pool for rainwater catchment. Noteworthy, the pool was being implemented by Palestine Ministry of Agriculture through a fund from French Agency for Development .
It should be marked that the pool's volume is of 1200m3, which was supposed to serve around 60 dunums planted with protected crops.
The targeted area is reported to suffer from water scarcity; the main purpose of the pool was to achieve the " water harvesting" method in order to collect water, taking into consideration that famers buy water (5Nis per m3) which is expensive for them.
It should also be marked that the pool has been previously served a stop-work and construction order under the pretext of unlicensed construction within area classified C according to Oslo Accords; the contractor of the project on June 19,2014 was forced to evacuate all machineries from the construction location and to halt work in it .
For further information about the stop-work order served on the pool, please read through the following report issued by Land Research Center (Ar, Eng)
Table: The affected farmers and land:
Affected citizen

Place of residence

Family

Land according to crops (dunums)**

Emad Naseibeh

Jerusalem

6

21

Khairi Naseibeh

Jerusalem

8

8

Mustafa al-Dujani

Jerusalem

5

15

Adli al-Dujani

Jerusalem

4

10

Fa'iq al-Dujani

Jerusalem

7

6

Total

30

60
*source: Field Observations – Monitoring Israeli Human Rights Violations Team – LRC
**a dunum is the equivalent of 1,000 square meters
Photos 1-5: the Israeli bulldozer at time of demolition i
Al 'Auja is located 12 km to the north east of Jericho city, adjacent to the Jordan River. It is edged by the eastern regional road that leads far north to Bisan. Its total area is 106399 dunums, 1186 of which is built up area of the village. (Source: Geographic Information System- Land Research Center)
The Israeli Occupation captured 4717 dunums of Al 'Auja for colonial expansion purposes besides having several military bases there that devoured 1600 dunums. Road no. 90 which is 8180 meters long took away more than 818 dunums of Al 'Auja.
5 colonies are founded on Al 'Auja land and they devoured 2299 dunums of the village lands. The colonies are: Gilgal, Netiv Hagedud, Niran, Yitav and Nihal Tsoori. (Source: Al 'Auja village council)
[i] Source : Jericho Ministry of Agriculture
Prepared by
The Land Research Center
LRC