Bruchin colony evolves at the expense of the Palestinian village of Bruqin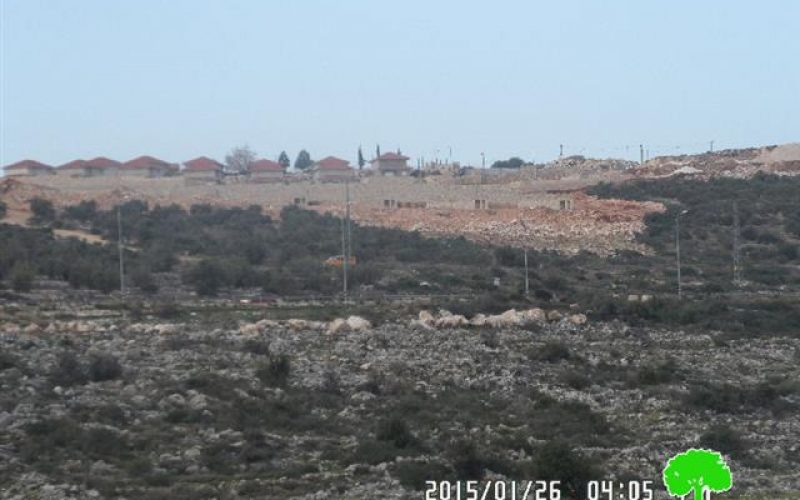 Violation: expanding Bruchin colony via establishing an outpost
Date: 20/01/2015
Location: Bruqin village/ Salfit governorate
Perpetrators: Bruchin colonists
Victims: residents of the village
Details:
Bruqin is reported to undergo a systematic plan carried out by the Israeli occupation authorities and colonists to take over its lands and annex them to so-called state of Israel.
Having the colony of Bruchin located in the nearby, Bruqin lands have been a target for confiscation and colonial expansion interests. This comes within the Israeli plan of Judiazing the area.
By 2015, colonists escalated lands confiscation and home demolitions for the favor of expanding Israeli colonies in the West Bank. On January 2015, colonists set up 21 caravans in the eastern part of Bruqin village in the area known as Khallet al-Shaikh to be extension for Bruchin.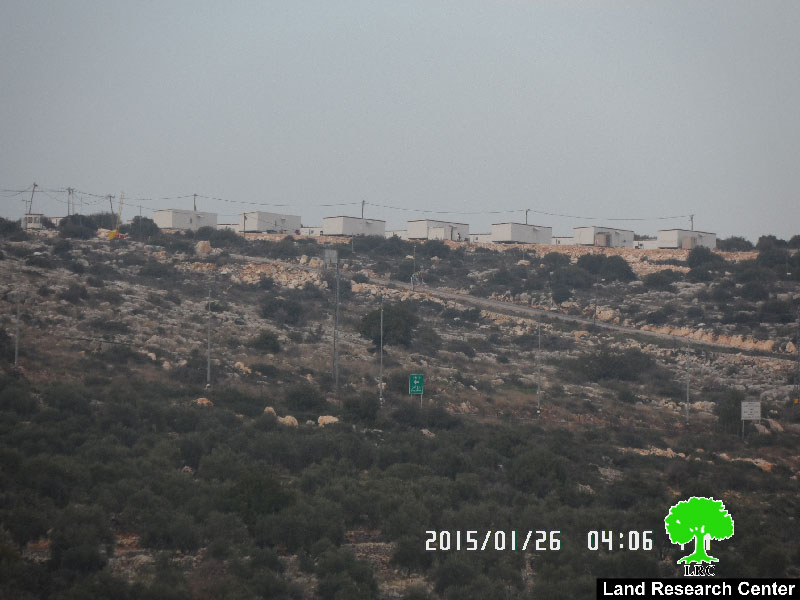 Photo1: the new colonial outpost
According to Land Research Center field observation, the targeted location is 600 away from Bruchin periphery from the east ; the occupation worked on providing the area with electricity and water to assure a futuristic expansion in there.
Mayor of Bruqin attorney Nafiz Barakat told Land Research Center : " establishing a new outpost will certainly take over a vast area of land from the eastern side of the town. It is an Israeli vision to establish the so-called greater Bruchin. As a result, a percentage of 40% is expected to be confiscated from the town's total area. Noteworthy, the confiscated land, which are located between the colony and the town , are planted with aging olive trees and are considered a source of income for many families".
Bruqin
It is located 13 km to the west of Salfit city; it is one of the Palestinian villages that depend mostly on agriculture in its income. The village's total area is 13273 dunums including 1336 dunums of built-up area inhabited by around 3500 people.
1200 dunums are planted with olives while 3000 dunums are used for herding purposes; the rest (8000 dunums) are under the nearby colonies control.
The village is facing vicious attack from the Israelis; more than 8000 dunums of the village lands were confiscated for colonial expansion purposes.
Table 1: land confiscations in Bruqin:
| | | | | | |
| --- | --- | --- | --- | --- | --- |
| No. | Colony | Establishment date | Built-up area | Type | Built over |
| 1 | Barkan | 1981 | 622.5 | Industrial | Sarta, Bruqin, haris |
| 2 | Bruchin | 1999 | 265.5 | Residential, industrial | Bruqin, Haris |
| 3 | Ariel Gardens | 1978 | 5226 | Industrial | Bruqin |
*GIS unit – LRC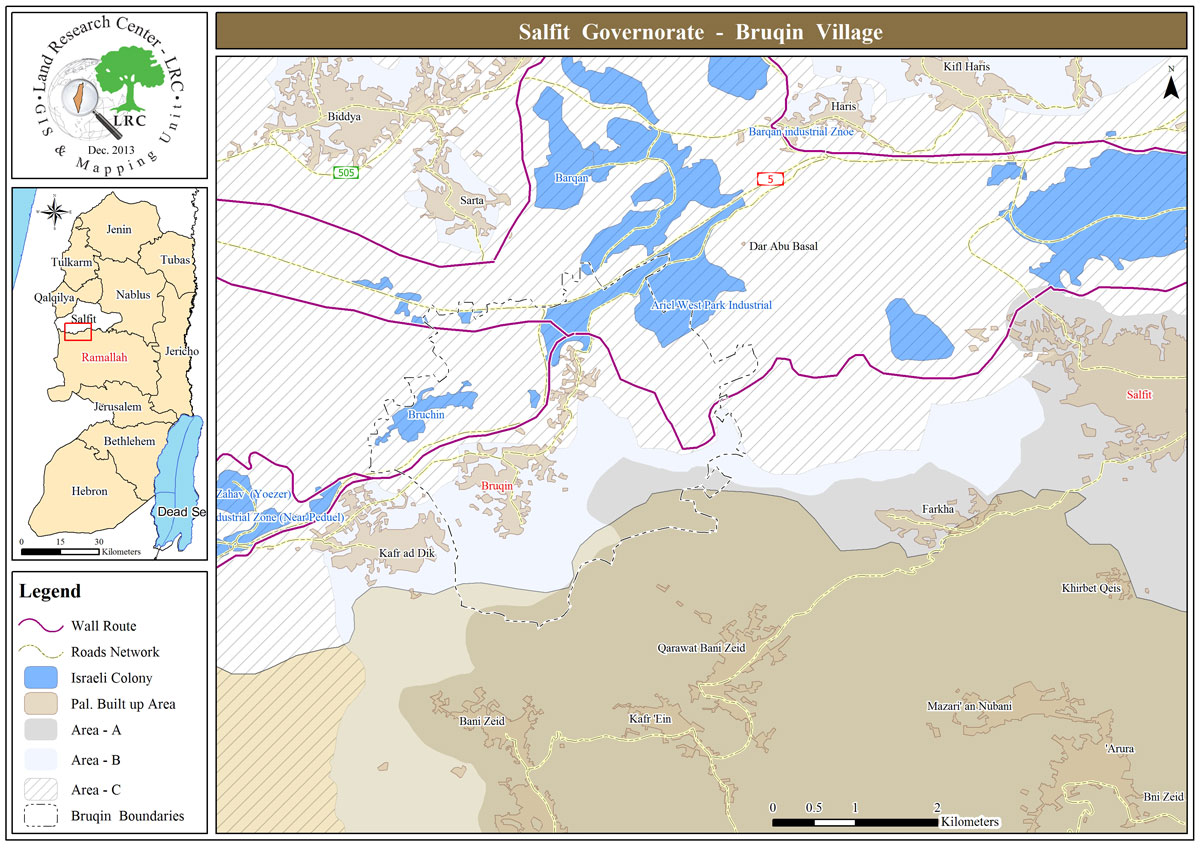 About Bruchin:
Bruchin was named after Bruqin village on which the colony was built. The colony's area –until 2009- was 480 dunums and its built-up area was 266 dunums. After 2009, the colony ever expanded as colonists are offered protection and security and allowed to confiscate lands, harass farmers, and attack trees. (source: Geographic Information System).
For further information about what has Bruqin been going through, please read the following reports issued by the Monitoring Israeli Violations Team :
Prepared by
The Land Research Center
LRC