Adi Ad colonist sabotage 14 olive trees entirely in Ramallah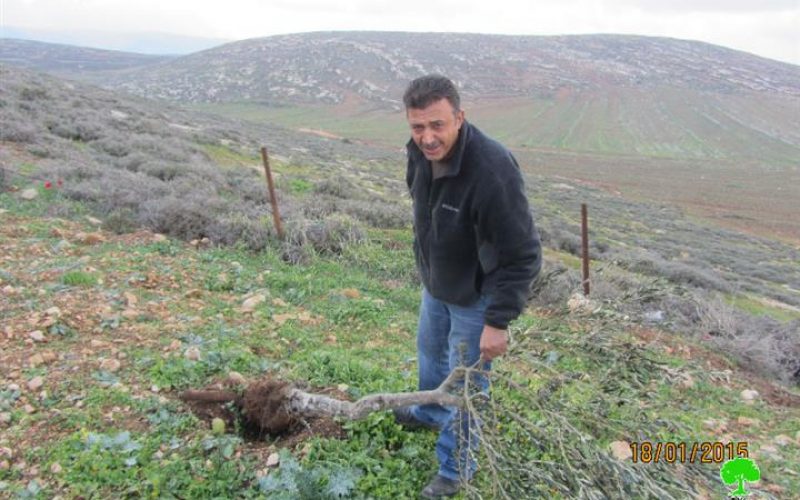 Violation: killing olive trees
Date: 17/01/2015
Location: Al Mughayyir/ Ramallah
Perpetrators: Adi Ad colonists
Victims: farmer Abdelrahman Na'san
Details:
Farmer Abdelrahman Na'san (43) was surprised to see that more than 14 olive trees aging 20 years were sabotaged in his land, which he was checking on after a storm snow that hit the country subsided. Colonists took advantage of the storm to carry out their attack on farmers' lands; ten trees were partially sabotaged though sharp tools where four others sustained entire damage due to being cut from the stock.
The targeted area known as al-Sidier is located to the southeast of al-Mughayyir village; the area is 2km away from the village's built-up area and about 700m away from Adi Ad colony.
Pictures 1-2: The destroyed trees
It is indicated that this attack comes in time with another attack in the area of Turmus'ayya where colonists sabotaged 500 olive saplings in the area of al-Thahrat. Noteworthy, the area in which the last attack took place is few meters away from al-Thahrat area.
About Al Mughayyir:
Al Mughayyir is located 30 km to the north east of Ramallah; it is inhabited by around 3054 people according to 2014 PBS population projections.
Most of the village agricultural farmlands are located in its eastern parts; its total area is 33055 dunums, 501 of which are built-up area. The Israeli occupation confiscated 37 dunums of Al Mughayyir lands for bypass #458.
According to Oslo Accords, about 95% of the village is under Area C (Israel maintains full security and administrative control) while only 5% is under Area B (PA is in charge of civil matters with Israel responsible for security). Here are the areas in dunums:
Area B (1, 695) dunums.
Area C (360, 31) dunums.
Al Mughayyir is strangled by Israeli colonies from all sides which makes the village a place to covet for colonists. From the eastern part of al Mughayyir, there are Tomer, Gilgal, Pezael, and Netiv Hagedud colonies while from the west, there are Shvut Rachel and its outposts as well as Shilo. Colonies of Niran, Yitav, and Kokhav Hashahar are located to the north of the village while Maale Efrayim and Migdalim to the south.
Prepared by
The Land Research Center
LRC