The Israeli occupation demolishes a agricultural barrack and a dairy workshop in Dura village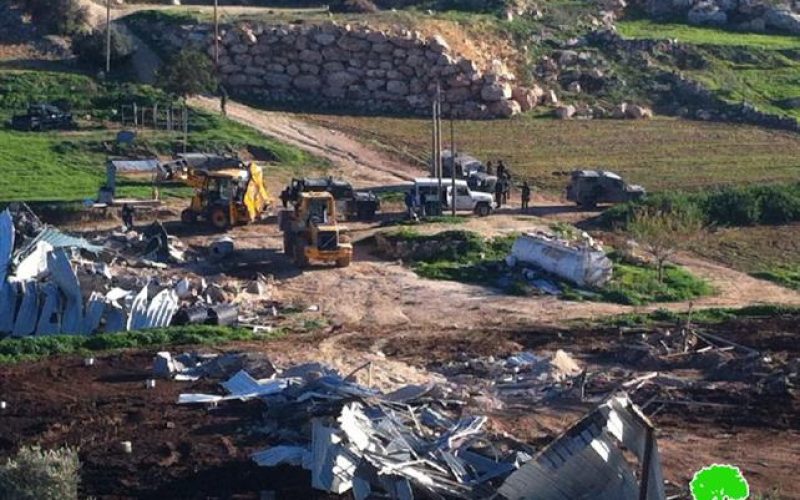 Violation: demolitions in Dura/ Hebron
Date: 25/12/2014
Location: Al Burj- Dura- Hebron
Perpetrators: The Civil Administration of the Israeli occupation
Victims: citizen Yaser Masharqa
Details:
The bulldozers of Israeli army on December 12, 2014 demolished a barrack( metal slabs), which is used as a farm for cows and a number of rooms used as dairy workshop belonging to Yaser Masharqa form al-Burj village, southwest of Hebron.
The incident took place at morning where bulldozers from Israel Civil Administration and army troops came to the place and embarked on demolishing the aforementioned structures. It should be marked that the barrack is of 2 dunums in area and that it was built 12 years ago. As for the rooms, they are of 300m2 in area.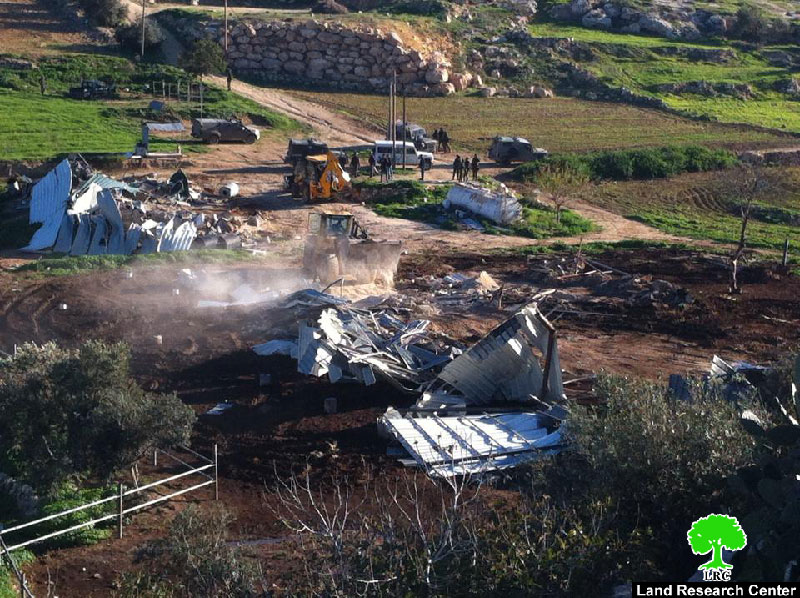 Photos 1+3: demolition in action
Citizen Masharqa asserted to Land Research Center that he asked the occupation troops if he can save some of the machines from inside the workshop but they refused. As a result, the structure along with the interior were totally destroyed. Not only that, the troops destroyed the electricity network that provides the workshop with power.
According to Masharqa, the occupation has previously served him a demolition order on his structure. That is when he headed to Israeli courts to object it but his plea was refused. As a result, the citizen moved his farm to an area near al-Dahirya after his farm got demolished in al-Burj village.
Prepared by