The occupation demolishes a residential room in Jericho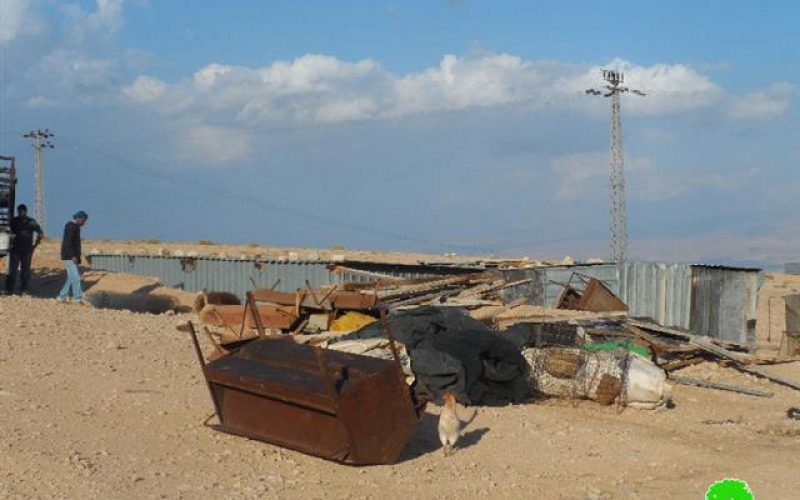 Violation: destroying a residential room
Location: al-Auja / Jericho governorate
Date: 03/11/2014
Perpetrators: the army of the Israeli occupation
Victims: two Bedouin families (7 members including 3 minors)
Details:
The forces of the Israeli occupation demolished ,on Monday October 3rd 2014, two residential rooms made of metal slabs in addition to a barrack used for sheep husbandry in the Bedouin community of arab al-Maliahat, southeast al-Auja area/ Jericho.
Photos: 1-6: demolished houses in the community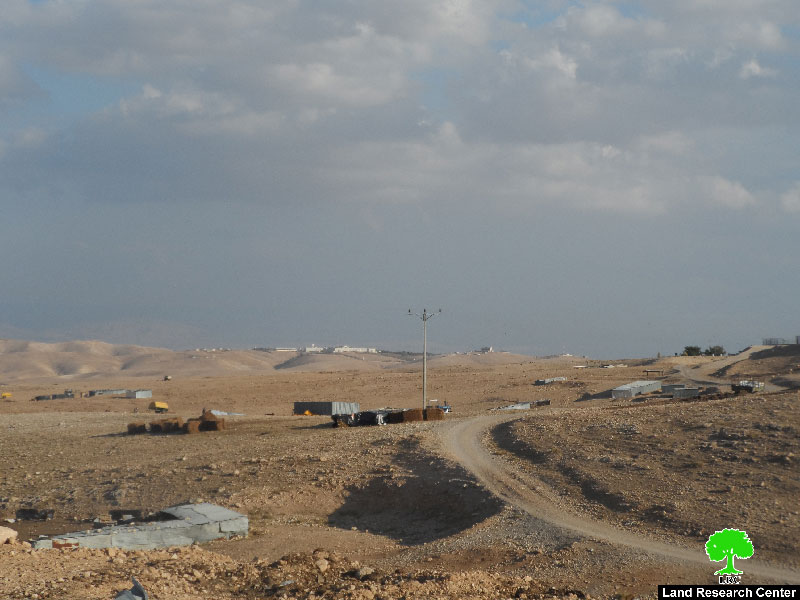 Photo7: a scene of the community
According to LRC field observation, the damages were reported as follows:
Affected citizen

Family

Minors

No. of sheep

Demolished structure

Residential room

Barn

Abdel latif Maliahat

5

3

75

1 (m2108)

1 (60 m2)

Suliman Maliahat

2

0

30

1(48 m2)

Shared

7

3

105

2

1
An aggrieved citizen Abdel latif Maliahat to the LRC researcher asserted that: " we have been living safely in this area for moreover 30 years but the occupation showed up and started harassing us for the sake of forcing us to evict". Here we were born, and here we shall die, the citizen concluded.
It should be mentioned that the targeted residents of arab al-Maliahat community have been previously notified with stop work orders in 2011. Legal follow-up was taken through the legal department of Jericho and a precautionary decision was obtained to stop the demolition by then. Three years after, the occupation came back and leveled the structures to the ground leaving residents homeless.
The Bedouin community of arab al-Maliahat :
It is indicated that this community located to the southeast of al-Auja, is related to al-Ka'abna family and has roots in the area of Bier al-Saba' , from which they left and resided in southern places of Hebron later in 1948.Hard life conditions and the lack of pastoral lands and water is what pushed a big part of this Bedouin community to move to the area of al-Mu'rajat and Mukhmas east of occupied Jerusalem. The major part resided in the area of al-Auja as a result.
The area of al-Auja is inhabited by 70 families from arab al-Maliahat, the chieftain of the Bedouin community said. Bedouins, there, live a primitive life that lacks all basic needs and standards such like water and electricity not mentioning the infrastructure. Metal slabs and cloth shades are the main material from which Bedouins build their houses. Mobile Water tanks is the only means for water supply.
Prepared by
The Land Research Center
LRC