Demolition orders on 17 residences in Jericho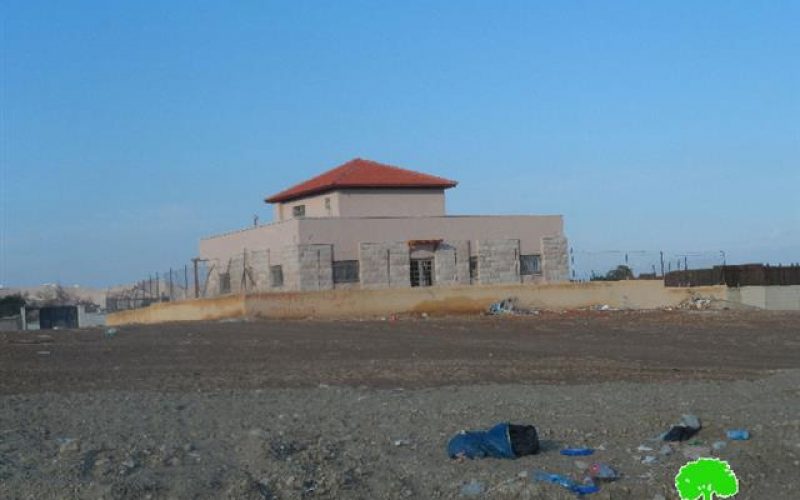 Violation: military eviction and demolition orders
Location: al-Staih area/ relative to Jericho
Date: November 18, 2014
Perpetrators: the army of Israeli occupation
Victims: 17 Jerusalemite families
Details:
Israel Civil Administration served on November 18, 2014 a total of 17 orders ( demolition and eviction) on residences under the pretext of the area being classified within jurisdiction of the Israeli Law of Absentees.
According to the orders -which Land Research Center got a copy of-, owners of the houses were given a 45day deadline to evacuate the area and leave it to its status quo. This came under the pretext of houses violating "State Properties".
Sample of the military orders served in the area
Ad Duyuk at Tahta:
One of the newly amended neighborhoods of Jericho city; it is located on the eastern side of the city and inhabited by around 940 people according to Jericho Municipality. Most of the citizens come originally from Jerusalem and Hebron and the rest belong to three main families namely ( Samrat, Ifhaydat, and Ja'man).
It is known for the availability of water while holding Staih spring which pumps around 13 m3/ hour. Also ,the area holds a number of varied historical and religious sites.
It should be marked that al-Staih is classified as area C according to Oslo Accords, in which at least 100 structures are notified with demolition under the pretext of unlicensed construction. The following table shows information about the notified families :
Affected citizen
Nature of house
Aream2
Photo no.
Yosuf Abbasi
Under construction
280
1
Zaher Kilani
Villa
390
2
Ahmad Abbasi
One inhabited floor
160
3
Faysil Hammad
One inhabited floor
180
4
Younes Yassin
Two story house
210
5
Yosuf Abbasi
One floor
160
6
Iyad Abbasi
One floor
160
7
Ahmad Hammad
One floor
180
8
Karim Bulbul
Villa
380
9
Musa Shwaika
One floor
120
10
Mosa Abu Hadwan
One floor
175
11
Suliman Qara'in
Villa
360
12
Harbi Shwaika
One floor
120
13
Nabil Yassin
Under construction villa
420
14
Bashar Abu Khalil
One floor
175
15
Wahdi Abbasi
One floor
160
16
Mansour Mibyadin
One floor
120
N/A
Total
3750
Source : field observation- Department of Monitoring Israeli Violations- Land Research Center
Prepared by
The Land Research Center
LRC