Attacks on people and properties by Yitzhar colonists in Huwara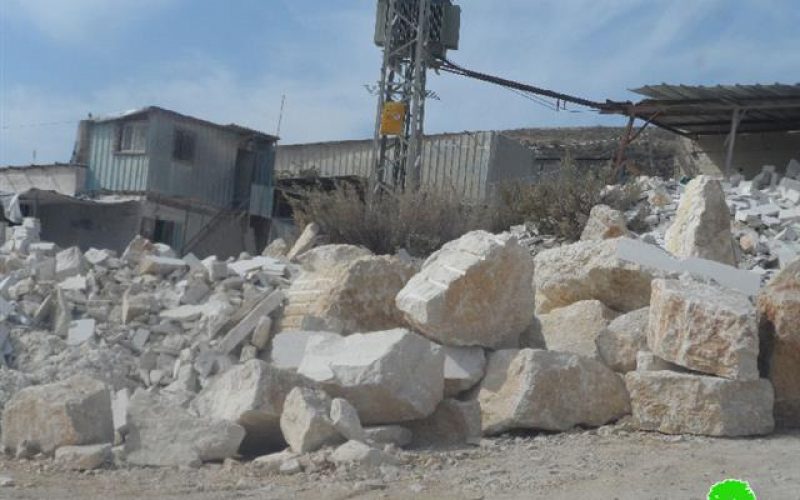 Violation : assaults undertaken in stone crushing sites "quarry"
Location: Huwara/ Nablus governorate
Perpetrators: Yitzhar colonists
Victims: citizens Yousef al-Asmar and Saleh Tabanjeh
Date: 10/11/2014
Details:
A group of Yitzhar colonists , under heavy protection of the occupation army, raided on November 10th 2014 the Palestinian village of Huwara , south of Nablus governorate and carried out provocative acts inside the village, which were represented in smashing the glass of 30 cars parking beside the road in addition to breaking into two stone crushing sites "quarries" where they vandalized a major part of them.
According to Land Research Center – LRC field follow-up on the place, the two quarries are located next to the bypass road no.60. The damage resulted after the attack was seen in the ready-to-sell stones , stone pillars, and stone corners that were sabotaged entirely.
The following table explains the size of damage inflected on the quarries owners:
| | | | | |
| --- | --- | --- | --- | --- |
| The quarry | No. of owners | No. of affected families | Size of damage | photo |
| The quarry of Yousef al-Asmar | 2 | 15 | Sabotaging 60m of building stones and two stone corners | |
| The quarry of Saleh Tabanjeh | 4 | 27 | Sabotaging 80m of building stones and three stone pillars | |
| Total | 6 | 42 | 140m of building stone and 5 stone corners | |
It should be marked that the village of Huwara has been witnessing, every now and them, various attacks and violations carried out by colonists of Bracha and Yitzhar, which are located on the edges of the village. Noteworthy, the aforementioned attacks and targeting started since 2000 to reach out human, animals and even plants and lands.
About Huwara:
8km south of Nablus, Huwara is located on bypass road no. 60 that links the north of the West Bank to its south and known as "the street of death" in reference to the many car accidents that take place there. The municipality of Huwara rehabilitated the road and installed warnings but the Israeli occupation still hinders any attempts at restoring the road and does not approve any signs or warnings.
Huwara is inhabited by 5,570 people (according to 2014 projections). It has a total area of 8,520 dunums, 1116 of which are built-up area of the village.
The Israeli occupation confiscated 331 dunums for the establishment of Yitzhar colony.
Besides, bypass number 60 confiscated more than 430 dunums of the village lands.
LRC documented the following violations in Huwara during 2014 :
Prepared by
The Land Research Center
LRC