The occupation notifies Khirbet Um al-Jamal, a Bedouin community with demolition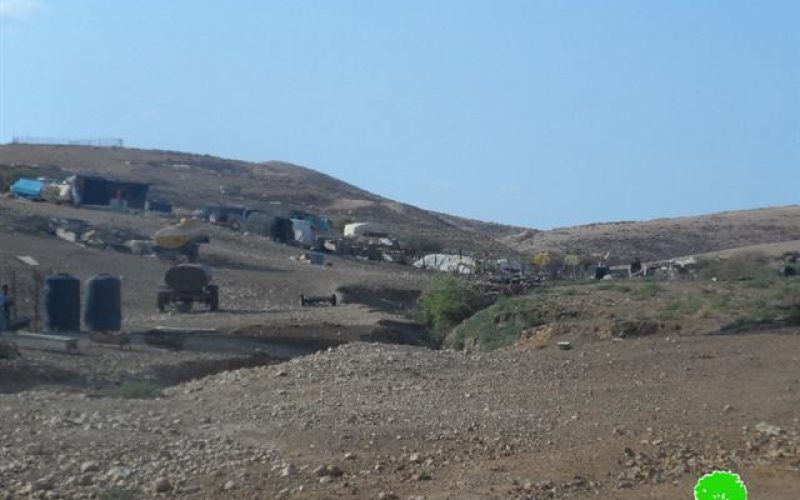 Violation: serving a demolition order on a Bedouin community
Location: Wadi al-Maleh/ Tubas
Date: 05/10/2014
Perpetrators: the Planning Committee of the Civil Administration
Victims: 11 Bedouin families
Details:
On October 5th 2014, the second day of Eid al-Adha" the feast of sacrifice", a massive force of the occupation army accompanied with the so-called Civil Administration raided the Bedouin community " Um al-Jamal in the area of Wadi al-Maleh, east of Tubas governorate. The Inspection Sub-Committee took photos of the place including residences and barns and verbally informed the residents of the demolition order. The following table shows information about the targeted families and structure in the community:
No.

Affected citizen

Family

Minors

Owned structures

Notes

House

Barrack

1

Mahmoud Ka'abna

12

7

3

2

Had a structure demolished before

2

Suliman Ka'abna

7

4

1

1

Had a structure demolished before

3

Fatima Ka'abna

1

0

1

0

Had a structure demolished before

4

Adil Awad

8

5

1

1

5

Khadir Daraghmeh

8

5

1

2

Had a structure demolished before

6

Nabil Daraghmeh

5

3

1

1

7

Ahmad Awad

3

1

1

1

8

Mohammad Awad

5

3

1

1

9

Hamad Awad

7

4

1

0

10

Sati Daraghmeh

13

11

3

3

Had a structure demolished before

11

Ganimeh Daragmeh

1

0

1

0

Had a structure demolished before

Total

70

43

15

12
*Source: Field Research- Monitoring Israeli Violations Team- Land Research Centre (LRC).
It is worth mentioning that Umm Jamal community is located in Wadi Al Maleh, 12 km east of Tubas. It is inhabited by Al Ka'abna people who were kicked out from Beersheba, south of historic Palestine, in the 1948 war.
The residents depend on sheep grazing as their only source of income. They build their shelters with wood and cloth and lead a life that could be described as primitive.
Um al-Jamal community is constantly targeted by demolition:
It should be marked that this community has already been served a stop work on April 2010 and that it was demolished two months later on July 2010.
On April 2012, most of the residences and barracks of the community were served stop work orders. Residents sought the legal department of Tubas government to object the order but the Planning Committee of the Civil Administration served, on October 2013, demolition orders on structures owned by 12 different families.
On January 2014, the occupation embarked on a massive demolition that reached out all the houses and barracks in the community. For further information about this case please read through our reports ( Ar, Eng)
Prepared by
The Land Research Center
LRC