The occupation closes a agricultural road in Sahel al-Bikaia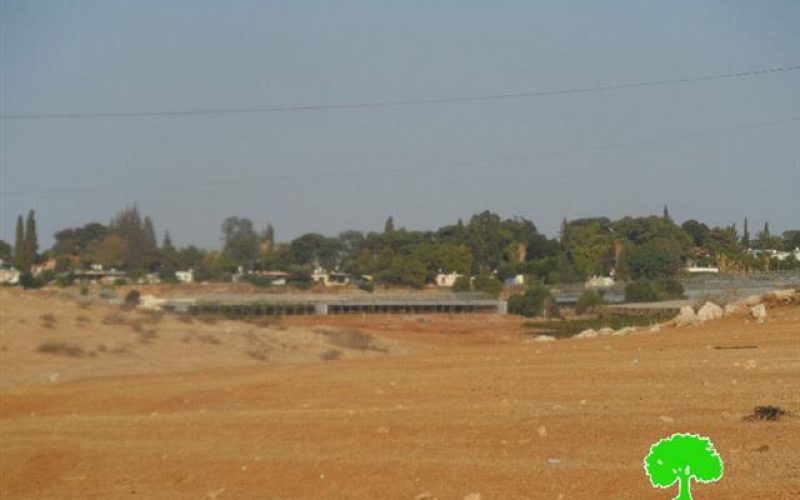 Violation: sealing a agricultural road
Location: Sahel al-Bikai'a
Date: 13/10/2014
Perpetrators: the army of the Israeli occupation
Victims: farmers of area
Details:
The occupation has been conducting a policy represented in harassing Palestinian residents of the Jordan Valley (all-ghoor) throughout lands confiscation, residences demolition, and indigenous displacement.
Closing agricultural roads became a prominent means carried out by the occupation to limit farmers and shepherds movement for the sake of taking over more lands through claiming them military zones or colonies peripheries.
Sealing a agricultural road east of Sahel al-Bikai'a :
On October 13th 2014, the army of the occupation closed a road by dirt blocks in Sahel al-Bikai'a, southeast of Tubas governorate. By the beginning of 2014, a number of farmers from the area had opened the road to facilitate their movement in and outside the area through the bypass road no. 57. Shortly after, the occupation sealed the road firmly to make sure that citizen get denied access to more than 40,000 dunums of agricultural lands. This road was the only access point for farmers of the area and the neighboring villages namely ( Atuf and Tammun in addition to 4 Bedouin communities).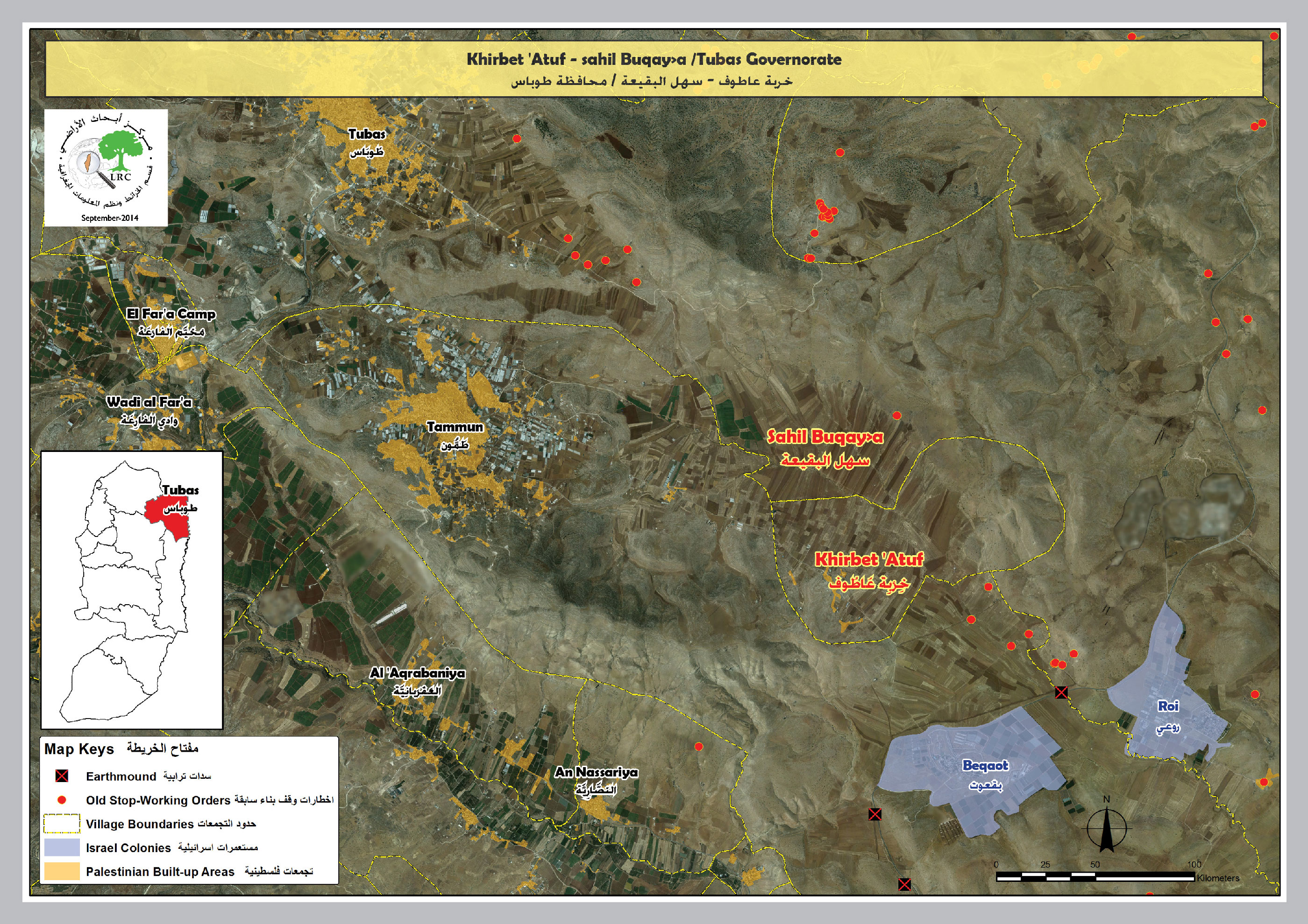 Trenches to separate Sahel al-Bikai'a:
In 2000, the occupation started digging a trench(2km in length, 3m width, and 4m in depth) for the sake of taking over the lands of the area and limiting the farmers movement in and outside the valley " Sahel al-Bikai'a". As a result, more than 40,000 dunums were segregated to the western side of the trench. Not only that, the agriculture sector was badly affected in terms of farmers and products.
The area has been witnessing, every now and then, raids carried out by the occupation army, which are represented in confiscating agricultural equipments and water pipes. During the past month, the occupation carried out several confiscation operations on agricultural equipment in Sahel al-Bikai'a. For further information, please read through the reports issued by LRC.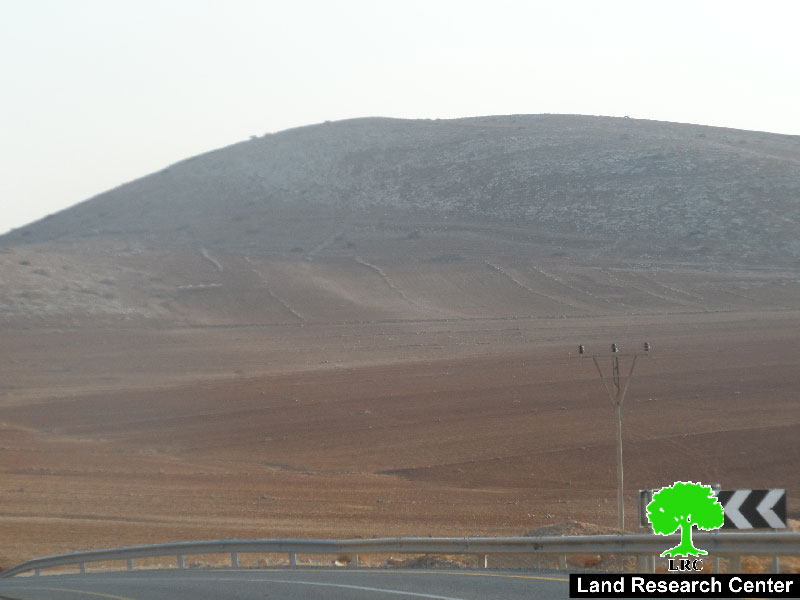 Photos 2-4: the targeted area of Sahel al-Bikai'a
Opening a colonial road for the favor of Buq'ut colony:
On September 2014, the occupation started the work to open a road that links Buq'ut with the bypass road no.578. The road was done by October 2014 as a result. It should be mentioned that the road is functioning now and that it was opened to serve Buq'ut own expansion at the expense of Palestinian land and farmer.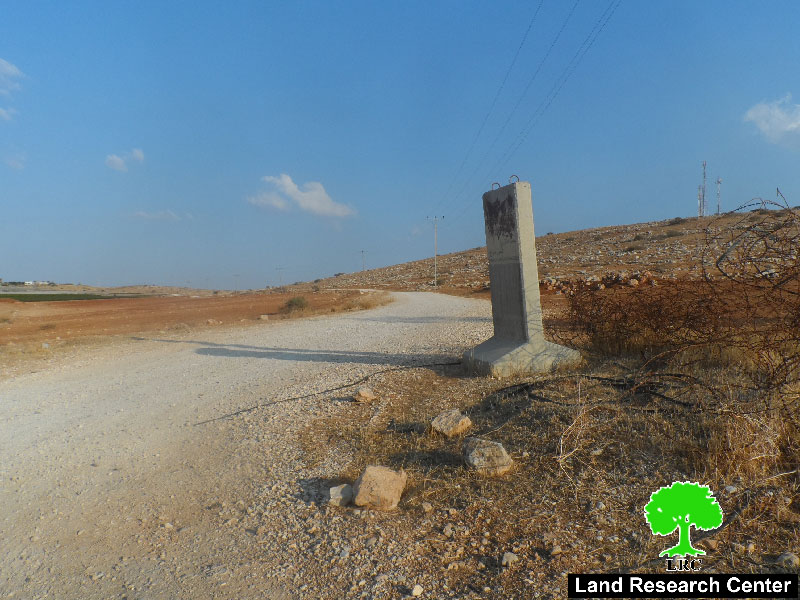 Photo 5: the new colonial road
It should also be marked that the Israeli agricultural colonies have many privileges in terms of tax and export in addition to the facility of construction and cultivation. On the other hand, the Palestinian farmers are being the victim here since they lack the simplest elements of survival.
Prepared by
The Land Research Center
LRC