Notifying agricultural and residential structures with stop work in Humsa at-Tahta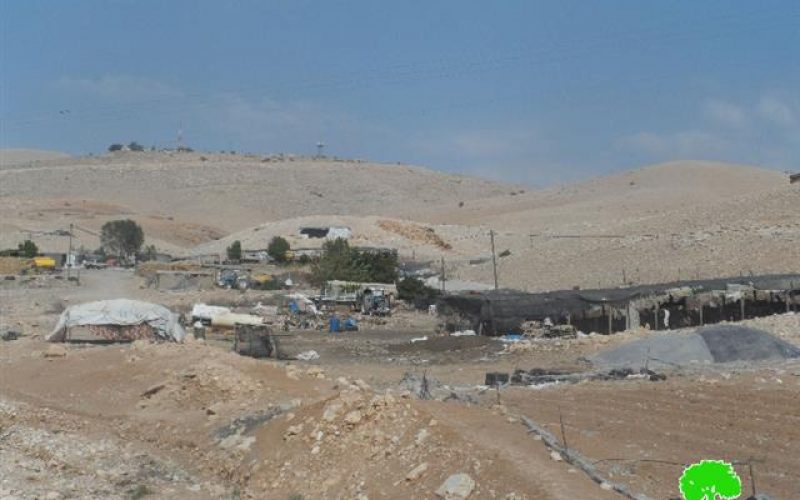 Violation: serving stop work orders in Tubas
Date: 15/09/2014
Location: Humsa et-Tahta
Perpetrators: the Planning Committee of the occupation
Victims: two families from Khirbet Humsa( 11 members including 4 minors)
Details:
" I was born here, and in here I shall die; god's willing"
These are the words of Mahmoud Bsharat(38) responding to the Israeli plan of displacement in the area he resides in. To undergo this project, Israel claimed structures in the location unlicensed.
On September 15th 2014, the so-called Inspection Committee of the occupation accompanied by a army force raided the area of Beslya , which is an extension of Khirbet Humsa at-Tahta and served two stop work orders on families from the area under the pretext of " construction change and annexation" within area classified C according to Oslo Accords. The occupation set September 20th 2014 as a deadline to complete all licensing procedures, which comes in time with the session of the Planning Committee in Beit El court. The following table shows information about the notified structures:
Affected citizen

Family

Minors

No. of sheep

No. of order

No. of notified structures

Tent/m2

Barrack/m2

Hayel Bsharat

6

1

120

1(60m2)

2(45m2 for each)

Mahmoud Bsharat

5

3

89

1(45m2)

1(60m2)

Total

11

4

209

2

3
Field observation- Monitoring Israeli Violations Department- Land Research Center- 2014
It is indicated that the occupation has previously targeted the area of Besyla with demolitions and displacement attempts, the last of which was on April 2014. Three demolitions took place in the location before the former date.
About Khirbet Humsa at-Tahta:
The Bedouin community of Humsa et-Tahta is located to the south of Tubas governorate and is 38 km away from it. Residents of the community live a primitive life, residing in tents made of cloth shades and barracks made of metal slabs. Sheep herding is the main profession for the area residents.
According to the chieftain of the community Aref Daraghmeh, the Khirbet has a population of 134 people, part of whom relate to the families of Bsharat and Daraghmeh where the other part come from Hebron.
During the past five years, the Khirbet witnessed frequent demolitions and displacement attempts under the pretext of unlicensed construction. Despite that farmers applied for licensing permits, the court of Beit El rejected all application thought they meet all needed requirements. This is to prove the occupation's plan of emptying the area for the sake of colonial expansion plans.
Prepared by
The Land Research Center
LRC