Three residential rooms demolished in Al Aqaba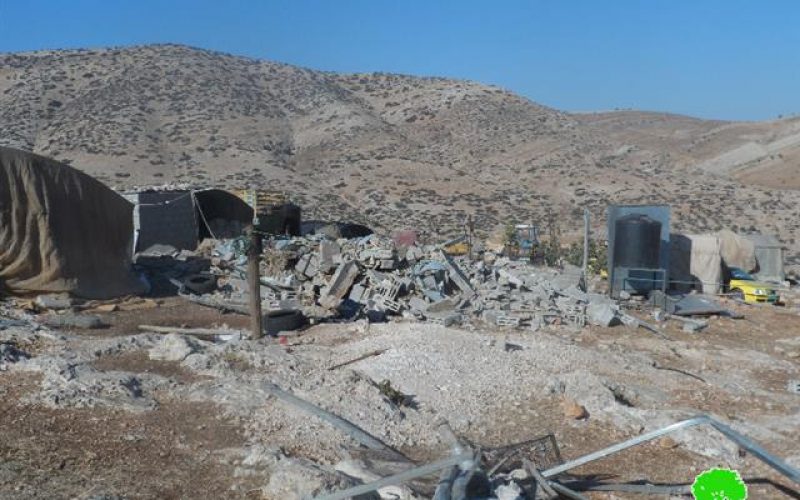 Violation: destroying three rooms
Location: al-Aqaba town/ Tubas governorate
Date: 20/08/2014
Perpetrators: the army of the Israeli occupation
Victims: two Bedouin families
Details:
On 20/08/2014, the so-called Planning Committee accompanied by the army of the Israeli occupation demolished three residential rooms (made of bricks and metal slabs) in the eastern part of the town. The structures belong to two Bedouin families (16 members including 9 minors).
It should be marked that demolition came under the pretext of unlicensed construction within area classified C according to Oslo Accords. Noteworthy, the owners had previously received stop work orders regarding their structures on 25/02/2012. The following table explains the inflected damages as result of the demolition:
| | | | | | | |
| --- | --- | --- | --- | --- | --- | --- |
| Affected citizen | Family | Minors | No. of rooms | Area/m2 | Notes | Photo |
| Deifallah Zawahrih | 10 | 7 | 2 | 60+40 | Notified twice with demolition and stop work | |
| Zyad Dabak | 6 | 2 | 1 | 80 | Four times notified | |
| Total | 16 | 9 | 3 | 180 | | |
*Source: Field Research- Monitoring Israeli Violations Team- Land Research Centre (LRC).
It is indicated that on03/07/2014, the occupation destroyed 6 agricultural barracks and one residential room owned by five Bedouin families (37 members including 17 minors)
The chairman of Aqaba village council to the LRC researcher stated that: "besides the aforementioned demolitions, 16 houses and a sheep barn were targeted between 2003 and 2013. Electricity network and water pools (for human and animals use and supply) were also destroyed".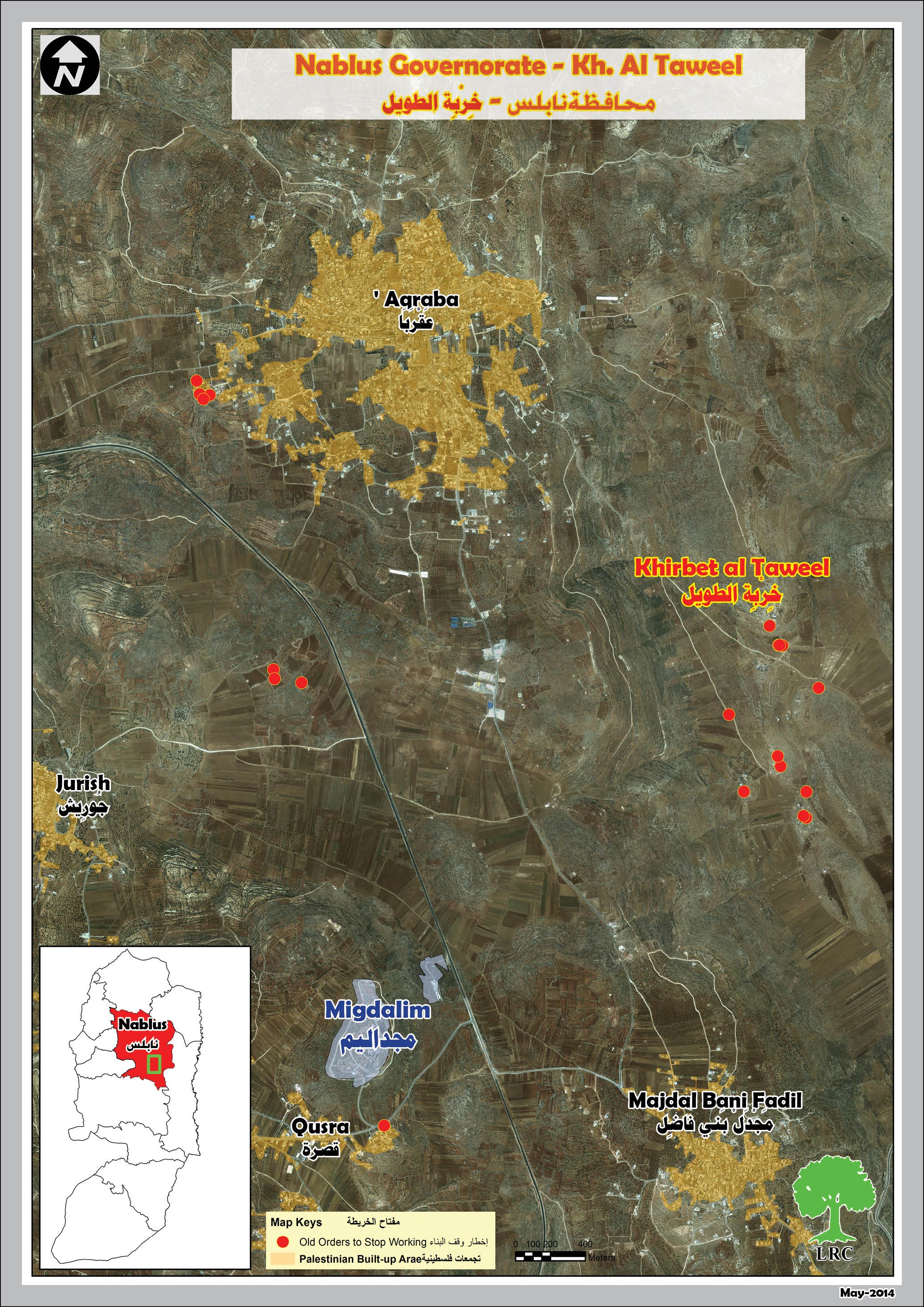 In March 2011, al-Salam and al-Muhagrin streets were demolished where they were re-opened in September 2011. On 18/04/ 2012 the streets were ravaged again. For more information, please read through (demolishing al-Salam and al-Muhajrin streets for third time in a period of a year)
Land Research Center LRC sees that house demolitions contradict with all the International conventions and Humanitarian laws including:
Article 17 of the (1948) Universal Declaration of Human Rights stating: "Everyone has the right to own property alone as well as in association with others. No one shall be arbitrarily deprived of his property."
Section ‹G› of article 23 of the (1907) The Hague Conventions asserting: "In addition to the prohibitions provided by special Conventions, it is especially forbidden to destroy or seize the enemy's property, unless such destruction or seizure be imperatively demanded by the necessities of war."
Article 53 of the Geneva Fourth Convention (1948) declaring: "Any destruction by the Occupying Power of real or personal property belonging individually or collectively to private persons, or to the State, or to other public authorities, or to social or cooperative organizations, is prohibited, except where such destruction is rendered absolutely necessary by military operations."
Section 1, Article 11 of the International Covenant on Economic, Social and Cultural Rights (1966): "The States Parties to the present Covenant recognize the right of everyone to an adequate standard of living for himself and his family, including adequate food, clothing and housing, and to the continuous improvement of living conditions. The States Parties will take appropriate steps to ensure the realization of this right, recognizing to this effect the essential importance of international co-operation based on free consent."
For more information about the assaults and violations Aqaba has been going through by the Israeli occupation in 2014, please read through the following LRC reports:
Two families notified with stop work in Aqraba town on27/02/2014 (Arabic)
Prepared by
The Land Research Center
LRC