Setting Fire to Scores of Olive Trees in Deir Ibzi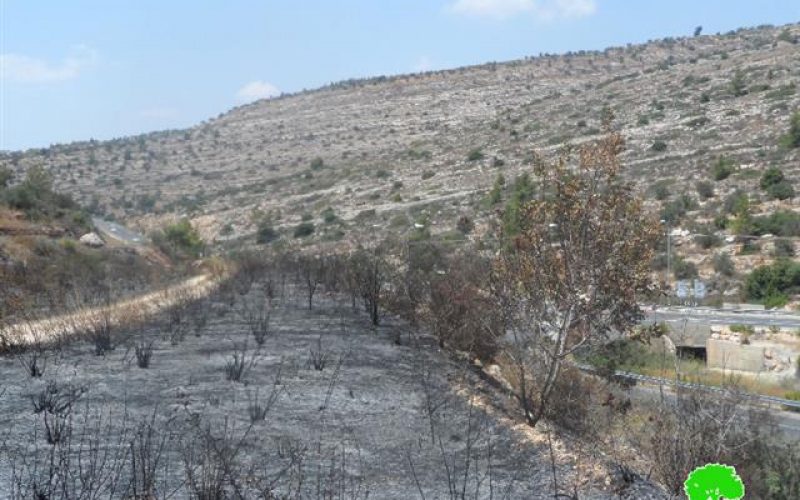 Violation : Torching perennial olive trees
Location: Deir Ibzi' village Ramallah governorate.
Date: July 27,2014
Perpetrators : "Dolev" colonists.
Victims : Farmer Sami Mansour
Details:
Olive tree is considered a symbol for land Arabism and an ultimate proof that Palestinians are the legitimate owners of the land which colonists try to put hand on by all means.
It is indicated that colonists have tried all means of sabotaging the olive tree, the latest assault on Deir Ibzi' is a living example.
On Sunday July27, 2014, a group of colonists from Dolev set a nearby olive grove ablaze, leading to full damage of 30 perennial olive trees that belong to a Palestinian farmer named Waleed Mansour (67) from Deir Ibzi'. It should be mentioned that Dolev colony is to the east of the village.
About the details of the attack, Waleed Mansour had the following to say: "At noon of Sunday, July 27, I received a call from Mr. Ayed Mathloum, head of the village council of nearby al-Janiya, informing me that my olive orchard is on fire. The orchard is planted with olive and is located at the entrance of Dolev colony in an area known as "Wad al-Dulm". I immediately rushed to the site to see the staff of the Palestinian fire department had already been working on extinguishing the fire. There was no Israeli army at the scene but colonists chanting racist slogans and admitting that they are the culprits; they did that in response to Palestinians throwing stones at them as claimed."
Mr. Mansour added: "30 Roman olive trees were irreversibly damaged, 8 of them were estimated to be 300 years old while the rest were around 40 in age. It is such a great loss."
Pictures 1-6: The torched trees
Ongoing suffering from colonists:
Mr. Mansour affirmed that in 1997, colonists uprooted hundreds of olive trees in the same plot of land that was torched. They did so in order to open a road linking the colony of Dolev to a nearby bypass road.
Since that time and until the present, colonists have been harassing him and other farmers. Not a single olive harvesting season passes peacefully without being subject to Jewish extremists' assaults that include: Kicking farmers out of their land, stealing crops, and beating farmers up.
Deir Ibzi':[i]
9km to the south of Ramallah, Deir Ibzi' is surrounded by al-Janiya (north), Kafr Ni'ma (north west), Ein Erik (east), Beit Ur al-Fauqa (west). It has a population of 2668 people according to 2014 census.
It has a total area of 14, 323 dunums, including 784 as a built-up area of the village. According to Oslo Accords, 3,926 dunums are in area B (PA is in charge of civil matters with Israel responsible for security) while 10,387 dunums in area C (Israel maintains full security and administrative control).
The Israeli occupation devoured 267 dunums of Deir Ibzi' village for the benefit of:
Dolev colony, built in 1983 and inhabited by 1983. It took over 31 dunums of the village lands.
Bypass roads no. 463 and 465 that engulfed more than 236 dunums.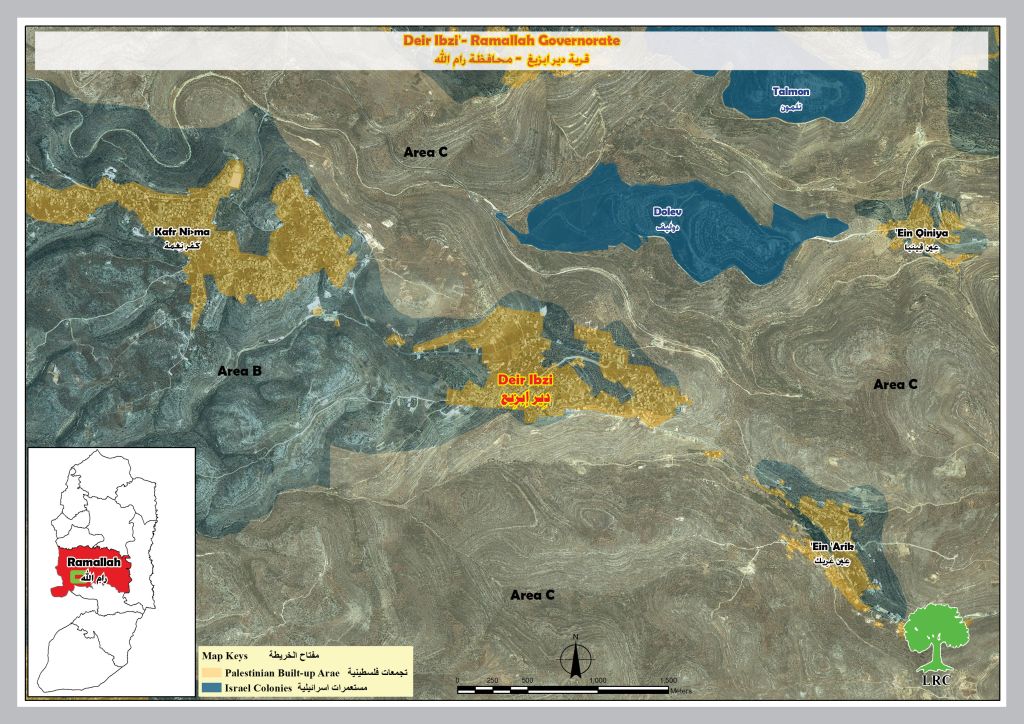 [i] Source: Geographic Information System- Monitoring Israeli Violations Team- Land Research Center
Prepared by
The Land Research Center
LRC