Enforcing Blockade of Deir Istiya Entrance – Salfit Governorate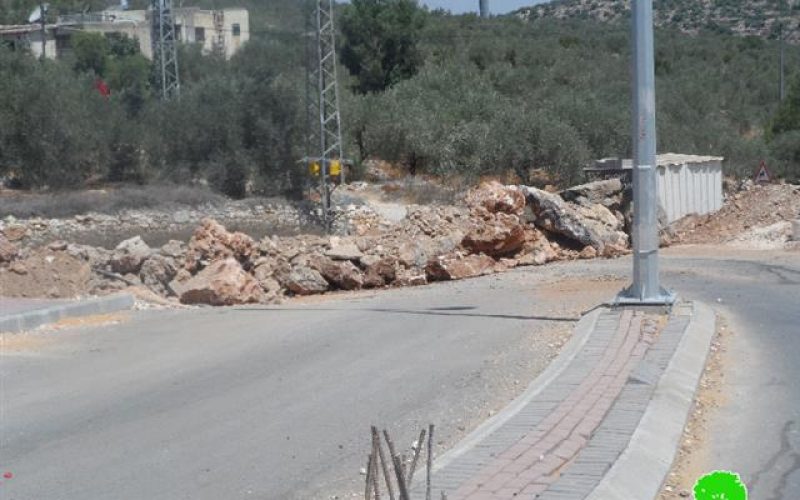 Violation: Blocking Deir Istiya entrance with earth mounds
Location: Deir Istiya town, Salfit governorate
Date: 22/07/2014
Perpetrators: the Israeli Occupation Army
Victims: People of Deir Istiya
Details:
At the evening of Tuesday, July 22, the Israeli occupation army embarked on shutting off the western entrance of Deir Istiya town, north of Salfit and overlooking Wadi Qana, by setting up earth mounds rocks. The Israeli occupation justified taking this step for security reasons, by which it forces collective punishment on the five thousand inhabitants of the town.
The western entryway of Deir Istiya is considered a meeting point, linking the town with other villages of nearby Qalqiliya, and most importantly, it is the only road that allows tenths of farmers to reach their agricultural lands in Wadi Qana. The latter is now threatened of being confiscated by the Israeli occupation that plans to implement a road network project to link the seven colonies founded in Wadi Qana together. Thus, it is but expected that the occupation does not spare any efforts at closing any agricultural or paved road that serves the Palestinians in Wadi Qana in particular and the rest of Palestinian lands in general.
Pictures 1: The closed entry
A premeditated plan:
The western entrance of Deir Istiya town overlooking Wadi Qana area has not been the only road to be shut off. In fact, three agricultural roads connecting Deir Istiya to Wadi Qana have been closed since August 2012 according to field research data. And they are as follow:
Saida Road: Located to the western part of the town and is 2.5 kilometers long. It was opened by the Palestinian Agricultural Relief Committees in 2005 and used to serve 150 dunums of land planted with figs and olives.
Qattan al-Jami Road: A 1.5 kilometers road to the western side of Deir Istiya. It was opened by the farmers of the town to serve 240 dunums planted with olives and figs.
Wadi Abu Nasser Road: A 2 kilometers road opened and expanded by the Palestinian Agricultural Relief Committees in 2008 to serve 230 dunums planted with olive in Wadi Qana.
So as it could be noticed, there is a plan and policy followed by the Israeli occupation to Judaize Wadi Qana and isolate the people of Deir Istiya town from their agricultural lands in Wadi Qana. See Map 1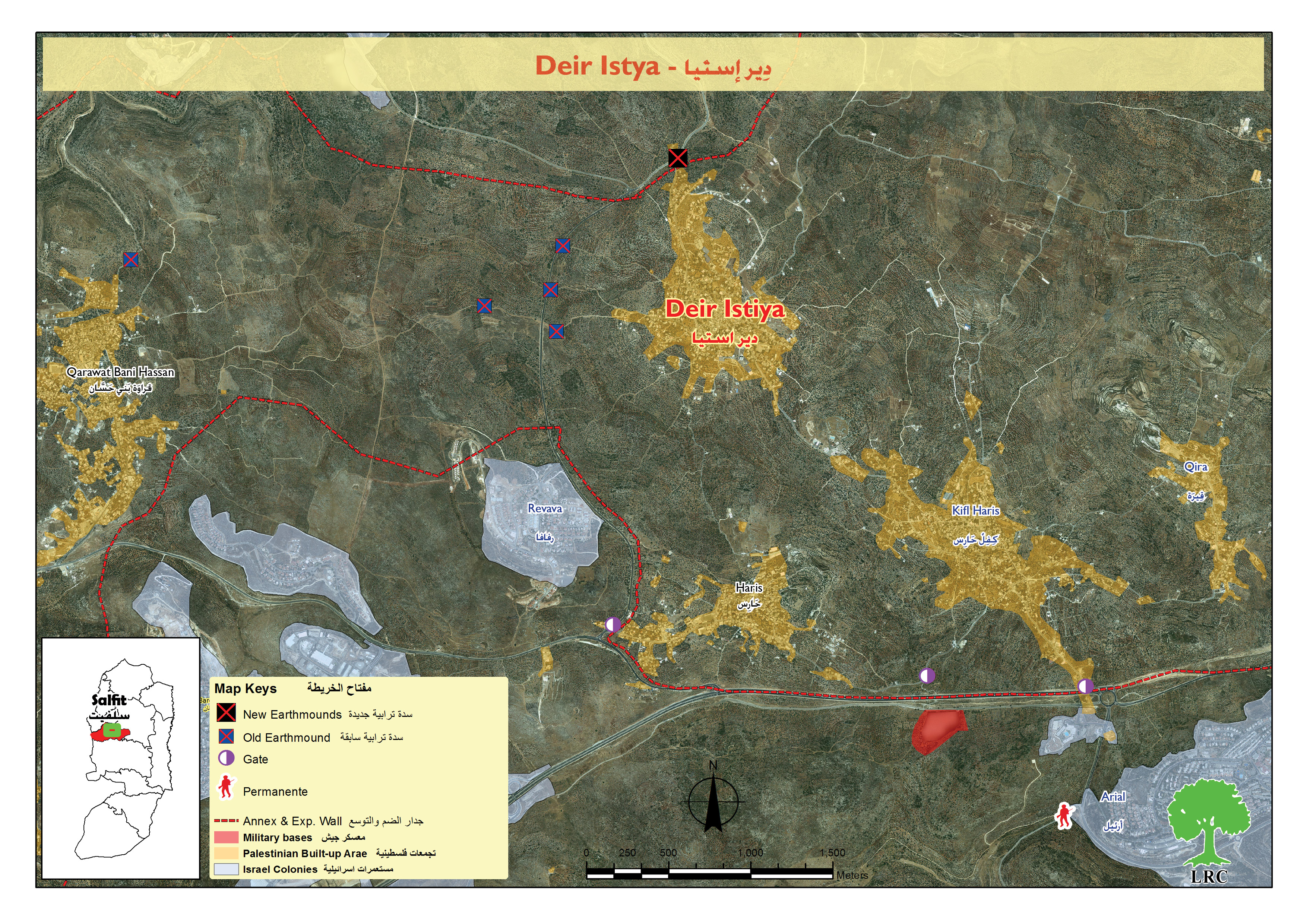 Deir Istiya:
It is located 6 km to the north west of Salfit. Its total area is 34, 765 dunums including 1527 dunums of built-up area. 40 % of the total area of Deir Istiya has been subjected to colonial activities.
The town is inhabited by around 4000 people who depend largely on herding and agriculture in their living knowing that fertile soil and plenty of water are available.
It is considered one of the most concerned towns with education, compared to other surrounding towns and villages.
It is subject to colonial activities and colonies that are sporadic all over it, trying to seize every dunums and invades every place like cancer.
Prepared by
The Land Research Center
LRC