Destroying Scores of Trees in Iraq Burin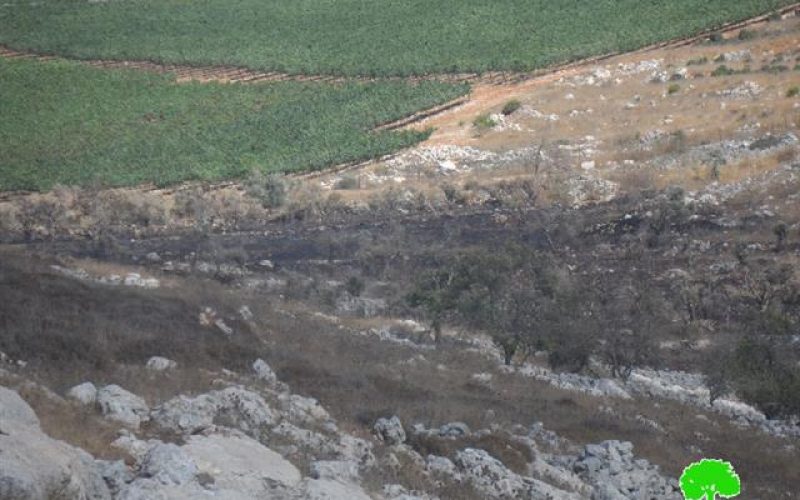 Violation: Setting fire to tenths of trees, leading to full damage
Date: 11/07/2014
Location: Suleiman valley, Iraq Burin village- Nablus governorate
Perpetrators: Colonists of Bracha
Victims: A number of Palestinian families from the villages of Burin and Iraq Burin
Details:
Atop the southern green hills of Nablus, the village of Iraq Burin is situated. The village is known for its quiet atmosphere and futile land that provides sources of income to many. The village has always defied Israeli colonial plans that only understand the language of destruction and sabotage.
Burning trees in masses:
According to the head of Iraq Burin village council, Mr. Abdul Rahim Qadus who informed the LRC field researcher of the following: At 7:50p.m. on Friday, 11 of July, a group of Bracha colonists took advantage of the time that Muslims break their fast at and of the quietness of the area to sneak into the south boundaries of their colony, specifically in the area known as Wad Suleiman (Suleiman valley) within natural block no. 15 of the village lands. The area, within the security borders of the village, is inaccessible to its real owners; farmers are only allowed access to it during the olive harvest time.
Qadus added, "Large troops of colonists and Israeli occupation army were present around the circumference of the area set on fire. Israeli soldiers denied farmers and fire trucks access. The trees were set on fire on a full one hour, leading to irreversible damage to about 100+ trees aged 40 years. Israeli firemen were allowed to intervene afterwards.
Picture 1: Bracha colony and the attacked land
Pictures 2-3: The burnt trees
No accurate statistics of the damage yet:
Considering the proximity of the damaged area to the colony, no one whether from the Palestinian government or people could reach it. Thus, the damage is roughly estimated. The Israeli occupation tries its best to hinder the access of any official body to the location and bans any coordination especially amid the current political turmoil.
Through field research and despite the high rate of risk, LRC field researcher managed to be only 200 meters away from the affected area. Through eyewitness, no less than 100 olive trees were torched and fully damaged, it was found.
According to the available data in the village council, the land set on fire belongs to: Heirs of Abdul- Qader Qadus, Muhammad Qadus, heirs of Hafiz Qa'dan from Iraq Burin and heirs of Muhammad Abu Eisha from Burin.
About Iraq Burin:
Located 3 kilometers southwest of Nablus, Iraq Burin village is 5775 dunums in area with a built-up area of 464 dunums. 45% of the village land is area C according to Oslo Accords. (Source: Iraq Burin village council).
Qadus is the only family in the village and they are about 1000 people.
It should be marked that the village of Iraq Burin is not different from other Palestinian villages and cities in that it is a target for the Israeli colonialism. No less than 15% of the village land was confiscated for the establishment of Bracha that has been expanding day after day, since the eighties of the last century.
Prepared by
The Land Research Center
LRC