Demolition of a number of agricultural and residential structures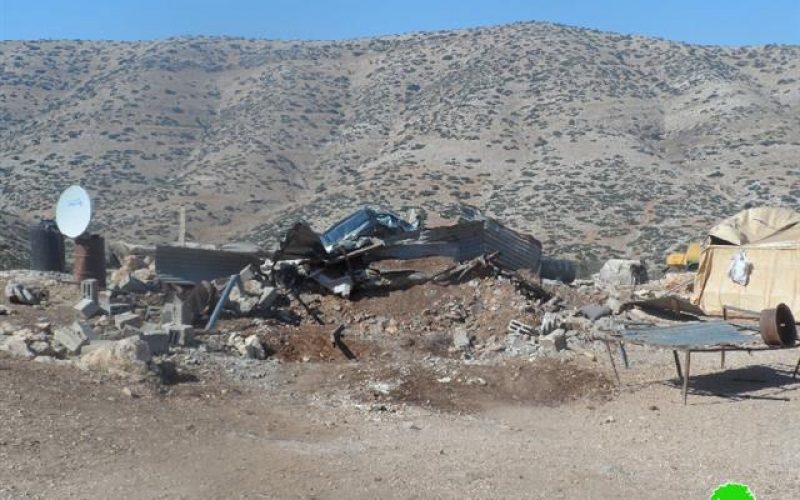 Violation : The Israeli occupation demolishes a number of agricultural and residential facilities
Location: Al Aqaba village- Tubas governorate
Date: 03/07/ 2014.
Perpetrators: The Israeli occupation army .
Victims : Five Bedouin families residing in Al Aqaba village
Details:
Al Aqaba village woke up, Tuesday , July 03, 2014, on military vehicles surrounding the place from its four directions claiming it is a closed military zone with no entry and exit allowed before they actually raided a number of residential houses and ill-treated its residents.
It should be marked that the Israeli occupation vehicles commenced, at 9:00 am, a demolition operation in the eastern part of Al Aqaba. The demolition targeted six barracks and a stable in addition to a residential room owned by five Bedouin families that are composed of 37 members, 17 of them are minors .The demolished structures are indicated to be built from tinplate and bricks.
The Israeli occupation justified the demolition by claiming the structures were unauthorizedunlicensed within the area classified "C" according to Oslo Accords. The citizens had already received notifications to stop construction and demolition notifications soon afterwards by the beginning of the current year.
Demolition Footage at Al Aqaba
The attached table shows losses resulted from the last demolition at Al Aqaba
No.

Name

Sheep

Family

Children

Residences

Area m2

Sheds

Area m2

Barracks

Area m2

Others

1

Mamoun Dabk

30

7

3

1

80

1

120

1

150

0

2

Ziyad Dabk

25

6

4

0

0

2

160

0

0

0

3

Daif Allah Zwahra

120

9

5

0

0

1

60

0

0

0

4

Khaled Sbeih

35

8

3

0

0

1

240

0

0

Barrel

5

Ayman Sbeih

38

7

2

0

0

1

120

0

0

2 tons of fodder

Total

248

37

17

1

80

6

700

1

150
*Source: Field Research- Monitoring Israeli Violations Team- Land Research Centre (LRC).
Targeting circle goes on without mercy.
It is indicated, and according to the testimony of Hajj Sami, the chairman of Al Aqaba village council, that two barracks were demolished in 2003 and seven houses were leveled or torn down in 2009. The village's electricity network was sabotaged in addition to the demolition of a pool used to supply people's agricultural and drinking needs.
In March 2011, Al Salam and Al Mohajerin streets in addition to two agricultural barracks were destroyed. After being reconstructed, the two streets were leveled again in September 2011 along with a house and two agricultural barracks.
The given data proves that the Israeli occupation is still conducting the policy of demolition and displacement at Al Aqaba village in particular and in the Jordan Valley "alghors" in general. This promotes the occupation intentions in displacing residents collectively within a certain policy that aims at creating facts on the ground; a reality which is difficult to change by futuristic treaties with the Palestinian side
About al-Aqaba:
Al Aqaba village is located 5 km away from the north eastern part of Tubas city. Al Aqaba has an area of 2600 dunums, 100 of which are devoted for construction and development.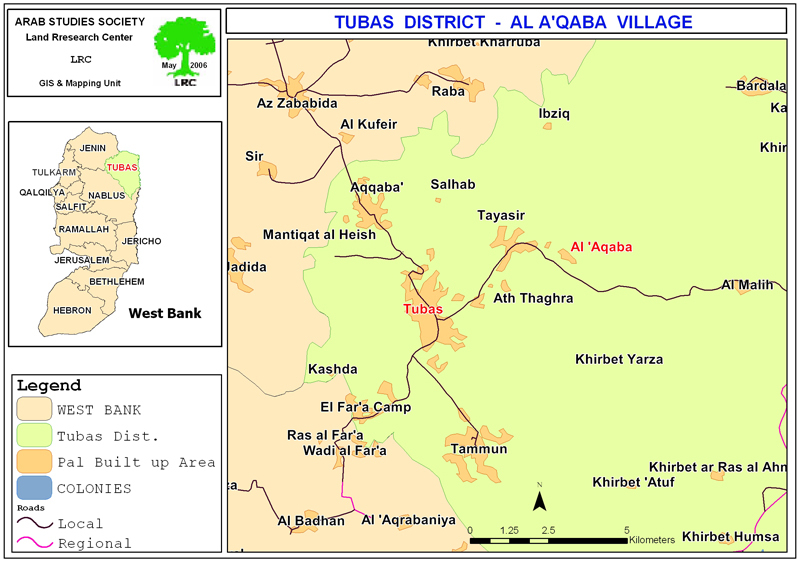 The rest of the area- that is 2500 dunums- are agricultural lands , 2000 dunums of which were confiscated by the Israeli troops for military purposes. The Local economy of Al Aqaba village depends on the harvest income since the village is regarded as an agricultural area that 80% of its residents rely on the agricultural GDP in supplying their daily life needs. It should be mentioned that the growth of Al Aqaba village has been limited in terms of the economic development where there is but one store which supplies the needs of the 300 inhabitants.
Prepared by
The Land Research Center
LRC