The Israeli occupation demolishes different structures in Bethlehem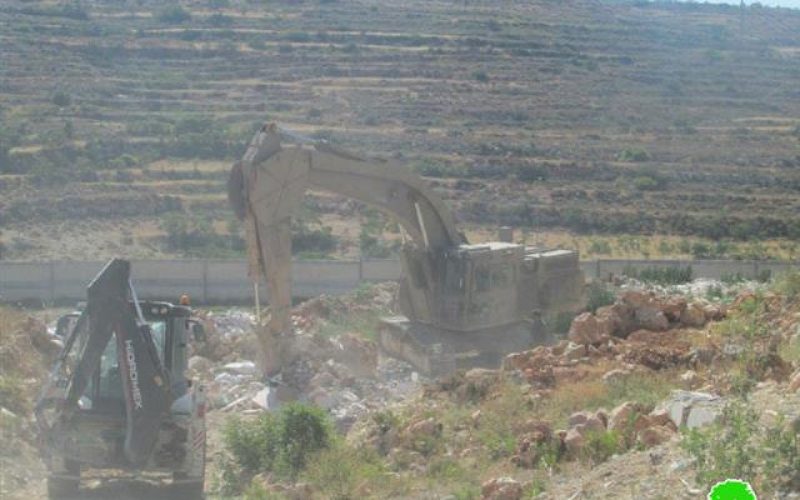 Violation: demolishing three residential and agricultural structures
Location: al-Khadr/ Bethlehem
Date: 18/06/2014
Perpetrators: the army of Israeli occupation
Victims: Musa family
Details :
The troops of the Israeli occupation demolished on June 18th 2014 two residences (made of bricks) in addition to a water cistern (for agricultural use) in the area of al-Khadr, south of Bethlehem. The following table shows information about the affected owners :
| | | | | |
| --- | --- | --- | --- | --- |
| Affected citizen | Area/m2 | Family | Minors | Photo |
| Residence of Ismeal Musa | 80 | 10 | 4 | |
| Residence Ali Musa | 80 | 10 | 8 | |
| A water cistern | 190م3 | | | |
| Total | 160 | 20 | 12 | |
*Source: Field Research- Monitoring Israeli Violations Team- Land Research Centre (LRC).
Citizen Ali Musa to Land Research Center researcher stated the following :
" we live on this land since too many years but the occupation has been harassing us by establishing colonies and opening colonial roads at the expense of our confiscated lands. We are banned from building and expanding on our own lands which are classified as area C according to Oslo Accords; lands that are under the administrative and military authority of Israel"
He also added: "I applied to obtain a construction permit years ago, providing all needed documents but the occupation rejected my application. Therefore I decided to build the house without a permit to shelter my family but the occupation came and demolished it since any constriction in areas classified C cannot be licensed. Ironically, outposts and colonies are "legitimized" on our confiscated lands; this is an obvious discrimination between colonists and Palestinians".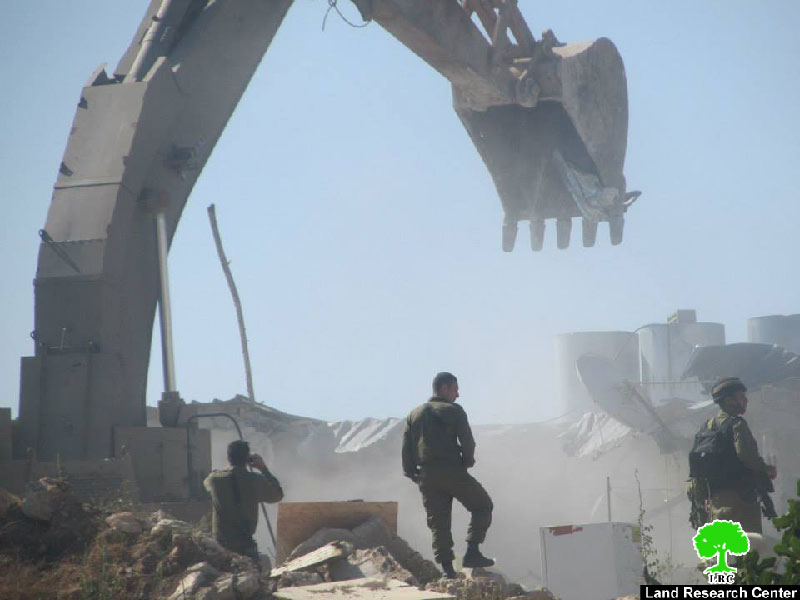 Photos 8-10: the machineries of the occupation at time of attack in al-Khadr
Land Research Center LRC sees that demolitions contradict with all of the International conventions and Humanitarian laws including:
Article 17 of the (1948) Universal Declaration of Human Rights stating: "Everyone has the right to own property alone as well as in association with others. No one shall be arbitrarily deprived of his property."
Section ‹G› of article 23 of the (1907) The Hague Conventions asserting: "In addition to the prohibitions provided by special Conventions, it is especially forbidden to destroy or seize the enemy's property, unless such destruction or seizure be imperatively demanded by the necessities of war."
Article 53 of the Geneva Fourth Convention (1948) declaring: "Any destruction by the Occupying Power of real or personal property belonging individually or collectively to private persons, or to the State, or to other public authorities, or to social or cooperative organizations, is prohibited, except where such destruction is rendered absolutely necessary by military operations."
Section 1, Article 11 of the International Covenant on Economic, Social and Cultural Rights (1966): "The States Parties to the present Covenant recognize the right of everyone to an adequate standard of living for himself and his family, including adequate food, clothing and housing, and to the continuous improvement of living conditions. The States Parties will take appropriate steps to ensure the realization of this right, recognizing to this effect the essential importance of international co-operation based on free consent."
Prepared by
The Land Research Center
LRC