Demolition of a Fodder Warehouse in Khirbet ar-Rahwa, ad- Dhahiriya/Hebron governorate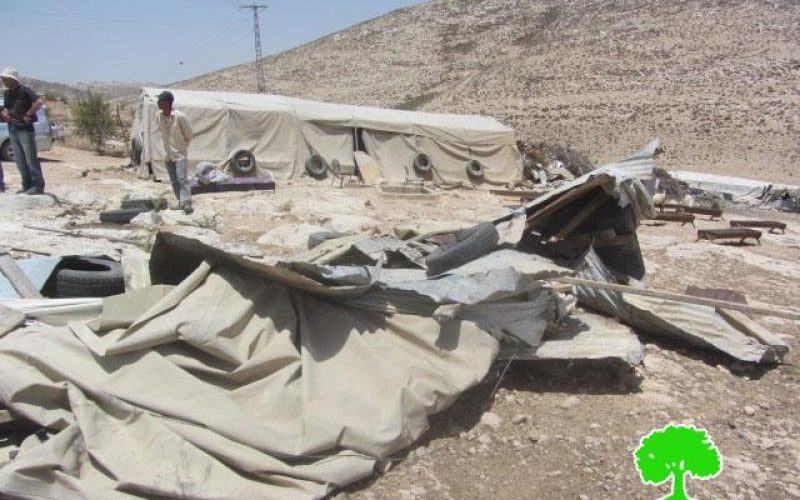 Violation: Razing a structure to the ground
Location: Khirbet ar-Rahwa, ad- Dhahiriya/ Hebron governorate
Date: 18/06/2014
Perpetrators: The Israeli occupation army and the Civil Administration
Victims: Muhammad al-Tall
Details:
On June 18, 2014, the Israeli occupation authorities leveled a fodder and grains warehouse, belonging to Muhammad al-Tall, in ar-Rahwa, south of ad-Dhahiriya town of the West Bank governorate of Hebron.
Army soldiers and officers of the Civil Administration riding a bulldozer showed up at noon, circled the area, and allowed the citizen to take the fodder out before embarking on razing the warehouse to the ground.
The warehouse was built with metal slabs and plastic curtains four years ago and was used for storing fodder and grains as al-Tall works in raising cattle and poultry.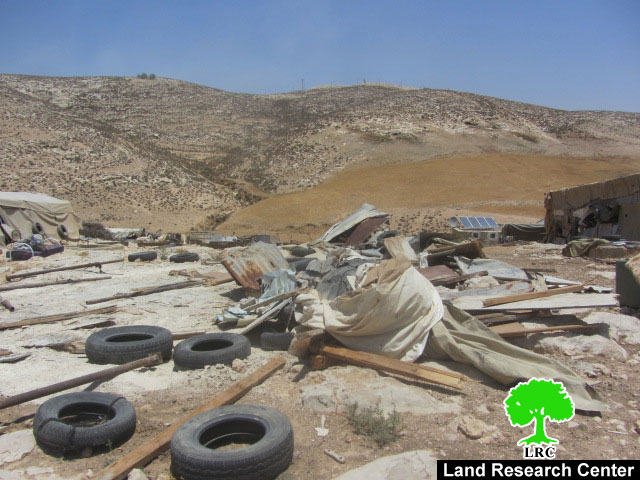 Pictures 1+2: The damage scenes resulted from destroying the warehouse
The state authorities served al-Tall a stop-work (stop- construction) order on the warehouse two years ago, and a final order two months ago which al-Tall did not object because he was positive the Israeli authorities would not grant him a building permit and because his area is targeted with demolition operations.
Land Research Center (LRC) prepared reports about the Israeli violations in the area of Khirbet ar-Rahwa. For more information, kindly check out the following links in Arabic:
http://poica.org/details.php?Article=4912
http://poica.org/details.php?Article=4138
http://poica.org/details.php?Article=3575
Prepared by
The Land Research Center
LRC