The Israeli occupation destroys an electrical grid in Hebron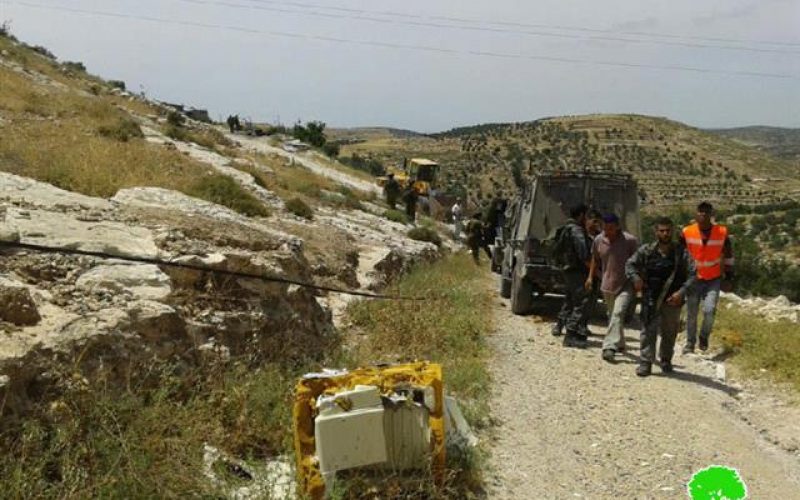 Violation: Destroying an electricity network
Location: Khirbet ar-Ras, Idhna/ Hebron governorate
Date: 19/05/2014
Perpetrators: The Israeli occupation army and the Civil Administration
Victims: People of Khirbet Ar-Ras
Details:
On Monday, May 19, the Israeli occupation authorities destroyed an electrical network in Khirbet ar- Ras, west of Idhna in the West Bank city of Hebron under the pretext of its being unlicensed.
The department of Public Relations in Idhna municipality asserted that a large force of the Israeli occupation army accompanied by the Civil Administration riding a bulldozer broke into Khirbet ar-Ras, where they embarked on destroying the poles and cables of the electrical network.
The department also pointed out that the Israeli occupation carried out the attack without any prior warning or order, so citizens were surprised to see soldiers tear it down.
Pictures 1-2: the Israeli forces while destroying the electrical network
The network was about 500 meters long and used to supply electricity to seven houses in Khirbet ar-Ras. The families suffered from a blackout for a short while afterwards before the municipality reconnected them with another grid. Only one house is left without electricity due to its remoteness to the municipality.
The network was built five years ago in order to provide electricity to recently-built houses in Idhna that is witnessing urban expansion.
Prepared by
The Land Research Center
LRC