Sabotaging 35 Olive Trees in Farata village- Qalqiliya governorate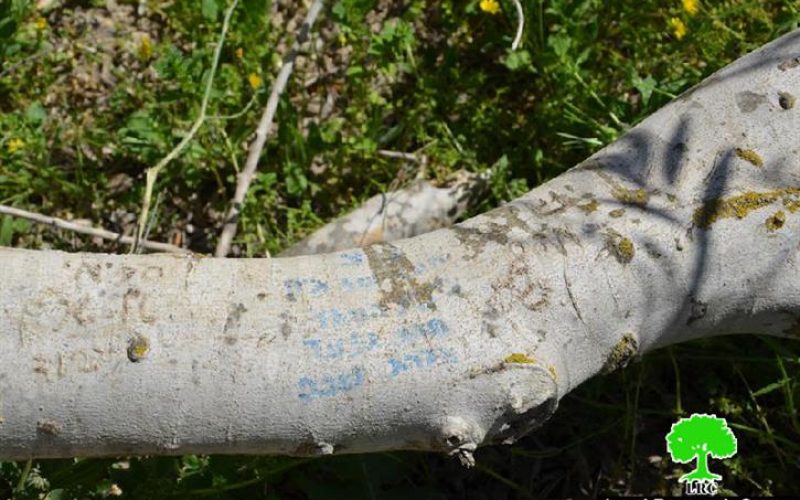 Violation: Inflicting partial damage on a number of olive trees
Location: Farata village- Qalqiliya governorate
Date: 6/04/2014
Perpetrators: Colonists of Havat Gilad
Victims: Farmer Ibrahim Salah
Details:
Olive tree is considered a symbol for land Arabism and an ultimate proof that Palestinians are the legitimate owners of the land which colonists try to put hand on by all means. It is indicated that colonists tried all means of sabotaging the olive tree be it by cutting off , burning them or spraying them with fatal chemicals. Faraata village is not spared from colonists and their attacks.
At the early morning of April 06, 2014, a number of colonists of Havat Gilad, a colony founded on Faraata lands, cut down and sabotaged 35 olive trees, inflicting partial damage on them and using sharp tools in carrying out the assault.
The damaged trees are estimated to be 30 years old planted on a plot of land in Wadi Sorra that is inaccessible to Palestinians unless there is prior coordination with the Israeli occupation since the land is considered within the security belt of the colony as the Israeli occupation claims. The colonists took advantage of the farmers' inaccessibility to the area to destroy the trees and spray offensive slogans in Hebrew on the branches of the targeted trees, some of which read: "Death to Arabs!" and "This is the Land of Israel."
Pictures 1-4: Price-tag graffiti on the damaged trees- Faraata
Havat Gilad in lines:
The colonists of Havat Gilad are the grandchildren of Zohar, one of the biggest colonists in the West Bank. They collaborate with Kiryat Arab' colonists to form gangs that attack farmers. 5 years ago, a number of colonists under the protection of the Israeli occupation army confiscated vast areas of (Tell, Sera, Faraata, 'Ammatin) villages to build an outpost that soon expanded to be Gilad Zohar farm. And along with its foundation, the suffering of people nearby began.
Prepared by
The Land Research Center
LRC