Roman olive trees torched in Quryut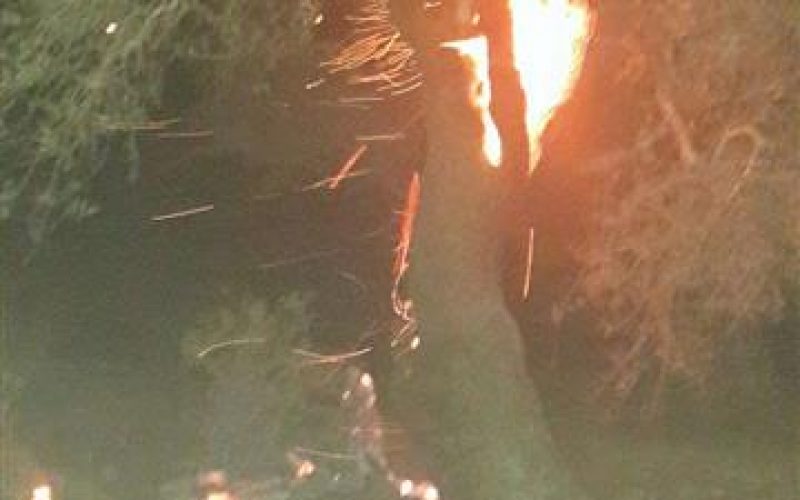 Violation: 9 olive trees burned down
Location: Quryut/ Nablus governorate
Date: 01/04/2014
Perpetrators: Elih colonists
Victims: four agricultural families
Details:
At evening of Tuesday May 1st 2014, a group extreme colonists of Eli, which is located on the lands of Qatyut, sneaked into the village's southern fields named Btaysha and poured diesel on the roman olive trees aging hundreds of years. The fire totally burned down the fields and the olives as wells.
Mr Bashar Qaruyti to the LRC observer stated that: "around 8:00 pm, we received information that fire flames were seen in Btaysh area; 6km away from the built-up area. Shortly, some of the residents and I ran to the place but the occupation denied us access to the fields where colonist were seen setting up fire to trees. I called the fire department that came after 25 minutes from the phone call time but the occupation also denied access to the rangers under the pretext of uncoordinated operation by the Palestinian-Israeli District Coordination office (DCO). Then, I had no means but calling on residents of the village by loudspeaker to come and extinguish the fire. That is what made the occupation and the colonists withdraw. The villagers stayed until dawn extinguishing the fire, which caused a total burnt down".
Photo 1-4: the targeted trees
It is indicated that the trees belong to four families from Qaryut. The following table shows the affected families:
| | | |
| --- | --- | --- |
| Affected farmer | Family | No. of torched trees |
| Yasir Mansour | 8 | 3 |
| Khazir Khalil | 5 | 1 |
| Awad el-Boum | 8 | 1 |
| Mohammad Mahmoud | 9 | 4 |
| Total | 30 | 9 |
*Source: Field Research- Monitoring Israeli Violations Team- Land Research Centre (LRC).
It should also be mentioned that the area of Btysha has been undergoing frequent assaults by colonists. Despite that villagers have submitted complaint to the occupation Police, yet no result has been rendered. Instead, colonists continued their extreme systematic violations against Palestinians in all possible means.
About Qaruyt:
South east of Nablus, Qaryut is linked to the city by the 4.5 km main road that connects Nablus with Jerusalem and which has been closed since the second Intifada in 2000.
Qaryut has a total area of 8471 dunums, 312 of which are built-up area. It has a population of 2321 people. Qaryut was named such by the time of the Roman Empire meaning the "congregation of villages".
The Israeli occupation confiscated 1332 dunums of Qaryut land in order to build:
Shilo colony: Built in 1978, it devoured 779 dunums of Qaryut. It has a built-up area of 1347 dunums.
Eli colony: Built in 1984, it stole away 553 dunums of Qaryut. It has a built-up area of 3360 dunums.
Prepared by
The Land Research Center
LRC