Fourteen trees totally burned down in Jeinsafout- Qalqilya governorate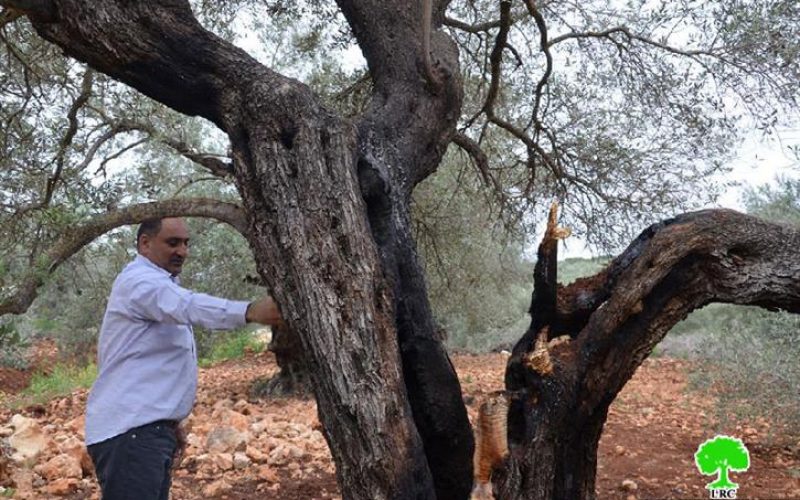 Violation: torching 14 fruitful trees in Qalqilya
Date: April14, 2014
Location: Jeinsafout- Qalqilya governorate
Perpetrators: Emmanuel colonists
Victims: farmers Fathi Eid and Abdel Kareem Eid
Detail:
At evening of April14, 2014, a group of colonists from Emmanuel; that is located on the lands of Jeinsafout and Deir Istya towns east of Qalqilya, sneaked into Wad Khalid area and set fire to 14 fruitful trees aging more than 200 years. The method by which colonist torched the trees was by using cloth drenched with gasoline shoved by the trunks of the trees.
The chairman of the village council, Mr Eid Mohammad Eid to the LRC observer stated that: "on Monday of April14, we were surprised by flames arising from Wad Khlid. Rapidly, we ran to the place to extinguish the fire. In the beginning, soldiers of the occupation hindered us but we made it after the fire had fully damaged 14fruitful trees".
Eid also added: "two years ago, colonists set fire to the exact same location in Wad Khalid damaging more than 15 olive trees. Farmers, at that time, submitted complaints for the occupation Police but with no result to be rendered".
Photos1-4: the burnt trees
The following table shows damages inflicted on farmers:
| | | | | |
| --- | --- | --- | --- | --- |
| Affected farmer | Family | Area in dunums | No. of trees | Nature of damage |
| Fathi Eid | 7 | 2 | 9 | Major damage |
| Abdel Kareem Eid | 5 | 1.5 | 5 | Major damage |
| Total | 12 | 3.5 | 14 | |
*Source: Field Research- Monitoring Israeli Violations Team- Land Research Centre (LRC).
About Jeinsafout:
16.938 km to southeast Qalqilya, Jeinsafout is located with a population of 2,119 people and a total area of 8,659dunums, 218 of which are built-up area.
al-Foundoq and Hejih towns are there from the north and Emmanuel colony from the south. As from the west, there are Kfar laqif town and the two colonies of Karmi Shomron and Navi Manhim. Part of Emmanuel colony and the towns of Fra'ta and Amatin are there from the east.
Prepared by
The Land Research Center
LRC