Destroying olive trees in Mukhmas in Mukhmas village- Jerusalem governorate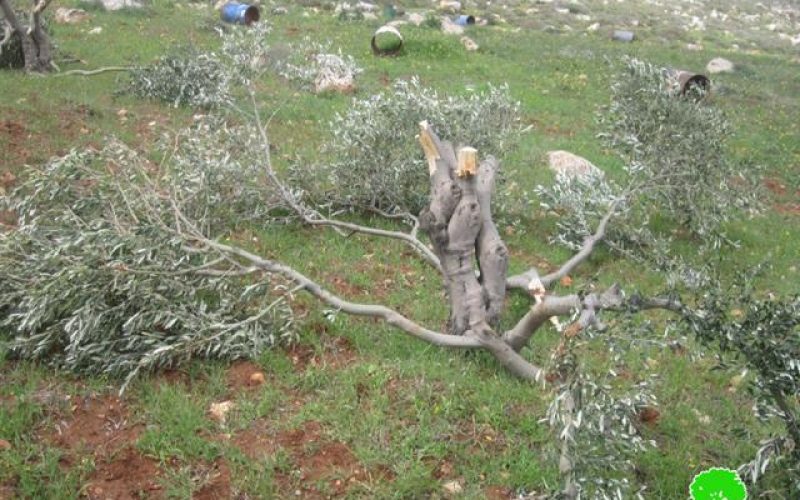 Violation: Rendering partial damage to 43 trees
Location: Mukhmas village- Jerusalem governorate
Date: 02/04/2014
Perpetrators: Colonists of Megron
Victims: A number of farmers
Details:
On April 02, 2014, a group of colonists from Megron sneaked into Mukhmas, particularly in an area known as Hilweh block where they used sharp tools in cutting down and destroying 43 perennial olive trees, estimated to be at least 25 years old, rendering them partially damaged as a result.
Farmers who were going to plow their land were shocked at the sight especially that the targeted area is only 1 kilometer away from the outpost and thus they are denied access to it except for special seasons like olive harvest and plowing.
And though farmers coordinate with the Israeli occupation authorities before being able to get access to their property, neither colonists nor the Israeli army spare them from being attacked along with their lands and trees.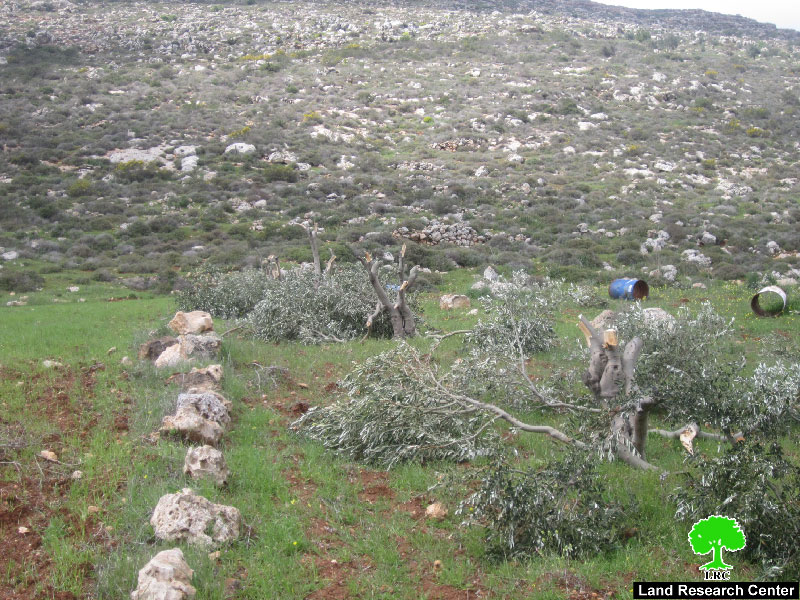 The destroyed trees by colonists of Megron in Mukhmas
Hilweh block, near Megron, is a constant target for Israeli colonists who usually destroy and set fire to trees aim at seizing the area to make way for plans of colonial expansion of Megron. Illegal, even under the Israeli juridical system, Megron enjoys the support of the Israeli army and police that provide it with protection and solidarity.
Prepared by
The Land Research Center
LRC

| | | | |
| --- | --- | --- | --- |
| Citizen | Family | Trees | Damage |
| Yousef Abu Ali | 7 | 17 | Partial |
| Taher Abu Ali | 5 | 19 | Partial |
| Khaled Abu Ali | 7 | 7 | Partial |
| Total | 19 | 43 | |
*Source: Field Research- Monitoring Israeli Violations Team- Land Research Centre (LRC).
Mukhmas in lines:
11.5 kilometer away from Jerusalem, Mukhmas is one of the villages of the governorate and is located to the northeast of the West Bank city of Ramallah.
It is surrounded by Deir Dibwan (east and north), Jaba' (south), and Burqa (west).