Destroying 24 olive saplings and 3 water cisterns in Qarawet bani Hassan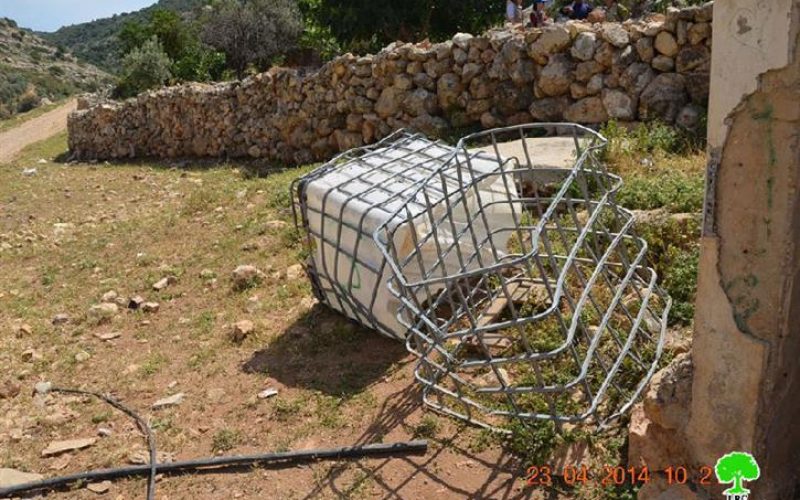 Violation: Cutting down olive seedlings and destroying reservoirs
Location: Beir Abu Ammar- Qarawet bani Hassan- Qalqiliya governorate
Date: 22/04/2014
Perpetrators: Colonists of Yakir
Victims: A farmer named Mustafa Mar'ee
Details:
In wave of attack on agricultural lands, Qarawet was not spared. On April 22, a group of Yakir colonists sneaked into Qarawet bani Hassan where they cut down 24 olive seedlings, rendering them fully damaged. They also destroyed 3 water reservoirs made of plastic and used for irrigation by punching them with sharp tools.
On a side note, Yakir was built on Deir Istiya and Qarawet bani Hassan lands.
The targeted seedlings belong to Jaber Mar'ee (41), a farmer from the village. Mar'ee was financially supported by the Palestinian Ministry of Agriculture to reclaim his 5 dunum land a year ago. Now the Israeli occupation has destroyed what was reclaimed.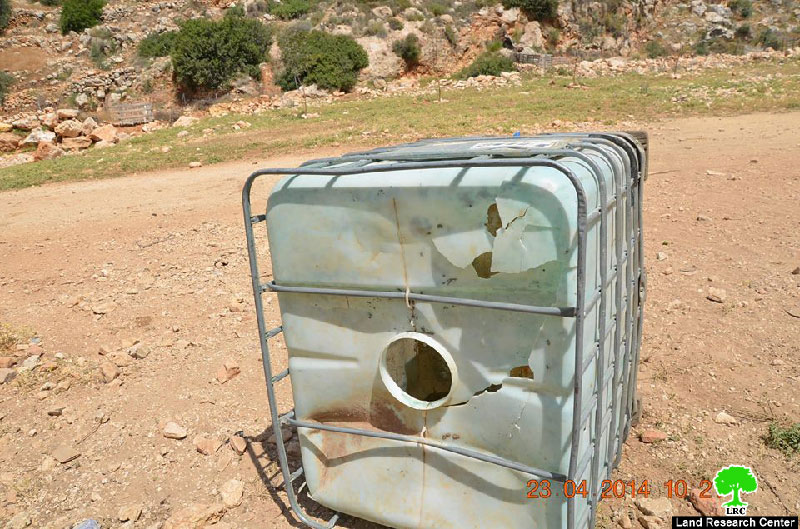 Pictures 1-3: Traces of the inflicted damage
Mr. Abdul Karim Ar-Rayan, secretary of Qarawet bani Hassan village council, told an LRC observer that : "Colonists and Israeli soldiers alike have been leashing attacks on Beir Abu Ammar area that is an extension to Wadi Qana and considered a nature reservoir by the Israeli occupation. Colonists have relentlessly been trying to seize the area to annex it to nearby Nofim colony. So far, the steadfastness of the residents has aborted all colonists' efforts."
Ar- Rayan added that: "The occupation still denies farmers access to their lands. About four years ago, the people of the town managed to get funded to reclaim more than 100 dunums of Beir Abu Ammar area but the Israeli occupation forces destroyed what farmers did more than once and confiscated their tools. Still, the farmers are determined to proceed with the reclamation process."
It should be marked that since the beginning of May, 2009, a large number of farmers from Deir Istiya and Qarawet Bani Hassan embarked on reforming their lands in a bid to prevent the Israeli occupation from taking the area over. The heavy machines for the mentioned reason were set to work until one day in August in 2010, farmers were surprised to see a large force of the Israeli army showing up at the site of reclamation. The soldiers tried to force farmers out for security reasons as it was claimed. However, people refused to surrender and kept carrying on with reclaiming the land but without using heavy machines, depending on their hands instead to construct retaining walls and cultivate the land.
Through the past four years, most property in Beir Abu Ammar got vandalized; agricultural lands ravaged, plants destroyed and retaining walls torn down.
Prepared by
The Land Research Center
LRC