Demolition of an Agricultural Room Al-Tawani village, in Yatta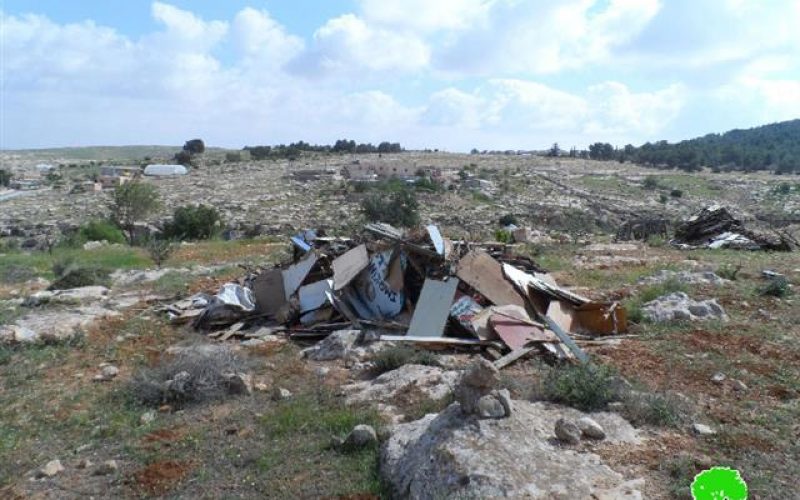 Violation: Razing 7 structurse to the ground
Location: Al-Tawani village, Yatta/ Hebron governorate
Date: 02/04/2014
Perpetrators: The Israeli occupation army
Victims: People of al- Tawani
Details:
On April 02, 2014, the Israeli occupation authorities destroyed seven agricultural rooms in the village of al-Tawani, east of Yatta town.
Fadel Rabi' (60), owner of one of the rooms, asserted that a force of the Israeli occupation army riding a JCB excavator circled the village before embarking on razing the rooms.
Rabi' pointed out that the state authorities sent him a stop-work order on the room in 2009, and Rabi' assigned a lawyer to object the order. But the case did not go any further, ending with the authorities leveling the rooms.
"We called the lawyer informing him that the state authorities razed our rooms to the ground only to be shocked by his answer that he knew the district court had allowed the demolition, " said Rabi'.
The table gives information about the affected citizens by the demolitions:
No.

Name

No. of rooms

Area (m2)

Family

1

Fadel Rabi'

1

16

14

2

Jad Allah Rabi'

1

20

12

3

Mafthi Rabi'

1

15

12

4

Muhammad Rabi'

1

15

13

5

Ribhi Rabi'

1

20

20

6

Khalil Rabi'

1

25

12

7

Na'eem al- Adra

1

25

12

Total

7

136

95
Pictures 1-4: Scenes of the rubble of the destroyed agricultural rooms in al-Tawani
Land Research Center (LRC) made a report about the stop-work orders on the rooms in 2009. For more information, kindly check out the link: (Demolition orders on Palestinian homes and structures in the south of Hebron- in Arabic, here).
The demolished rooms had been built with stones and roofed with metal slabs and plastic shields and about 15-25 meter squares in area. Owners had meant to use the rooms for living but then used them as warehouses for storage after receiving the stop-work orders.
Citizens considered the demolition operation a means to strangle them and limit the urban expansion in their village that suffers from ongoing aggressions by the colonists of nearby Maon, a colony founded on the eastern part of the village.
Prepared by
The Land Research Center
LRC