Confiscation of agricultural land in preparation for expanding al Jalama crossing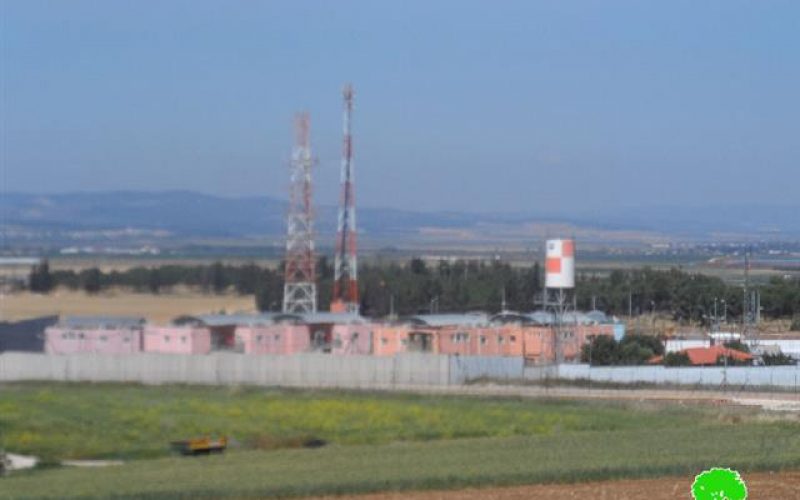 Violation: Taking over land in order to expand a military crossing
Date: 10/04/2014
Location: Al Jalama village- Jenin governorate
Victims: People of al Jalama
Perpetrators: The Israeli occupation army
Details:
On Thursday, April 10, the Israeli occupation forces fenced a 1-dunum piece of agricultural land near the so-called al Jalama military crossing, north of the West Bank city of Jenin.
The targeted land belongs to Abdul Qader Abu Farha, who owns (450 m2) and Mahmoud Abu Farha (560m2).
The occupation forces took that action without any prior written or oral warning, so the two citizens were taken by surprise when they saw the army fencing their land. That came in preparation for expanding al Jalama crossing and enforcing its existence as a barrier that separates the northern West Bank from the 1948 occupied Palestine.
Pictures of al Jalama crossing
Al Jalama and its economic ramifications on the north of the West Bank:
Jenin people's only way to the 1948 Palestine is through al Jalama crossing where workers, merchants and families of prisoners are subject to humiliation when crossing. Lately, complaints about al Jalama haven been increasing, especially regarding a strip search.
Citizens recount many stories of humiliation at the crossing. One of whom is Adnan Abu al Rub who told an LRC observer that: "When reaching al Jalama crossing, we usually find queues of Palestinian workers in hundreds awaiting passage to the 1948 Palestinian land. Everything in the crossing is electronic and computerized. It is bigger than the one at the Jordanian borders and more complicated. Rooms number 1 and 2 in particular are a nightmare to all passengers; if a soldier suspects any person, he orders him to enter one of those rooms where he has to remove some or all of his clothing. It is a search accompanied by bad treatment as soldiers do not enter the room with the suspect but watch and give orders via surveillance cameras."
Strip search is a crime against humanity:
Palestinian citizens, especially women, consider strip search a horrible dream but at the same time an inescapable reality for if any of them refuses to go through strip search, they will be denied entrance. Many women refuse to be strip searched as it is humiliating and embarrassing, made especially so by the fact that there are cameras in the rooms and the female soldiers refuse to accompany women to the rooms or search them manually. Search is carried out only via cameras.
Other than a strip search, a frisk search is no less provocative especially when soldiers damage items under the well-consumed pretext of "security reasons". Soldiers also mix items together on purpose and Palestinians could not protest since that means a withdrawal of their crossing permits. Nafiz Abu al Rub commented on that by saying: "Sometimes intelligence officers are present and they would wait for someone to pass in order to blackmail him. For example, they would compromise with a worker over his work permit or interrogate with a father of a prisoner or a merchant. Sometimes, the officer would tear the permit up denying people access."
"Workers line up at al Jalama crossing from 1 to 5 a.m. in a bid to pass through early. There are about 1200 workers, 600 merchants and 200 family members of prisoners who use the crossing on a daily basis."
The suffering is on both ways as people of 1948 find difficulty when using al Jalama crossing to go to and from Jenin.
Palestinians of the 1948 territories complain that soldiers delay them intentionally. They also search through their luggage and vehicles.
Al Jalama is no exception from other crossings where Palestinians suffer all sorts of discrimination and humiliation.
Prepared by
The Land Research Center
LRC