The occupation re-closes Ramallah- al-Jalazon road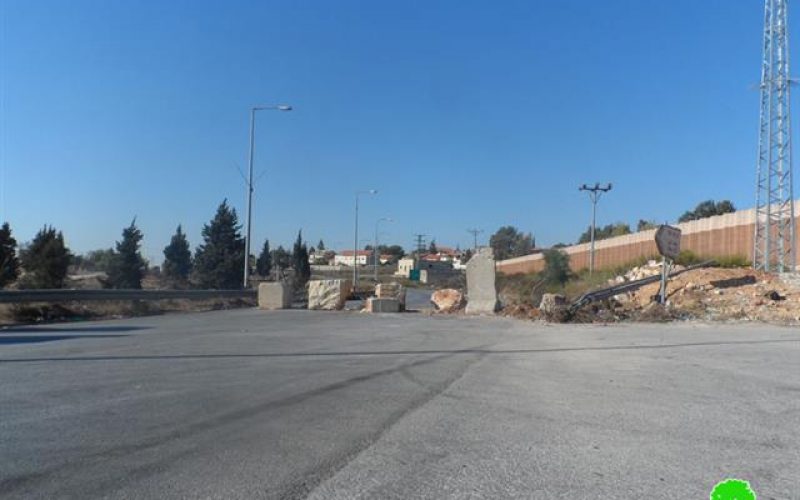 Violation: shutting down the road linking between Ramallah and al-Jalazon
Date: 05/03/2014
Perpetrators: the army of the Israeli occupation
Details:
On 05/03/2014 of Wednesday morning, the forces of the Israeli occupation shut down Ramallah_Nablus road next to the entrance of Beit El colony under the request of colonists. Noteworthy, colonists have always been insisting on the army to close the entrance frequently complaining that Palestinians movement in the area is a bit of annoyance to them.
It should be marked that the road was opened five months ago after an eleven year closure, which is when the second Intifada broke out. The road was re-opened in late 2012 to be closed again in the same month. Five months later, on 05/03/2014, the road was shut down again.
Citizen Adnan Salameh from al-Jalazon asserted: "closing the road will increase the burden on travelers between Nablus and Ramallah where they get to take a substitute road increasing the original distance not less than 9 km".
The legal consultant of Ramallah and al-Bira governorate to the LRC researcher asserted that: "shutting down the road contradicts the international conventions; taking into consideration that the road dates back to Ottoman era, therefore the occupation is closing it for the favor of serving colonists interests after the road has served Palestinian for tens of year.
He also added that: "according to the international and Geneva conventions, it is prohibited to change the landmarks that are founded before the occupation. Clearly, the occupation does not abide to such laws since it consider itself above all laws".
Prepared by
The Land Research Center
LRC