Eviction orders for 35 Bedouin families in the Jordan Valley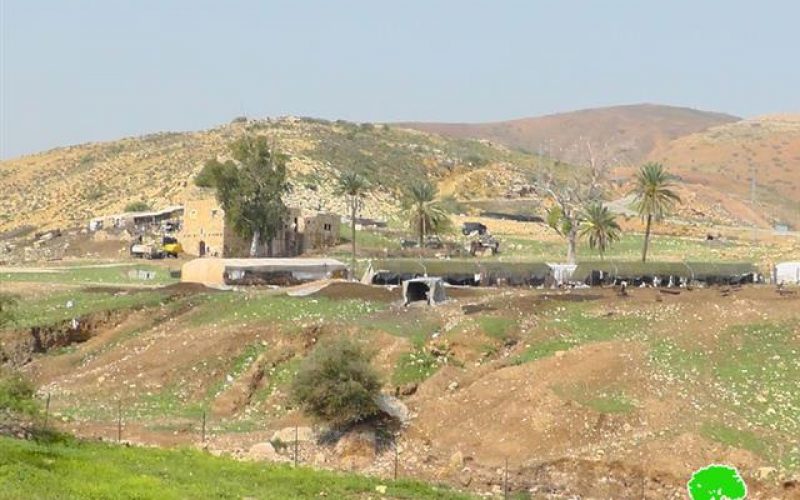 Violation: Ordering Bedouins to leave their residences
Date: 23/03/2014
Location: Khirbets of Ras al Ahmar and Ibziq- Tubas governorate
Perpetrators: The Israeli occupation army
Details:
On Sunday, March 23, 2014, a number of Bedouin families inhabiting Khirbet Ras al Ahmar and Khirbet Ibziq in the north part of the Jordan Valley were informed to evict their houses in the coming period so that the Israeli soldiers could receive military trainings in the area.
According to the notices conveyed orally, 16 families comprising 165 members, including 102 children, living in Khirbet Ras al Ahmar have to leave the area on Wednesday and Thursday from 7 a.m. to 12 p.m. Same with Khirbet Ibziq: 19 Bedouin families consisting of 173 people, including 108 children, were asked to leave the area next Tuesday and Thursday from 7 a.m. to 12 p.m. under the pretext that soldiers need to carry out military trainings there.
Head of the village council of Al Maleh and Bedouin Communities in north Jordan Valley, Mr. Aref Daraghmeh, told an LRC observer that: "The Israeli occupation army prefers to get away from colonies and military camps to receive their trainings in inhabited areas instead!! It is appalling especially when these trainings are carried out in front of Palestinian residents and children. Annually, tenths of families have to leave their residences in intimidation especially when they see the military heavy machines and hear the random noises of shooting."
Mr. Muhammad Al Mallah, a legal consultant, asserted to an LRC observer that: "There is a renewed Israeli plan seeking to commit ethnic cleansing in the Jordan Valley through the displacement of the indigenous inhabitants. The last military trainings were not merely trainings but a means to force Palestinians out and take their place."
It should be marked that the Israeli occupation was not satisfied with the demolition operations and forced displacements only, so it turned 70% of al Maleh lands into closed military zones and mine-planted areas, making the area look like a military camp.
During the past five years, many injures were recorded due to the random bullets fired by the Israeli soldiers from the military training areas. Moreover, there were injuries resulting from the planted mines. A mine killed a child two years ago when it exploded under the feet of the kid who was helping his father in grazing sheep. Such dangers pose a real threat to the Bedouin residents.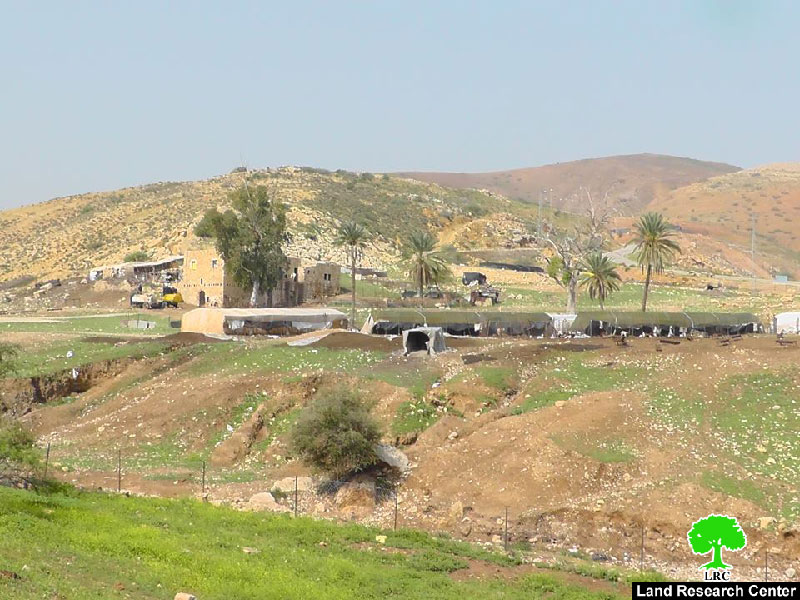 Pictures 1: Part of Khirbet Ibziq
Khirbet Ibziq[i]
It is 7km northeast of Tubas within the north part of the Jordan Valley. Ibziq is surrounded by Al Matalleh (north), Al Kafir (west), Bardala (east) and Tyasir (south). Ibziq is a Bedouin community where its inhabitants lead a simple life, using wood to build their shelters and agriculture and sheep grazing as main sources of living. They lack the most basic of services as they do not have water nor electricity nets. According to 2014 statistics projection, about 272 people live there in addition to nomads who visit Ibziq during summer and spring in search of water and food for their sheep. Most of the Ibziq residents are originally from the 1948 occupied Palestinian lands.
Ibziq has a total area of 8000 dunums, all under area C where Israel maintains full security and administrative control according to Oslo Accords.
Ras al Ahmar:[ii]
It is a Bedouin community located in the north of the Jordan Valley within the governorate of Tubas. It is area C according to Oslo Accords (Israel maintains full security and administrative control). Ras al Ahmar is 13km northeast of Tubas and has a total area of 36 dunums. According to 2014 statistics projection, about 231 people live in Ras al Ahmar. Two colonies were built on the Jordan Valley lands and are near the Khirbet. They are as follows:
Hamdat which was built in 1980 and is inhabited by 107 colonists.
Roy which was built in 1976 and is inhabited by 118 colonists.
[i] Source: Geographic Information System- Monitoring Israeli Violations Team- Land Research Center
[ii] Source: Geographic Information System- Monitoring Israeli Violations Team- Land Research Center
Prepared by
The Land Research Center
LRC