Damage of 55 olive trees after being intoxicated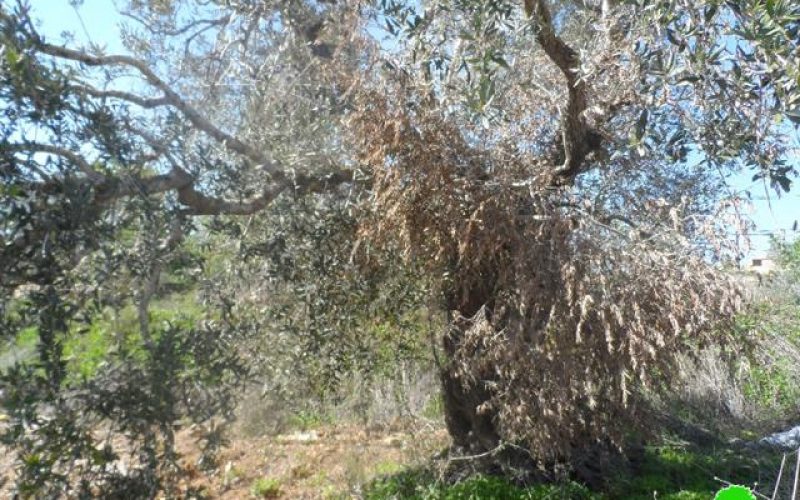 Violation: Total damage to 55 olive trees
Date: 15/03/2014
Location: Jalud village- Nablus governorate
Perpetrators: Colonists of Aish Kodesh
Victims: Two farmers
Details:
Jalud, the southern countryside of Nablus, witnessed a new attack targeting the olive tree. On Saturday, March 15, a group of Aish Kodesh colonists sneaked into Al Bayada, south of the village of Jalud and 800m away from the mentioned colony.
The colonists sprayed 55 olive trees with chemicals. The trees, around 70 years old, were totally damaged after all their branches got dry. The destroyed trees belong to Abdul Ghani Muhammad (42 olive trees) and Muhammad Muhammad (13 trees).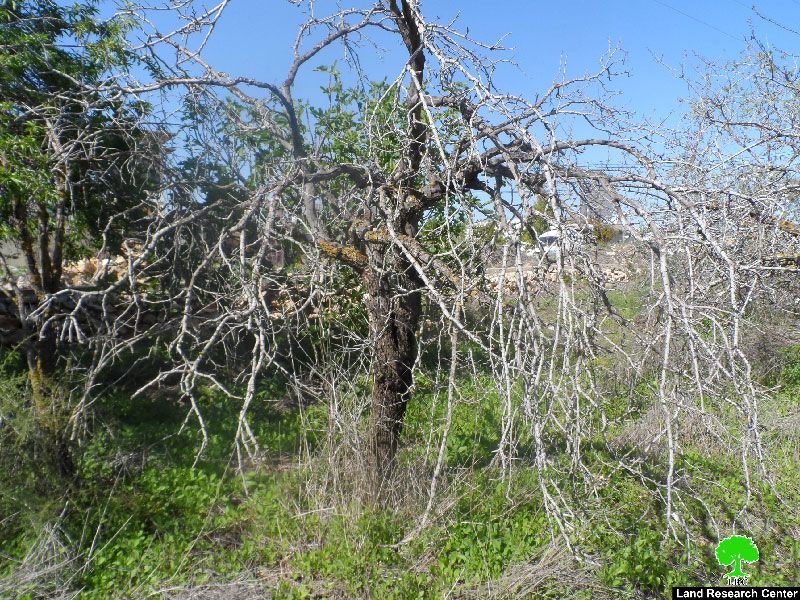 Pictures 1: The trees that got damaged after being poisoned.
Their leaves and branches turned brown
Mr. Abdullah Muhammad told an LRC observer that:"For over 13 years, Jalud has been witnessing recurrent attacks by colonists who- in cooperation with the Israeli army- seize lands, cut down trees, deny farmers access, and harass people ."
Muhammad added, "During October of the last year, the Supreme Israeli court ruled in our favor and approved our right to take care of our lands adjacent to Aish Kodesh. After a long time and fight, we finally managed to plant the lands with wheat only to find colonists intoxicating the nearby trees in order to destroy them and inflict damage on the Palestinian farmer in Jalud."
It should be marked that most of Jalud land was seized for colonial activities as six colonies and outpost were built on it. The colonies are: Shvut Rahel, Shilo and Adi Ad while the posts are: Kodesh, Keida, and Ahya. Both pose a danger on the residents of the village and threaten their stability. More than 1200 dunums were confiscated for colonial activities while 90% of the village (that is more than 10,000 dunums) were turned into Israeli- declared military zones. All the mentioned made Jalud an isolated village suffocated by colonies.
The school of Jalud is the boundary between Palestinian residents and colonists. The lives of the residents are under constant threat especially when radical colonists attack Palestinian properties and break into houses.
Prepared by
The Land Research Center
LRC