Colonists of Yitzhar damage 34 olive trees in Huwara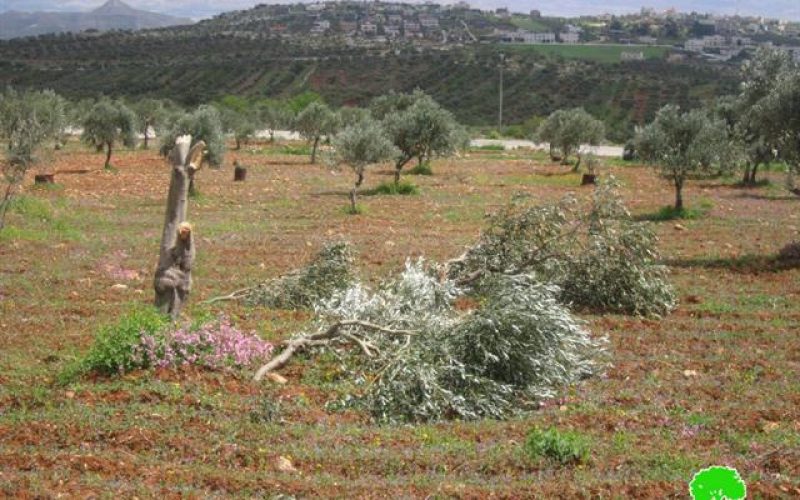 Violation: Inflicting damage on centuries-old olive trees
Date: 27/03/2014
Location: Huwara village- Nablus governorate
Victims: Two citizens
Perpetrators: Colonists of Yitzhar
Details:
The price-taggers invent new methods every day to commit more crimes and carry out attacks against Palestinians. The attacks are not exclusive to a certain type; they vary from damaging property, setting fire to plants, desecrating holy sites, setting cars ablaze, hindering medical and media staffs, to denying farmers access to their lands and closing off roads.
Lately, Yitshar colonists have escalated their wave of attack on civilian residents, shepherds, and agricultural lands in the southern villages of Nablus (including Till, Serra, Asira al Qibliya, Burin, Madama, Urif, Huwara, and Ainabos). The reason behind most of the attacks is to seize more lands for colonial activities.
On March 27, 2014, tenths of colonists wearing the apparels of religious Jews broke into an Naqara, west of Huwara, where they cut down and destroyed 34 trees (25 of which are olive trees) estimated to be 25 years in age and belong to Subhi A'wda (21 trees) and Ghazi Al Mukhtar (13 trees).
Pictures 1-2: The destroyed trees
It should be marked that colonists used sharp tools in carrying out their horrendous crime. The targeted trees are adjacent to Yitzhar and in the area known as the buffer zone of the colony.
About Huwara:
8km south of Nablus, Huwara is located on bypass road no. 60 that links the north of the West Bank to its south and known as "the street of death" in reference to the many car accidents that take place there. The municipality of Huwara rehabilitated the road and installed warnings but the Israeli occupation still hinders any attempts at restoring the road and does not approve any signs or warnings.
Huwara is inhabited by 5,570 people (according to 2014 projections). It has a total area of 8,520 dunums, 1116 of which are built-up area of the village.
The Israeli occupation confiscated 331 dunums for the establishment of Yitzhar colony. Besides, the Israeli bypass number 60 confiscated more than 430 dunums of the village lands.
Prepared by
The Land Research Center
LRC